If you are a beauty enthusiast, then you surely must have noticed the surge of charcoal ingredient in every face mask. This active black agent is seen everywhere because it quite makes up for a skin detox-if you ask us. Since charcoal effectively sucks out dirt, oil, and gunk from pores, leaving you with refreshed, cleaner feeling. So if your skin is prone to whiteheads, blackheads, and oiliness, do your skin a favor and select any one of these 10 best charcoal masks.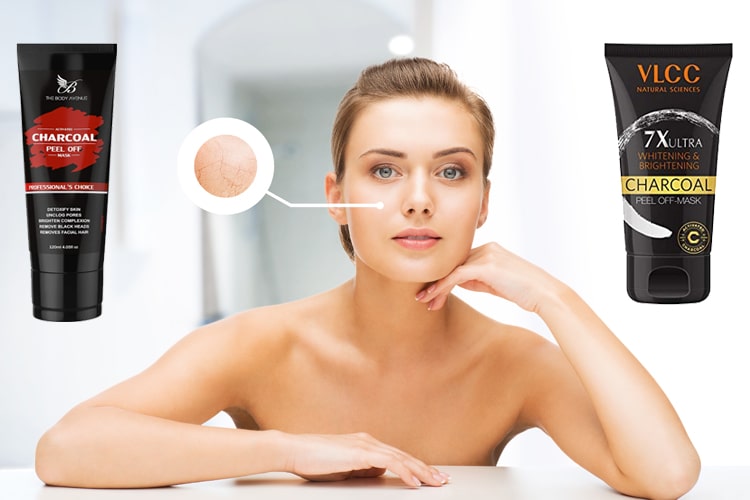 These are the Top Charcoal Face Masks You Can Buy Right Now:
Apply any of these charcoal based face masks and allow it to work its skin-clearing effects.
1. Origins Clear Improvement Active Charcoal Mask To Clear Pores:
This exfoliating charcoal mask provides a deep-cleaning facial like effect. The activated charcoal helps purge build-up dirt from pores, suck up the oil, buffs dead skin cells to reveal a smooth, softer texture. You'll be tempted to take a selfie while the active charcoal is working to clear your skin.
2. The Body Shop Himalayan Charcoal Purifying Glow Mask:
The vegan friendly purifying mask by The Body Shop infused with bamboo charcoal gently sloughs off dead skin cells while the Japanese green tea instantly brightens skin. This is suitable for all skin types. However, if you have sensitive skin, start off using this product once a week to check for skin reactions.
3. WOW Activated Charcoal Face Mask – Peel Off:
Yes, you can still use a charcoal peel-off mask even if your skin is dehydrated. Just grab this product by WOW infused with activated charcoal accompanied with other hydrating ingredients. The end result will be clear skin without a dried out effect.
4. VLCC 7X Ultra Whitening and Brightening Charcoal Peel-off Mask:
If your skin is susceptible to irritation, peel-off mask can sometimes flare it up. But the charcoal formula by VLCC will not. The gentle product is suitable for all skin types, including sensitive. It has ingredients like charcoal, Vitamin C, and E which can make your skin feel super calm and refreshed.
5. LA Organo Activated Charcoal Peel Off Mask:
Deep-cleanse skin and boost its glow with this peel-off mask infused with charcoal, tea tree oil, and Vitamin C. Just slather on a thick layer to clean, dry skin and allow the mask to set up for 10-15 minutes. After you take the mask off, your face will look super clean and dewy.
6. Mamaearth Charcoal, Coffee and Clay Face Mask:
If you're into organic beauty, then add this mask from Mamaearth to your cart ASAP. Thanks to its natural ingredients, the charcoal mask eliminates dirt from skin without over-drying it. It also has coffee and clay infused into it to deep cleanse pores and reveal a refreshed feeling.
7. Boscia Luminizing Black Charcoal Mask:
No wonder this charcoal infused peel off mask has a more than a thousand 4.4-star review on Amazon. Boscia's formula can make your skin insanely fresh and clear. Just slather on your skin and allow the activated charcoal to work its magic to boost your glowing skin.
8. Gold Mountain Beauty Activated Charcoal Face Mask:
This product comes in a powdery form, making it ideal for using with water. Besides activated charcoal as its main ingredient, it also has bentonite clays, Dead Sea minerals, cocoa powder, and witch hazel. Not only does this purifying mask de-gunk pores and removes grease from skin, but it instantly cools your face.
9. Glamglow SUPERMUD® Activated Charcoal Treatment Mask:
Suitable for acne-prone skin, this charcoal activated clearing mask is a go-to-product for many. Apart from activated charcoal, the mask also contains an effective combination of alpha and beta hydroxy acids which helps minimize pore size and repairs uneven texture. It gives out a tingling feeling after application which will balance out as it dries. And lastly, it comes with a eucalyptus fragrance which leaves a super luxe and smooth feeling.
10. The Body Avenue Activated Charcoal Peel Off Mask:
This charcoal peel-off mask makes it easier to include self-care into your beauty routine. In just ten minutes, the mask unclogs pores and gently scrubs dead cells to reveal brighter, clearer, and softer skin.
These are the ten charcoal face masks that you can go if you are wishing for a cleaner, refreshed skin. You are also free to leave your feedback in our comment section below.