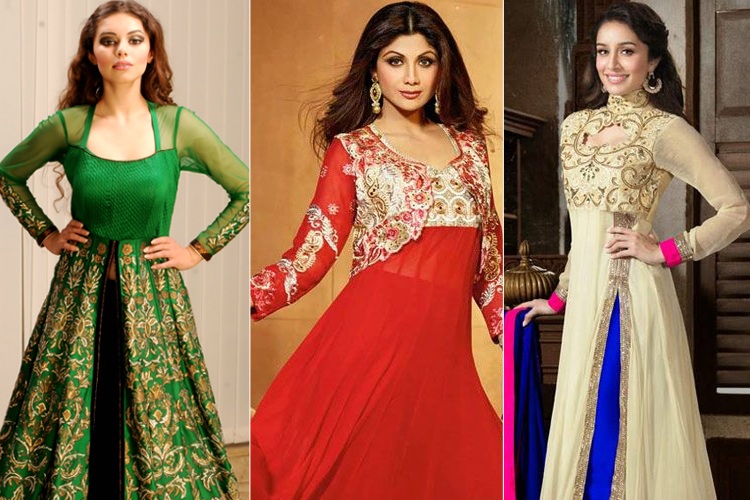 Love your curves. We cannot emphasize on this statement enough, when it comes to loving your body and yourself. There are ways to look slim and curvy at the same time, smart and sexy too. An anarkali is known to be a very traditional piece for most Indian women. It is a piece that is worn by women and girls of any age. Anarkalis helps make one feel beautiful, graceful and comfortable. The attire is all of flexibility and elegance, we say.
In this day and age, there are smart tips to look slim in Anarkali suits. And you can transform the humble anarkali into a fashionable ethnic outfit, if you know how to wear it well- so use the smart tips to look slim in Anarkali suits, which we would be sharing with you today.
Designers these days are coming up with anarkalis that can be worn by all body shapes and sizes. With different colors, fabrics, motifs and eye catchy work on them, several styles and patterns too, you too can choose and wear your anarkali like a diva. This is why, to enhance your persona, we would like you to check out our smart tips to look slim in Anarkali suits.
Smart tips to look slim in anarkali suits
1. Pick fabrics that boost the illusion of slimness
Tissue, tulle and sheer or net, are fabrics that may be the latest fashion trends in ethnic wear doing the round, and many anarkalis are found using these fabrics too. But pick fabrics that help you create an illusion of slimness. For example, crepe and pure georgette, chiffon too. These are fabrics that help you create an illusion of slimness, and that is exactly what we are aiming for, isnt it?
2. Check for the neck lines when picking an anarkali
There are a range of necklines when it comes to Indian ethnic wear, especially anarkalis for you to choose from. However, if you happen to be a little more on the heavier side or the healthier side, you should look for anarkalis that do not have heavy flares around the neck. They also should not have boat necks which exposes too much of the chest area. Do not opt for deep necks or backless anarkalis too, or anarkalis with straps on them. With such designs, you would only be bringing the attention to the unwanted parts of the body; the heavy bustline and the heavy neck, which creates an illusion of less height and heavier features. What you should rather opt for are high necks and V necks, straight cuts and band necks, or the simple A line anarkali, which brings about an illusion of a slim and trim look.
[sc:mediad]
3. The length of the anarkali is of great importance
Always take a good look at the length and then choose the anarkali type you want to buy and wear. If you are on the healthier side, you should not wear anarkalis that are short, come to the hips or are midriff cut. What you should opt for are anarkalis that are long, and they should be flared heavily. This helps distract the attention and makes the body look leaner and taller. Check with the stylist to see which anarkali length would be best for your type of body. Do not pick up anarkalis that are too long or too short, because they would not make you look graceful or stand out as ravishing.
4. Choose motifs that are small and cutely embellished
When picking up embroidered or printed pieces in anarkalis, it would always be best to choose patterns and embroidery work, prints too that are not too large or big. The work should be small and thin, which brings about a smartness. With patterns and prints or embroidery work too large on the body of the anarkali, you tend to look heavier, even if you are not. Hence, the big motifs and prints or patterns should be avoided like the plague.
5. Opt for solid and dark colors
Every fashionista would know about this rule, like the thumb rule. Dark colors often have an appeal of slimness associated with them. Dark colors, shades and hues do not necessarily have to be monotonous and boring. There are many dark shades that are very attractive, and you can pick and choose from amongst them all. For example, bottle greens and dark reds, navy and royal blues, purples and crimson, wine shades and maroons, they all suit our Indian skin tones well, and they make you look slim and attractive too. These are colors that can turn heads for sure and they have an eye catching appeal as well.
6. Don't forget the magic of heels
Heels are a must to own and wear, no matter what your lifestyle and background. If you want to feel and look slim and attractive, fashionable and chic, heels can do wonders. Rather than just wondering how to dress to look slim in anarkali suits, invest in heels. You can choose the design and the colors of the footwear you plan to wear, the make and model of the heels too, and it would create an illusion of slimness right away. Slip into your favorite pair of heels and you would look elegant and graceful; very stylish too.
7. The fitting should be right
No matter how graceful the anarkali is, what color it is, which fabric was used to make it and what designs or motiffs have been embellished on them, if the fit is right, there would be no stopping from you becoming a diva for the moment. The right fit or a nicely stitched outfit can make you create an illusion of slimness and attractiveness instantly. Do not pick up anarkali suits that are too loose or too figure hugging, unless you have an athletic body. The fitting has to be right, or else you would not be able to create the illusion of slimness.
So we hope that these tips on how to dress to look slim wearing anarkalis comes in handy. If you have more tips and ideas to share, which you have tried, do write in and let us know how to dress to look slim. Have fun!