The options for engagement rings are far too many when you want to think beyond expensive diamonds. Search for a stone like sapphire, emerald or tourmaline or an heirloom ring that has an ornate setting. After all, why should you not be a trend-setter and choose a ring which no one else has? Therefore, here are some breath-taking non-diamond engagement rings for the experimental bride. Love it, share it, and buy it.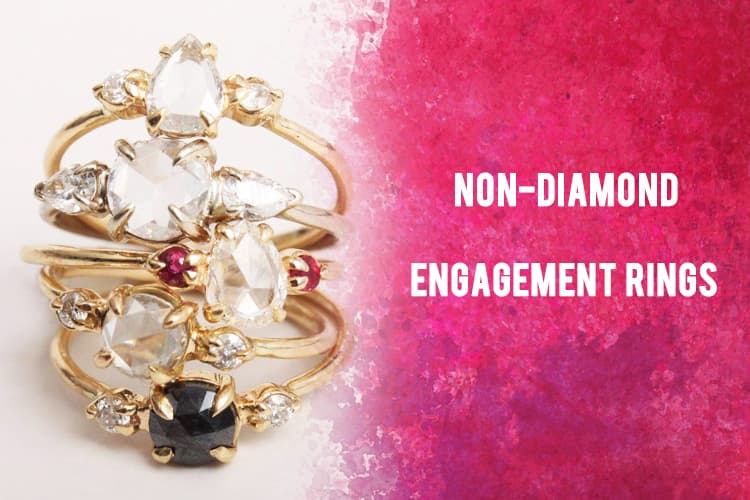 Non-Diamond Engagement Rings
Here is a list of some of the top options in the non-diamond engagement rings segment:
1. Rainbow moonstone ring, which is also available in opal and other gems.
2. Statement black pearl ring. Isn't this one of the most exotic looking diamond engagement ring alternatives that look like something dug out from the depths of the ocean?
3. Here is a watermelon tourmaline ring. Seems to contain what looks like suspended magical particles. Aww!
4. Made of only 14 carats! This is one of the most affordable alternative engagement rings (shh, don't tell your partner). It is yet a regal ring for the person who brings 24-carat magic into your life. By the way, this ring is also available in a smaller version (with 3.5mm as height and not 7mm).
5. This scarlet ruby ring is one of the finest alternatives to diamond engagement rings. Seems it comes from a chest of family heirlooms.
6. An iridescent raw opal ring, which is a little rough around the edges, is perfect for the one with a heart of gold. That is the beauty of this ring which is one of the unique engagement rings without diamonds.
7. Meet pop of blues in this three-pronged sapphire ring.
8. Here is a splendid ruby ring to seal your promise of togetherness. The color of the gemstone stands for romance.
9. Here is one of the hottest alternative engagement rings you will ever find. This set of grey moonstone and moissanite rings prove that two rings are better than one.
10. Peach morganite, moissanite ring, and pink tourmaline come together to create magic. Flaunt the ring with pride to make your love the talk of the town.
11. Pink and white pearl ring gives a look that is vintage in its appeal.
12. A black onyx ring –is a quirky take on romance.Black humor anyone?
13. A green turquoise ring – nature inspired. Is perfect for the love-birds who love to spend time together in the lap of nature!
14. Here is one of the most sophisticated diamond engagement ring alternatives in the form of this amethyst ring. It will not play the second fiddle to any other ring.
15. Four is not a crowd, confirmed by this rose quartz and moissanite ring.
16. Here is one of the most delicate alternatives to diamond engagement rings – the dainty looking opal ring which will win your heart for sure.
17. A white topaz and ruby ring is such a wonderful way of expressing your love.
18. A sapphire ring, open-ended. Someone has to go a little extra mile to woo you!
19. Marquise-shaped ring that gives you three pearls of wisdom.
20. Here is an amethyst ring for those of you who dream of having a vault of purple bars.
21. An opal ring intertwined in ribbons of gold. It is just that the band is sturdier looking than a ribbon.
22. A basket set ring that will match your pearly whites well.
23. A pyrite ring, chunky looking, which reflects the strong bond you share with your love.
24. For someone who prefers to go in for a subtle option in opal, this is one of the most elegant engagement rings without diamonds that fits the bill. The claws in it give the ring a grip.
25. A V-shaped ring which has all its pearls in a row.
[sc:mediad]
26. A sunstone and sapphire Soleil ring that point in the direction of true love. Everlasting love, to be precise.
27. Sapphire ring stacked that looks like a row of baseball diamonds.
28. UFO-like rainbow ring made up of too many gemstones. And what are they? Ruby, amethyst, peridot, tsavorite, and a bunch of sapphires in blue, yellow, orange, and pink.
29. A fuss-free rose gold knot ring for people who care less about fancy gems.
30. Copper ring with colorful garnets that comes up as unique and budget-friendly.
31. Emily Amey One Of A Kind Bicolored Tourmaline Ring has a gorgeous oval stone that has a beautiful range of pink and green colors much the same way as other watermelon-tourmalines. A thin hammered band and the stone set in a 14-carat gold bezel with sterling silver back make this one of the most exquisite diamond engagement ring alternatives.
32. Irene Neuwirth Pink Tourmaline Ring is handcrafted in satin-finished 18-carat rose gold. It is all about two bezel-set round pink tourmalines surrounding an oval bezel-set pink tourmaline.
Noticed how stylish, creative and innovative these non-diamond engagement rings are? Which ones impressed you the most? Hope now you will be able to change your mind and make a switchover from diamond rings to non-diamond rings. Write in and tell us your views.