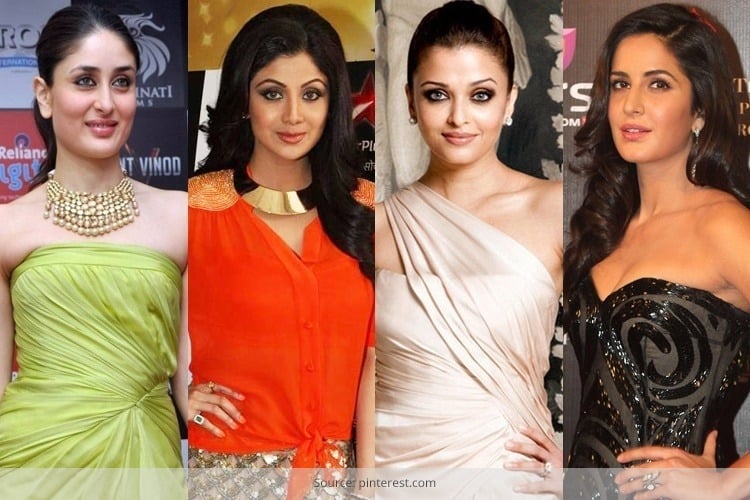 Ever wondered how Katrina Kaif has such an angelic face with lovely complexion? Or what is the secret behind Shilpa Shetty's beautiful curves and graceful body?
FashionLady unravels some of the best kept beauty secrets by the leading Bollywood actress. Do have a read!
Kareena Kapoor
This glamorous style icon had rocked the film industry with her size zero avatar. Her journey of turning from a cherubic angel to a sultry fashion diva had set tongues wagging in the tinsel town for ages. This transition required lot of effort, a devoted exercise regime and healthy eating habits.
The beauty secret of Kareen Kapoor's toned body and perfect abs is a result of following the regime set by her dietitian and celebrated nutrition expert Rujuta Diwekar, who is the author of books "Don't lose your mind, lose your weight" and "Women and the Weight loss tamasha".
Eating six small, healthy and nutritious meals, performing Surya Namaskar and power yoga helped her develop a svelte figure. Contrary to popular belief, she did not resort to fad diets or harsh diet menus but worked consistently and smartly to achieve her target vital statistics.
Nargis Fakhri
This lovely Kashmiri beauty has smooth and beautiful milky white complexion. She religiously sticks to a regime of basic skin care by cleansing, toning and moisturizing.
While being in a profession which requires usage of heavy dramatic make up and strong beauty products, she vouches for natural products and ingredients being safe and effective. She loves to continuously sip on coconut water to keep her system devoid of toxins.
With such a nicely etched beauty regime, she has shot into the limelight for her classic, soft and beautiful features and complexion.
Shilpa Shetty
She was a typical tomboy in her teenage years with gangly, unruly locks, lanky body and a mischievous smile. In her growing up years, the magical transformation started to give way to a poised, beautiful and charismatic young lady. Today, she is a popular international figure famous for her perfect ten figure, impeccable dressing style and fitness mantra.
From representing her country in the UK version of Big Boss to launching her own Yoga CD, she has been there and done it all! Standing tall and fit, the secret to her toned and curvaceous body is her fitness philosophy consisting of: weight training for toning, yoga to attain flexibility and agility and meditation for calm and peace.
She does not believe in starvation or crash diets but instead abides by healthy eating habits in sync with a rigorous exercise regime.
As you see, Celebrity Beauty Secrets are not very different from what we do. but as normal human beings, we tend to ignore these in our day to day life, whereas, these celebs are extremely strict with their routines and stick to it, no matter what.
Hema Malini
She was the dream girl who ruled the Indian Cinema with her fleeting, rhythmic dance moves, lovely smile and doe-eyed beauty. This legendary actress has aged so gracefully that she can give the current leading actresses a run for their money in the beauty department.
Actress Hema Malini beauty secrets include the use of aroma oils for keeping her skin glowing and healthy. To maintain healthy tresses, she uses a mixture of coconut oil, amla, tulsi and neem to massage her hair twice a week. Using the Clarins cleansing milk, makes her skin smooth and fresh.
Home beauty tips such as drinking lots of water is another important aspect of keeping her skin hydrated and radiant.
For fitness, she does cycling, Pranayam for 45 minutes and yoga on every alternate day. She believes in a strict vegetarian diet which consists of roti, dal, vegetables, rice, rasam, dry fruits, paneer, fresh fruits, green tea and occasionally a helping of ghee.
Aishwarya Rai
The former Miss India who holds the glorious title of being the "most beautiful woman in the world" is a role model and inspiration to people in India and across the world.
She believes in using natural ingredients: cucumber for skin problems, gram flour for cleansing and using a mixture of milk and yogurt for moisturizing the skin. These are some natural beauty tips for face that any of use could adopt to.
To remove toxins, she uses a natural beauty tip – prepare a lotion of honey, lemon and hot water to apply on her body.
 Diana Penty
With 'Cocktail' to her fame, this ravishing model-turned-actress stays fit by performing weight training sessions thrice a week, took dancing classes in western free-style, Bharatnatyam, folk and Kathak dance to increase flexibility and stamina. She loves Kathak dance form because of its beautiful and graceful movements and claims it to be a great cardio exercise.
So, this Bollywood Beauty Secrets is ideally to stay fit and exercise it out.
[sc:mediad]
Katrina Kaif
Bestowed with the title of "Barbie Doll", she is currently leading the Indian film industry with her angelic smile, long curvy figure, soft features and sparkling complexion. She is one of those rare actresses who can go completely make-up free and yet look stunningly beautiful.
The celebrity beauty secrets include using mineral mud masks to combat a variety of skin troubles ranging from excessive facial oil, blemishes and acne. She believes in body spas to aim for overall relaxation and well-being.
Karishma Kapoor
Belonging to the Kapoor family is definitely the reason for her peaches and cream complexion! This actress looks picture pretty even without a trace of make-up and her high ponytail hairstyle helps enhance her features wonderfully.
Being into her late thirties and a doting mom has not changed her hourglass figure or beauty. Her diet chart is as follows:
Breakfast: 2 pieces wholewheat toast with veggies
Lunch: Fruit Salad
Snack: Grilled Sandwich or Dhokla or Prawns
Supper: Soup
Dinner: Chicken Breast and roasted veggies.
She does a variation of this diet with brown rice, steamed fish or chicken and has 2-3 egg whites everyday to keep up the protein intake.
Anushka Sharma
A perfect combination of a great toned body, long, lustrous hair and pink complexion, she is a stunning beauty. Her skin care routine involves removing make up before hitting the bed and using a creamy cleanser for washing her face. She uses rose water to wash her face and neem face packs to detoxify her skin. She believes in hot oil treatments to keep heir nourished and healthy.
Vidya Balan
This lady has taken Bollywood by storm with her bold, daring roles, unparalleled acting skills and being a jury member at the prestigious Cannes film festival. She makes a fashion statement with her trademark Sabaysachi sarees, kajal lined eyes and poses as a classic Indian beauty.
She uses Khadi herbal face and rose and lemon flavored body wash. She uses MAC make up wipes to cleanse off the heavy duty make up after shooting and drinks fruit juices to keep her baby smooth skin glowing and radiant.
Hope we gave you a brief glimpse into the beauty secrets and techniques of this leading, gorgeous ladies. Now we know how hard these ladies work to be the way they are! Maybe we can try out some of these beauty tips and see how it works for us?