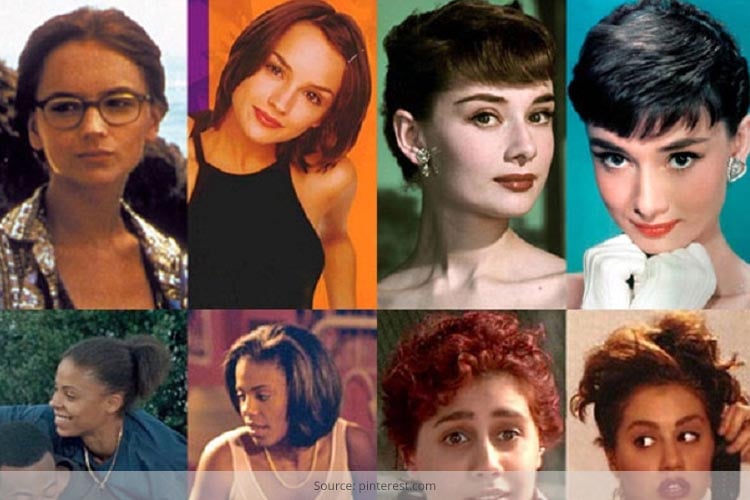 We don't know why but makeover movies interest most of us a lot. Although they are predictable, we just love to watch how the geeky girls get an amazing transformation with trendy ideas coming down straight from fashion runways and how the actress is put into this changeover phase to get the best out of her. For those, who love fashion will definitely like these movies. And we are sure that the movies which we are going to enlist here will be loved by all the fashion enthusiasts.
These movies are not only watched to get some cues on fashion, but also to admire the experts behind these stories. The makeup artist is the one to be credited along-with the fashion giants, who have worked closely with the actresses to justify the transformation stories i.e. from a geeky girl to a straight runway fashionista.
There is an array of Hollywood movies on makeover. We have however rounded up top 10 best makeover movies to get some cues from. Do have a look at this interesting makeover movies list!
1. The Princess Diaries
Mia Thermopolis (Anne Hathaway), a frizzy-haired and a geeky nerd kind of teenager, who lives with her single mom, finds out that she is heir to the Throne of Genovia. A girl with such a geeky look cannot be the face of the Royalty, so she is put under transformation; from straightened hair and contacts to jewels and sophisticated outfits.
2. Clueless
A mockery of Jane Austen's novel Emma, this movie is about a girl named Cher (Alicia Silverstone), who is popular for being a matchmaker and helping friends with fashion ideas, and finding a perfect match. Every time one of her friends, Tai (Brittany Murphy) gets ready, a song plays in her head – "I Want To Be A Supermodel".
3. She's All That
The movie is all about the dramatic makeover of an ugly duckling to a sexy swan. This is one of the classic makeover movies, where a high school hotshot, Zach Siler (Freddie Prinze Jr.)accepts a challenge of transforming an unattractive girl into a prom queen. In order to save his bet from a shallow promise, he chooses Laney Boggs (Rachael Leigh Cook), who is just identified by her big glasses and pony-tail. The girl turns out to be one of the prettiest girls in the town after the makeover. The best scene from this movie is where the actress walks down the stairs in a red dress.
This is one of the typical teenage makeover movies which every teenage girl would love to watch.
4. The House Bunny
This is a must-watch makeover movie for all fashion lovers. A former Playboy bunny (Anna Faris) takes the charge of making over sorority girls from Zeta Alpha Zeta to save their house. The movie is hilarious and extremely entertaining.
[sc:mediad]
5. Never Been Kissed
This 1999 movie was produced by the actress of this movie, Drew Barrymore. This geeky newspaper journalist, Josie Geller goes undercover as a high school student for one of her stories. Soon she finds herself reliving the fashion disaster days of her own teenage years. Jose finally overcomes this traumatic memory of grim white feather outfit and patchy makeup to bad perm.
6. Pretty Woman
This is one of Julia Roberts' best movies of all time. I still wonder how come a 44-inch leggy lass with such a beautiful face could look that bad in that historical blue and white dress? May be the director just wanted to give this hooker, Vivian Ward a dramatic makeover as per the story-line after she meets Richard Gere, who hires her to accompany him to upscale lavish events. My personal favorite is when Richard Gere gives Julia his credit card to go on a shopping spree.
7. Miss Congeniality
This can happen only in Hollywood. A screenplay, where an FBI agent goes undercover in the Miss United States beauty pageant to prevent a group from bombing the event. The beautiful Sandra Bullock looks more stunning than ever after this massive change. The lady, who used to be a first-class geek, never owned a makeup kit, is put as undercover in the pageant to protect the city. This is one of the most hilarious yet best makeover movies that definitely is a must-watch.
8. Mean Girls
Lindsay Lohan, who plays Cady Heron, is a home-schooled teenage girl and faces high school tantrums struggling to find her place at the same time. In this teenage makeover movie, the girl can be easily manipulated, so the mean girls take advantage of this and turn her as one of them with provocative clothing and heavy makeup. The funniest scene from the movie is when Cady borrows a pink Polo from Damien so as to fit in the cool fashion trends of her high school.
9. Maid in Manhattan
Even though this movie does not purely revolve around fashion, I still thought of including it in my lists since the climax of the movie is purely set on the makeover scene. Marisa Ventura (played by Jennifer Lopez) is tempted to try on a wealthy guest's outfit and accidentally catches the attention of the sensational politician Christopher Marshall (Ralph Fiennes).
Not only ours, but we think everyone who have seen this movie would fall for that scene, where Marisa shows up in a Dolce & Gabbana gown with Harry Winston necklace for the party.
[Also Read: Some of the Historical Fashion Moments in Movies]
10. The Devil Wears Prada
Andy Sachs (played by Anne Hathaway) becomes the newly appointed second assistant to the notorious and cynical editor in chief of Runway magazine, Miranda Priestly. In the early part, she tries to keep her head above water in this label-filled flick but when things seem to slip from her hand, she decides to go for a makeover which not only stuns her colleagues but Miranda herself.
We have shared with you the 10 best makeover movies for you to watch on a girls night out or when you think you have nothing to do during a weekend. Hope you enjoyed reading this post! Do let us know your favorite makeover movies!
Do not forget to read our post on 4 Must-Watch Movies for Fashionistas.