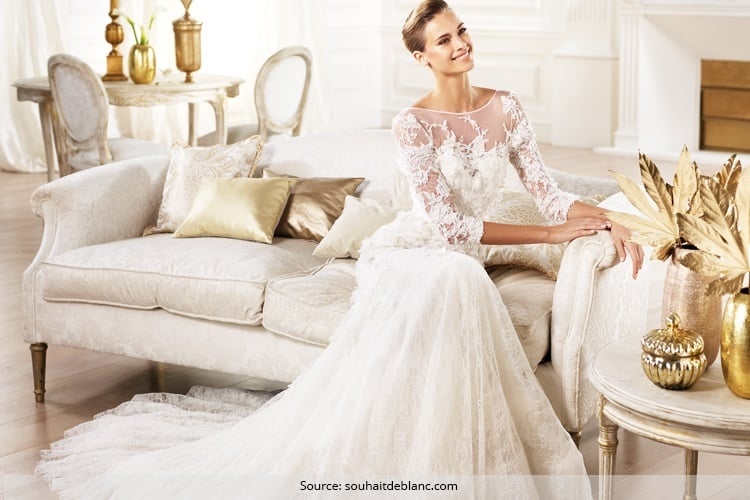 India has always been a hot melting pot of cultures and traditional ways, not only within the nation but also beyond boundaries and from across the globe too. Keeping that in mind, the Christian weddings are breathtaking to experience, calm and serene, yet with their own sense of fashion too. However, talking about fashion and bridal wear, while other communities have chic designs and tailoring to flaunt from eminent names, the Christian community sparsely boasts of such! What about we have a revolution of sorts, a western invasion into the Christian wedding fashion scene, here in India! Of course we would want to have Christian Lacroix, La Fantaisie, Justin Alexander and Vera Wang for that matter, but let's focus on the trending top 5 shall we!
Chanel
If you've been an ardent fan of Karl Lagerfeld, you would have noticed his venue- Salzburg in Austria as the hub of Christian wedding designs at the 2014 Metiers d'Art show Pre–Automne/Hiver. Luxurious and grand, candlelit and romantic, Austrian decor and more; a perfect venue to host the best of winter 2014 christian bridal wear. India and Chanel are no strangers to one another, where the latter has always drawn inspiration and borrowed unique accessories and fabrics from the nation, so why not have them here!
Jenny Packham
From Kate Winslet to the Duchess of Cambridge, and many more eminent British personalities, artists and celebs, Jenny Packham has dressed them all. She has a very unique style, flavour and a graceful dolling up mind-set, making the bride look like an angel on her D-Day. Jenny has been one of the reasons why the bridal industry in the west underwent an evolution of sorts, and today she has spread her wings across NY, Paris, London and should come to India too!
[Also Read: Celebrity Wedding Dresses]
Ellie Saab
Talk about elegant and well-established bridal couture names, and Ellie Saab rocks our worlds. Red carpet sagas start from Ellie and the beautiful wedding couture thus created by the maestro is what India needs. Ready to splurge a little more, Ellie is your BFF for the show!
[sc:mediad]
Enzoani
Innovative bridal gowns, handmade and with total high decree that too, exceptional and surely one-of-a-kind, Christian brides in the west make a beeline for Enzoani. With the supreme touches of leader, Kang Chun Lin, Enzoani ensures every bride walking down the aisle, gets more than just the oohs and aahs! High fashion and bridal couture thus married, and India needs to be the venue next!
[Also Read: Bridal Fashion By Vogue]
Ellis Bridal
One of the best and very chic seam-stress that has dressed many an aristocrats wife, daughter and beaus across the Great Britain, Ada Ellis, the name is a force in its own rights. Original creations and those that which even replicas can never match up with, brides across UK want Ellis Bridal, so do we!
What say girls, aren't we looking forward for these best five international bridal wear names to grace our nation?