So who would you want to wear at your wedding? Zuhair Murad, Vera Wang, Oscar De La Renta or Inbal Dror? The list is a long one and this is why we look up to the experts at bridal fashion by Vogue for an answer. It is a very comprehensive report that the editors of bridal fashion by vogue have brought for us, leaving us speechless and stunned. Each of the wedding gowns seen here are mind blowing to say the least, but the ensembles are pure bliss and very innovative for the new-age bride too. And must we say, it is time our Indian bridal designers thought out of the box and made us brides pretty in innovative ways too. Check out these five bridal fashion statements!
[Also Read: Bridal Fashion Week – 5 Things You Need To Know]
Mesmerizing Bridal Fashion Week Statements That We Must Emulate
When we say emulate, we don't mean to copy and paste; rather we would want to have an amalgamation of thoughts here. What if we convert a few styles and designs, as seen on the bridal fashion week that showed us the latest wedding dresses and latest wedding trends, into Indian bridal couture? Sounds quirky and sassy, doesn't it? So without much ado, see what we bring to you and think if you can convert these ideas into pretty bridal wear for the Indian brides.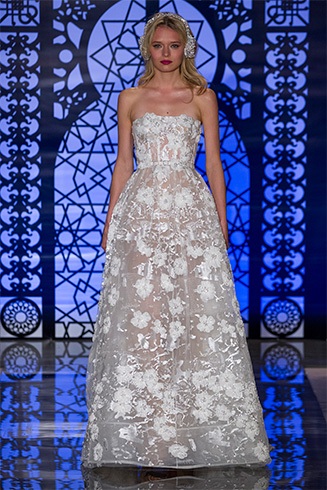 1. Overskirts Are Haute
At the bridal fashion week for Fall 16, it was eminent designer Zuhair Murad that brought to the ramps the rage of overskirts in bridal fashion. Removable yet full, the ball skirts with a fairy tale touch to the gowns he made, added a zing of fantasy and magic with plenty of tulle, sparkles, beads and embroidery. Not for the minimalist bride for sure, but one of the best wedding dresses seen on the ramps.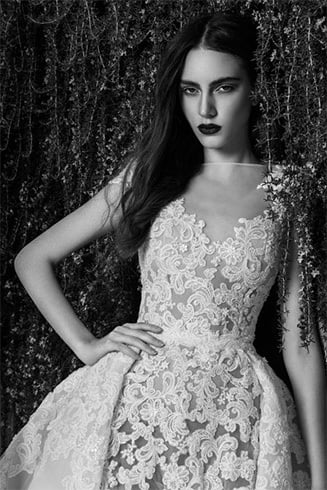 2. A Touch Of Madrid
The queen of bridal fashion, Vera Wang played with conventional and modern tones alike. From long sleeved shirt-dresses and hand appliquéd styles to the very subversive princess gowns in sheer and lace, gossamer thin tulles to the sexy hints of exotica in them all, Vera Wang never disappointed the audience with her collection. What made the collection very delectable were the enchanting detachable bows, back corsets and toreadors galore with every piece.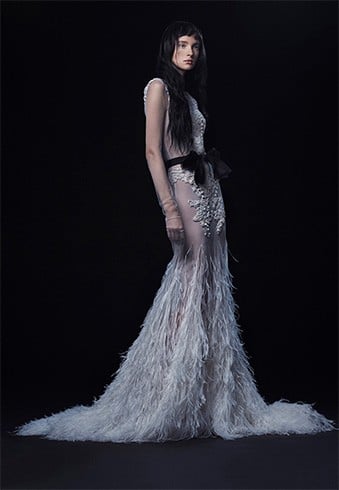 3. Spaniard Influence
Oscar De La Renta's collection comprised of the constructed bodice with bustier topped gowns. Latino inspired for sure, gowns with flouncy capelets were brimming over the runways and some of them with frothy laces too, exquisitely made to detail. Bridal lingerie within was having a moment of its own, and being daringly shown off as well. There were gowns with airy high necks that could be worn with strapless tops, and the languid tiered dress as a non-fussy but stunning bridal wear made the show stopping moment come through at the fashion week.
[Also Read: Western Bridal Makeup Tricks Indian Brides-To-Be Can Use In 2016]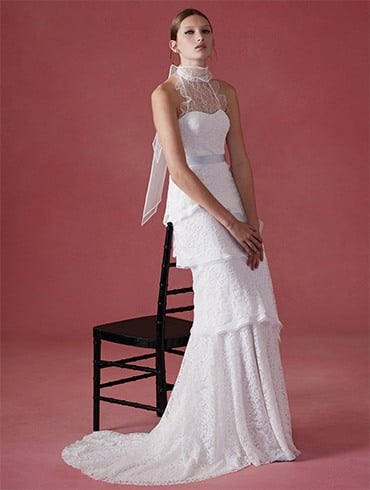 4. Frothy Embellishments Made A Mark
Inbal Dror played with frothy embellishments on gowns for the brides, making everyone wonder if honeymoon came before the wedding. Sheer and ultra feminine, the ultra glamorous wedding gowns by Inbal comprised backless numbers with daringly high slits and mesmerizing low V necks that plunged into the abyss of beauty. The modern bride can still be sexy while being covered, which is why the gossamer quality of gowns produced in crochets that sizzled and mermaid dresses with cloudy tulles on the runways stole the show!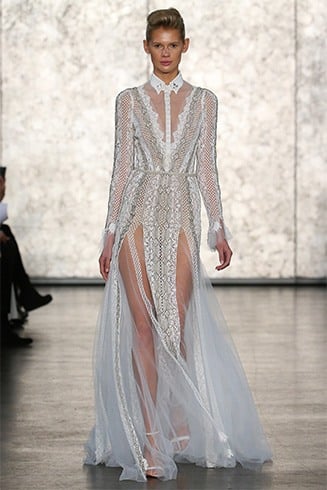 [sc:mediad]
5. Boning, Padding And Dramatic Trails
When you envision spring wedding dresses, we think of lush floral touches with fauna prints. But this time with Monique Lhuillier, it was shades of lilac, blush and ivory, for the Fall 16 collection. Soft textures played an important role here, along with floral appliqués and beading, with plenty of embroidery, long sleeved ensembles and nipped at waists too. We have to mention the play of boning, dramatic touches and padding with the easy to wear spring dresses for wedding by Monique as well – statement signatures of her wedding collection this time.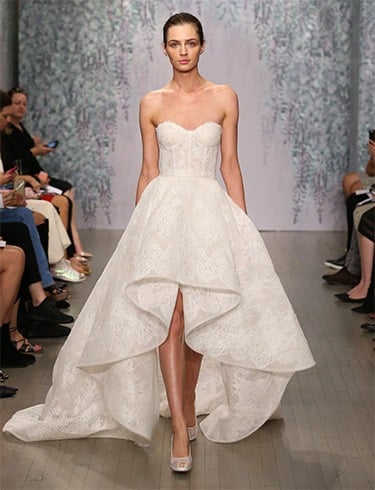 Do let us know your thoughts about the gorgeous five vogue fashion choices we showed you so far. Don't you think you can create your own bridal vogue from the best of them too?
Images Source: vogue.com