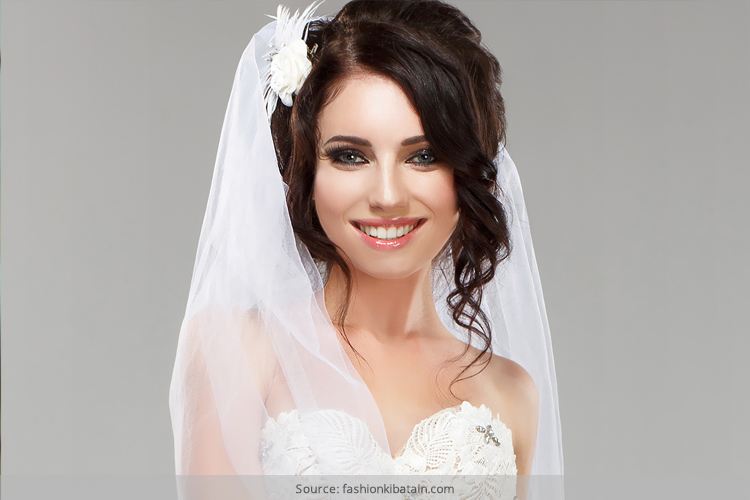 In India, we tend to misconstrue the concept of bridal makeup, making it too loud or going over the top with shine and shimmer, just because it is our D-Day. Remember the thumb rule here; if the wedding trousseau is heavily embellished, a balancing act with regard to bridal makeup should be the norm and followed.
How To Incorporate Western Bridal Makeup Into Indian Bridal Makeup
Here are a couple of tips and tricks to emulate the western bridal makeup, keeping in mind the Indian skin tone and climes. Please read on if you are a fan of the western bridal makeup style and would like to incorporate the same at your own bridal or someone's you know off.
Healthy Glowing Skin
We cannot stress enough on this one, but if you have to emulate the western bridal makeup, which is a notch different from the traditional Indian bridal makeup, the best wedding makeup with western brides as you see have always spoken about minimalism as key in bridal makeup tips.
But first, you must take good care of your skin, and if you check with our previous posts on pre-bridal skin treatments, we have mentioned why it is important to have healthy, glowing skin care routines and regimes months in advance to begin with.
A religious skin care is a must for the brides-to-be, and having the right plan according to your skin type with a certified skin aesthetician is important. This would allow the skin plenty of respite and no unpleasant surprises henceforth to deal with, especially on your D-Day.
Start With An Exfoliating Routine
Get to the parlor and ask your beautician to help you find the right bridal exfoliating treatment. This would get rid of the dead skin cells on your skin, which brings the glow and allows the makeup on the wedding day to sit easy on your face.
Cleansing Daily
Check the oil cleansing method ritual for clear skin we spoke about in our earlier posts. This helps clean the skin right from the pore levels. The OCM method also helps with skin hydration too, and brings a unique glow to the face.
[sc:mediad]
When Applying Foundation
You may choose to use primer or a foundation tone, closest to your skin tone. This helps smoothen the texture of the skin and brings about a healthy natural glow which you see on most bridal makeup ideas for western brides. Use concealer as per the issues on your skin- red for green problems, orange and yellow for blue to purple problems and so on. Check our previous posts on concealer types to use for each skin problem.
[Also Read: How To Apply Colored Concealers Flawlessly]
Use Translucent Powder
This is for the Indian lass with oily skin, whose skin has a perennial ugly shine which she doesn't want. Using translucent powder after applying your foundation is a must, which helps set the base and brings about a natural shine, not an ugly oily shine to the overall texture of the facial skin.
Fill Your Eyebrows
Not with black pencil, but with a light eyebrow filling shade. Very light browns mixed with a minute pinch of black does the best job. To set the look, apply a little gel on the eyebrows and comb along the hair direction to keep the brows in place.
For The Lips
Use a little milk and honey each day to rub onto the lips for a natural redness and glow to come by. Also help the lip skin bring back the lose collagen too. When applying lip colors, it is always advisable to use a lip pencil first, to outline the lips which should be a shade darker to the lipstick to be used. If you have thick lips, avoid using glossy shades or else the lips would look too thick and ugly. Inside the liner, use your lipstick shade and blend it with the liner. Dab a little shimmer powder in the middle and apply lip balm over it for a pouty effect, only if the lips are medium to thin, not otherwise.
[Also Read: Bride's Dos and Don'ts on Bridal Makeup, Bridal-Wear & Bridal Jewellery]
Bridal Eyes Makeup
When wedding makeup ideas are spoken off and especially the eyes, the natural wedding makeup western brides use are sultry based. For this they use an eye serum or lotion before applying any concealer around to minimize creasing. When applying concealer, one has to use the product around the eyelids, up and down and blend it into the foundation base very well. Eyeshadow wise, the look is very real and natural, which is why most brides in the west opt for peach, pinks, natural browns to light shades of auburn and strawberry too. Soft shades are better than dark ones.
Blush Wise
Keep it natural and healthy, because the blush and contouring or highlights used can make or break the look!
We hope this mini guide on emulating western bridal best makeup tips and wedding makeup looks makes good reading sense to you!