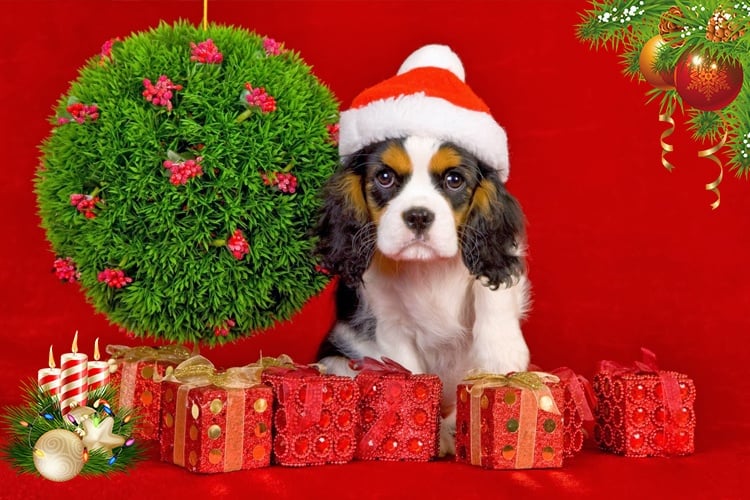 Hey, you mean to say Christmas gifts for dog lovers? Why? Why not? In every part of your dog lover friend's life and celebrations, his dogs come in as the most loving and caring souls. They stand by him, time and again, in his hour of happiness, sadness, bravery, and so much more. WOOF is a part of them and in some ways your friend's existence too. So many celebs have dogs in their families in addition to humans (of course)!
Here is a cupful of X-mas ideas rustled up for dog lovers. Because it is the time to say 'Merry Christmas' to the dogs in their families and surroundings in the most loving and unusual way. What say? Your friend's pets will go gaga over it, and so will he. Happy deciding and choosing Christmas gift ideas for your buddy's furry companions.
Try not to miss "dog bandanas" and "stockings for your dog". They also need to be more fashionable this Christmas. I hope you got my point.
Here go the ideas which will make your friend's pets happily wag their tails in excitement.
1. Don't Stop Retrieving Pet Sweatshirt:
No matter whether your friend has a Dachshund, Pug, Labrador, Golden Retriever, or Husky, get them dressed in this sequin-embellished sweatshirt. You've got to make your friend's canine pal stay stylish, remember?
2. Ski Lodge Dog Bed:
Your best friend's furry flatmates need a comfy place to relax and enjoy his/her privacy. The ED Ellen DeGeneres Ski Lodge Hut delivers just that. The hut has a ski lodge design with an opening at the front so that his dog can enter and exit. Is that all? NO. There is a soft and comfy pillow too which allows his dog to rest and sleep in true comfort. Every dog has his day, right? Yes, Haha.
3. Reversible Pet Bed:
Fuzz-free couch? Tell me which dog will hate this luxury? Duck River Textile presents Wubba Reversible Pet Bed. This helps turn your friend's sofa into a pet-friendly lounge with a cozy, quilted bed which reverses between two solids matching his home decor too.
4. Ski Goggles Dog Toy:
Just like us, even our furry friends can face the biting cold in the thick of winters. Let them step outside and enjoy the thrill of playing with this squeaky toy Ski Goggles with "Love" written on it. OH, cho chweet! By the way, this toy for the furry souls comes in Blue, Red, Yellow, and Grey.
5. Fresh Scent Pet Candle:
Help your friend get the stench of his wet pet out with this pet candle. It is made with essential oils and soy wax. Craig Davies, the creator of this candle has put in much of his life working with animal rescue organizations. Hats off to him!
6. Pedigree Poem Pillow:
What better way to show your love for your BFF's pet – when you can shop for a pillow which has an acrostic poem on it describing her pet's special traits. If only, her dog could write a poem all by himself….
7. Dog Bowl Water Bottle:
If your friend loves going for hikes or long car rides tagging his dog along shop for this water bottle and bowl combo which will keep his pet hydrated for long. It will be no more Thirsty Kya! for his dog.
8. Ombre Leash:
This is a "handmade" ombre rope dog leash. You have the option to have the leash personalized with up to 5 letters or numbers. A great present for your friend's pet! The rope is 3/8″ wide and works well with small and medium-sized dogs.
9. Pooch Selfie Ball:
Selfie time, not for your friend but for her pup! It is the FIRST smartphone accessory that ups her pup's selfie game with this clever tennis ball and smartphone attachment. Works with both front and rear-facing cameras without having to remove the device from her phone.
10. Ranch Rewards Holiday Candy Canes:
Festive holiday treats for naughty and nice dogs alike. Made from a rawhide, it will do your friend's dog a world of good especially for his teeth and tummy.
11. Dog Sweater:
Awww! So sweet!
This 100 percent wool dog sweater has hues from organic plant dyes. It will surely make your friend's pooch look cute and cozy.
12. "Big Mutts" Doormat:
A great X-mas gift for a mutt and his proud owner.
[sc:mediad]
13. Farm Animal Mugs:
Get a taste of the farm life with this colorful mug set. With silhouettes of four species who call Farm sanctuary home, this gift will help you bond with your animal lover friend over a cup of coffee.
14. Dog Bulbs:
Pawy delight! Light up the life of your friend's pup with this Orbee Tuff Bulb. His pup will love to chew it to his heart's content.
15. Rope Leash:
Dog-leashes pretties up the walks (and also promotes pet adoption). These dog-leashes are hand-spliced for additional durability. Your dog lover friend can also walk both his dogs by forming a handle with a simple knot in the center.
16. Meadow Pet Rug:
This dog bed can be the favorite hangout spot for your buddy's pet. Also serves as a fun accent piece to any room Anti-pill fleece top gives it a fluffy texture and warmth that his dog will love for sure. Cotton canvas bottom adds structure and durability. Made in California, this dog bed comes in 7 styles.
17. Boxer Custom Keychain:
This Boxer Custom Keychain with Natural Ears is made of stainless steel. It has a Stainless Steel heart. You can get it custom stamped with the name of your friend's dog or whatever you want to say! Comes with a bone charm, which can be substituted for a yellow tennis ball charm.
18. Wooden Leash Holder:
Help your friend minimize clutter with this cute hook made of distressed wood. Available in eight colors so that the dog's leash and collar come in handy for her. Nicey pet room decor it is! 100 percent handmade and cut from Arizona pine 1″ solid wood. Comes with two strong hooks and two loophole hangers on back for level hanging.
19. Pit Bull Appliqué Pillow Cover:
This pillow cover will make a striking statement in her living room. It will make her mutt-love be the center of attention at her cozy Christmas parties.
20. Cats And Dogs Books:
Imagine Cats And Dogs On Instagram! Not joking silly. They are books alright for your friend's fav pet. Rejoice! The curators behind @dogsofinstagram channel this passion perfectly in this delightful book.
21. Pet Bed:
Cosy and roomy! This merino wool pet bed I am sure is something we want for OURSELVES, right? It will make a perfect gift for your friend's dogs this Season Of Giving.
22. Dog Bowls:
Sturdy water and food bowls which have charming graphics etched outside on the bowl, and "Drink" and "Devour" on the inside are perfect gifts for your friend who loves her dogs.
So which of these Christmas gift ideas are you going to shop for your BFF's mutt? Do write your comments and wish your friend's cutie dog and cats a Paw-some Christmas from us.