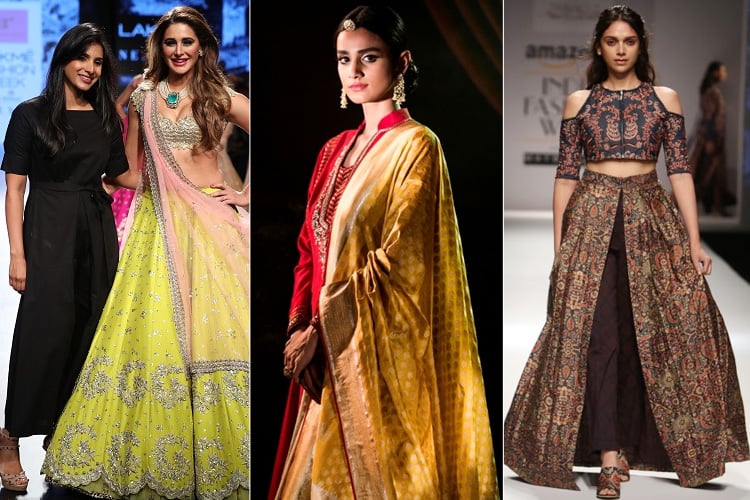 Clothes make the man. They also make a big impression in terms of the fashion statement and create new trends.
No wonder why the fashion industry is always bubbling at the seams and creating new avenues for a new crop of fashion designers.
For many years now, Indian talent on the fashion scene has been creating news – fashion designers who are spoiling us for choice by the awe-inspiring designs they create. Which is why the shopping malls are bursting with boutiques and multi-label stores (irrespective of demonetization).
From wedding ensembles to smart casuals, there is a mind-blowing universe of clothes waiting for us. Won't you want to know about the Top 10 Indian Fashion Designers to watch out for in 2018 so that any dress you pick – Indian or Western comes from the labels of these famous Indian fashion designers to up your fashion quotient by a few notches. This post will help you know the list of the most popular Indian fashion designers and more importantly Indian fashion designers to watch out for in 2018. What are you waiting for? Go ahead and check out this post!
Top 10 Indian Fashion Designers To Watch Out For In 2018
Here we go finding the Top 10 Indian Fashion Designers who will rock 2018 with their creative designs.
1. Anushree Reddy
Not heard of her? She is a Hyderabad-based fashion designer who stands out for her exquisite and elegant Indian designs.
Most of her garments have a lot of Zardozi embroidery, but Anushree Reddy doesn't overdo it. She knows how to strike the fine balance.
Big floral prints are another common motif used by her to up the feminine charm in her collections – whether it is her classic Indian kurtas, chaniyas, blouses, or other outfits.
The USP of this one of the most promising famous Indian fashion designers is wide-flared multi-layered ghagras, flirty shararas, asymmetrically cut tops, cowl pants, and lots more. This could be one of the many reasons why Anushree Reddy's designer collections appeal to the adventurous fashionistas who love to experiment with quirky designs.
2. Parama
Meet this Kolkata-based fashion designer who has changed the way women look at their humble saree blouses. So much is the fanfare around Parama's creations that the wardrobe of any fashionable woman is incomplete without a Parama Blouse in it.
If you find the silhouette of a city skyline or portrait of a feminist icon adorning any fashionably forward lady's blouses, you know you are looking at the creation of one of the most popular Indian fashion designers of 2018.
Are saree blouses the only good thing about the designer Parama?
No silly.
Though this particular designer label also offers sarees and accessories, it is her blouses which are the SUPERHEROES.
Next time, you have picked a gorgeous saree from any reputed label, don't forget to try out and order the blouse from Parama to complete your designer ensemble.
3. Arpita Mehta
In the list of most desirable Indian fashion designers 2018, Arpita Mehta deserves a mention. That's because she brings to the table funky modern designs with strong Indian flavors.
Arpita's tops are heavily embroidered with mirror work and paired with crisply styled pajamas, or floaty tops in light fabrics with mirror work detail all over or her ornate wedding ensembles will make any Indian bride glow with joy.
In short, Arpita Mehta's creations can be summed up as 'ethnic notes with a contemporary touch'.
4. Shruti Sancheti
This name in the list of Top 10 Indian Fashion Designers to watch out for in 2018 is Nagpur-based. Do I see a frown on your face?
It will be set right when you come to know that Shruti Sancheti retails her outfits under the label "Pinnacle" in stores across India and abroad.
YES!
This small town-big ticket fashion designer stresses on "wearability" and "elegance" at competitive prices.
You will be surprised knowing that Shruti's designer portfolio is not just confined to Indian outfits but includes Western wear (formal and semi-formal) in abundance.
Shruti Sancheti's deep understanding of the craft is reflected in the crisp cuts and the sophisticated designs. No surprise that she is also a faculty member at INIFD, Nagpur and has a loyal international audience.
5. Jyotsna Tiwari
Getting married or attending a wedding?
Then, Jyotsna Tiwari is one of the hottest Indian fashion designers to check out in 2018. Her fabulous ensembles are perfectly suited for the Big Day and for all the functions and rituals before and after the main event. Take your pick from classic lehenga sets to draped saree gowns. The color palette of her contemporary clothes includes elegant pastels to bold reds. And there is plenty of embroidery and detail to suit your needs.
Jyotsna Tiwari retails her garments under the JONA label. Her couture outlets are in two of the hautest cities – Delhi and Mumbai.
6. Deepa Mehta
Creator of the label 'Queen of Hearts' Deepa Mehta is one of the Mumbai-based Indian fashion designers to watch out for in 2018.
The quintessence of this designer label is the quirky motifs (which include everything from rockets to ice cream candies) as much as the richly detailed motifs inspired from jewelry to architectural elements – all of them scattered joyfully on the saree.
Deepa Mehta is known to have worked exclusively with Indian handlooms and she continues to do so. That is why at 'Queen of Hearts' you will find her exploring cotton and silks from all over India.
Apart from this, Deepa also has a separate line of exclusive blouses and funky ready-mades with cool block prints. Bottomline – in Deepa Mehta's creations, there is something to appeal to everyone, from grandmom to her grand-daughter!
[sc:mediad]
7. Anju Modi
Fit for royalty – sums up the creations of Anju Modi, the label that features in the list of Top 10 Indian Fashion Designers to watch out for in 2018.
What dominates her designs are Indian motifs and plenty of Mughal-inspired flowers, birds, and other patterns. From traditional techniques to digital printing, Anju Modi's designs have beautiful prints and embroidered details on the garments.
The fact that Anju Modi has dressed some of the hottest Bollywood stars further adds to her star appeal! Her extravagant couture outfits to pret ones are suitable for all occasions.
8. Shehla Khan
Pretty on the eyes and light enough to wear. That's the beauty of the creations of one of the most famous Indian fashion designers Shehla Khan. There is no less embellishment on her clothes, yet they are comfortable to carry.
Shehla's designs on Indian and Western outfits stand out due to the usage of sequins, gota work, digital prints, and lace.
The retail brand name 'Shehlaa' gives you a wonderful mix of silhouettes and classic cuts. In short, Shehla Khan knows the fashion pulse of the modern woman – starting from sarees and lehengas to trendy Indo-Westerns and gowns.
9. Gaurang Shah
Actress Vidya Balan has walked the ramp for him. So you know the stature and showmanship of one of the most popular and famous Indian fashion designers Gaurang Shah.
Gaurang weaves nothing but pure magic using traditional handloom techniques. Mind you, no machines are involved in the process of craftsmanship! His incredible hand-woven masterpieces come from exotic yarns like muga, tussar, etc.
Some of Gaurang's signature sarees and 'heirlooms' include organzas, kanjeevarams, Benaras silks, patolas which can be happily gifted to future generations.
10. Rajesh Pratap Singh
Edgy androgynous fashion best describes Rajesh Pratap Singh 's collection– a worthy inclusion in the list of most promising Indian fashion designers in 2018.
Monochromatic clothes in bold stripes, checks, and geometric patterns with an occasional hint of color are the quintessence of the designer's collections.
He is an award-winning designer who is happy to work with traditional weaves and also loves to develop new ones using the latest tech.
If you are the one who likes to make a bold statement with your sartorial outings and you are ready to push the fashion boundaries, then go for an outfit from Rajesh Pratap Singh's label.
Hope your curiosity to know about the hottest Indian fashion designers of 2018 has been amply satisfied. Tell us your favorite ones from the list of Indian fashion designers mentioned above. Stay tuned for more fashion updates!