Yes, there is a right way to learn how to shampoo your hair, which would help you prevent further hair fall, hair loss and hair breakage too. Does this up your antlers on the same? Mostly the reason why our models look fabulous with such hairdos, would be the number of hairstylists, photographers and photo touch ups they indulge in. But, our models too follow the basic rules on how to shampoo your hair, which works like magic on them.
The next time you visit the salon for the best shampoo treatment, watch them closely and you would know how to shampoo your hair. But if you aren't the regulars at the salon, you may want to read the tips we have for you here.
Best Working Shampoos
Don't wash your hair everyday. We make this mistake of washing our hair everyday, even using the best working shampoos, but we see that our hair strands still ditch us and bid adieu- quite depressing, isn't it? Thrice a week is more than enough, since the hair needs time to produce natural oils, which otherwise is washed away with every shower we take. Don't do this to your hair. If your hair doesn't have enough natural oils produced, chances are it would turn brittle and dry! You didn't guess this was the reason for hair fall and breakage, now did you?
Lukewarm Showers Only
Irrespective of how cold it is outside, stop being tempted by the geyser and boiler ads that promise you the hot piping shower- not good for your skin and certainly not for your hair. Super high temperatures would rob the natural hair oils and make the hair dry, limp and brittle- easy to break.
[sc:mediad]
Massage And Not Scrub
There is a difference in the techniques of scrubbing and massaging, the scalp zone especially. For healthy hair, you need to focus on the scalp in all the literal sense. Be very gentle with the scalp, using clockwise and anticlockwise motions, while the hair strands should be gently emulsified while the shampooing is on. This helps with blood circulation and motivation of natural oils to form when massaging the shampoo and conditioner, into the hair and the scalp.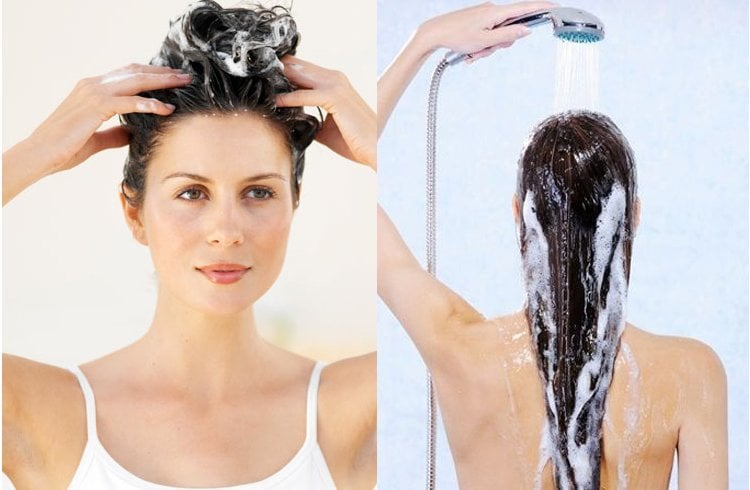 Are You Even Using The Right Shampoo?
In most cases noticed, we aren't using the best shampoo for hair loss. And we wonder why our hair is so dry and brittle, even when using a high end shampoo brand. Just like your skin, your hair has a type too. if you aren't sure of the type, asking a professional to check and help you with suggestions to choose the right shampoos to stop hair fall, would be the best thing to do.
[Also Read: Homemade Shampoo Recipes]
Be Patient When Conditioning
Conditioners need to sit on the hair and the scalp for at least a minute or two. Have you read the post on reverse hair shampooing we uploaded last year during the Fall season? If not, please do. The idea is to condition the scalp and the hair, and not to rush through this or else the hair wouldn't be fed and kept in good stead.
Never Ever Comb Your Hair When Wet
This is why we say, shampoo your hair the night before and allow it time to dry. Never style, shape or comb your hair when it is wet or else you would end up losing more hair. Wet hair is always at its weakest point and hence shouldn't be touched at all. Even if you have used the best Ways to Wash Your Hair, or have used the right process to apply shampoo to hair, you still need to let the hair be left alone so it dries and stays strong.
We hope these tips on how to shampoo the right way to avoid damages and hair fall comes in handy. Do read about co-washing and reverse shampooing- the two best ways to use shampoo on hair.