Soft, elegant, classy, and fashionable is what velvet is all about. This fabric is one that would never fade out of style ever. You get them in various styles to wear and carry around, and in many ways too. From bags to shoes, clothes to necklaces, sarees to jumpsuits, skater skirts to overalls and more, velvet will always rock the fashion scene.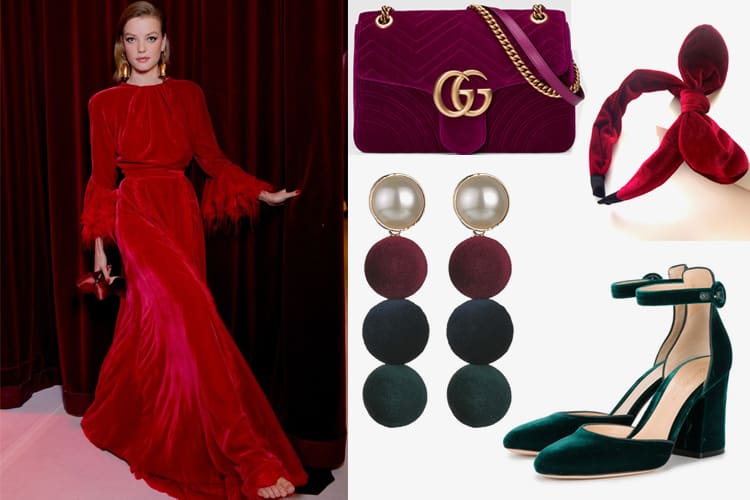 Doesn't velvet make you think of the snowy winter months? The warmth it has and the softness associated with it. Or maybe just that everything in shades of red and wine come about when the climes are cold? Be it a seasonal thing or a trend, velvet has won many fashionista's hearts around the world. Everyone in the fashion scene owns something in velvet. The feel, the touch and the smoothness of the fabric is all that it takes to make the wearer feel a little extra royal and special.
Velvet is very stylish and classy, and the fabric can be worn around for any event or special occasion. This maybe one of the reasons the fabric has reached its pinnacle of popularity amongst fashionistas across the globe. For many centuries now, velvet has been an epitome of elegance and style. In this day and age, the fabric is upgraded and there are plenty of varieties to it as well. You don't have to wear those long heavy dresses of velvet anymore; there are soft and lighter versions available too.
The holiday season is when we see the reign of velvet fashion a lot- from clothes to shoes, accessories and more. If you too are mesmerized by velvet fashion, the softness of it and the royalty it displays, then there are many ways you can wear them. For example-
You can wear for parties a chic velvet dress
For an indian touch to special occasions, you can choose velvet sarees
You can even have a combo of indo western wear wearing western bottoms with embroidered velvet blouses
For your own winter wedding, you could have velvet lehengas stitched and worn
For birthdays and casual parties, or even semi formal parties and gatherings, you can pair up haute velvet tops with gorgeous skirts, pants or just about anything under
If you want to make a fashion splash at a pool party or a beach party by the evening, get adventurous in velvet shorts and a bikini top
Maybe for the college festivals, you could wear a cute velvet jumpsuit with a cotton top inside
For the night out with friends, find your best tops and match it with a pair of velvet pants
You can even sport a matte velvet blazer for official meetings held in the evening
The humble yet gorgeous velvet leggings can be worn with cotton kurtis and tops
So we gave you a sense of how to wear velvet for just about any occasion and you shall rock in it when you carry it with the right attitude. Now let's check out more styles velvet.
Plenty of dresses
No matter what the fashion scene out there would be like, velvet as a fabric will never ever fade out. Dresses made from velvet will always be in vogue, especially when autumn and winter seasons are around. They create a very elegant look for sure and they keep you warm from the icy winds out there. There are many colors in which velvet can come, and not just the classy christmas-y red. Velvet dresses too come in various lengths and styles, and here are a couple of beautiful ones you could check out.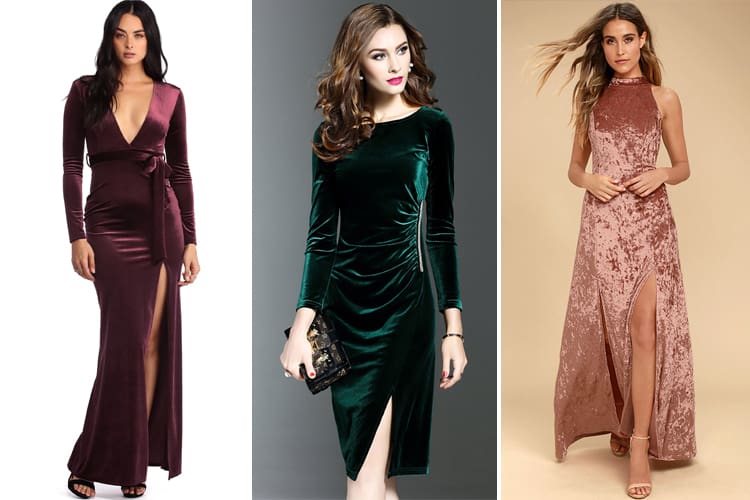 It is but a fabric that speaks of luxe touches, and many would say that you cannot think of wearing it to a summer bash. They say this because the fabric speaks of royalty and could be a little too warm for the indian summers to deal with and certainly not for the indian monsoons. However, if you are creative enough and know how to bend the rules, you can wear velvet anytime of the year.
You Can Wear a Velvet Sari
If not a whole velvet saree, you can have a sari which is lightly colored and the pallu could be in velvet. This would be a great fashion statement to wear and flaunt, don't you think? There are even semi-stitched saris available these days that have borders made from velvet. You can even have a netted saree paired with a velvet blouse or top, and the look would come about as super fabulous. Here are a couple of styles with velvet sarees. Take a look.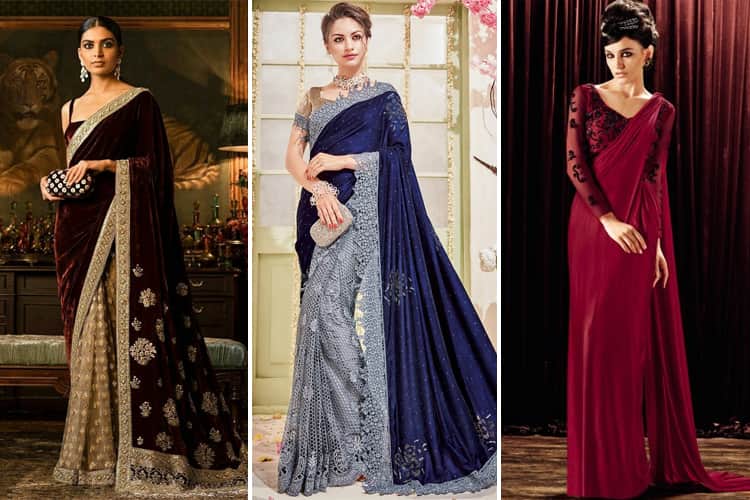 Kimonos in plenty
The newest trend that has hit the market are the overlaid velvet tops, kimonos and jackets. And when you pair them with the right velvet embroidery, the fashion statement created is out of this world. You can wear them to late evening parties or even lunches too. Here are a couple of chic options for you to check out, and maybe try.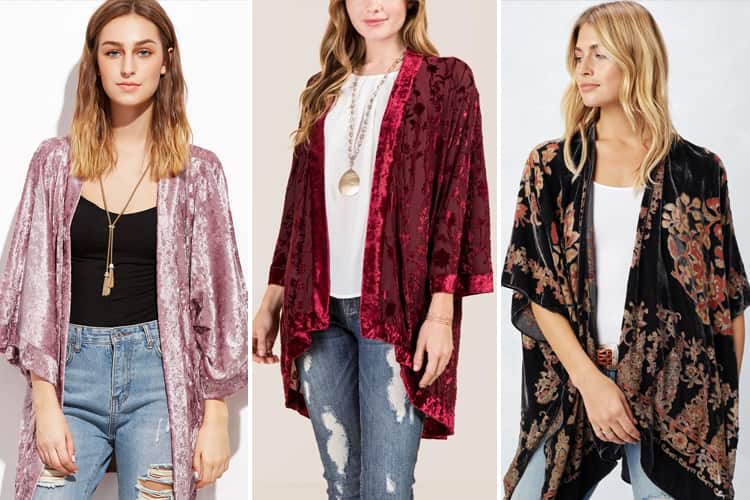 More Skirts Please
For a casual day out, you could wear a straight cut maxi skirt in velvet with crop tops or overlaid tops. Even a midi skirt, which is flared will ensure that the fabric does not cling onto your skin. Velvet is very feminine and girly as a fabric, and no matter how you choose to wear it, it will stand out as an exquisite fashion statement. Here are a couple of elegant velvet skirts to try out this time. Check them out.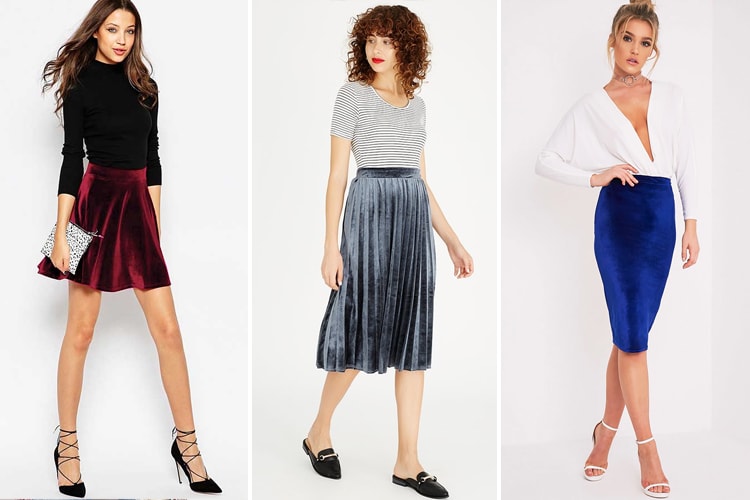 To Accessorize
If you want to experiment with velvet, you should try jewelry made from the fabric. From statement neckpieces to funky earrings and more, a touch of velvet with other metals is all that you will need. And you can wear this to the next bash if you don't want to wear a velvet trousseau. Here are a couple of cool chic velvet jewellery options for you to check out.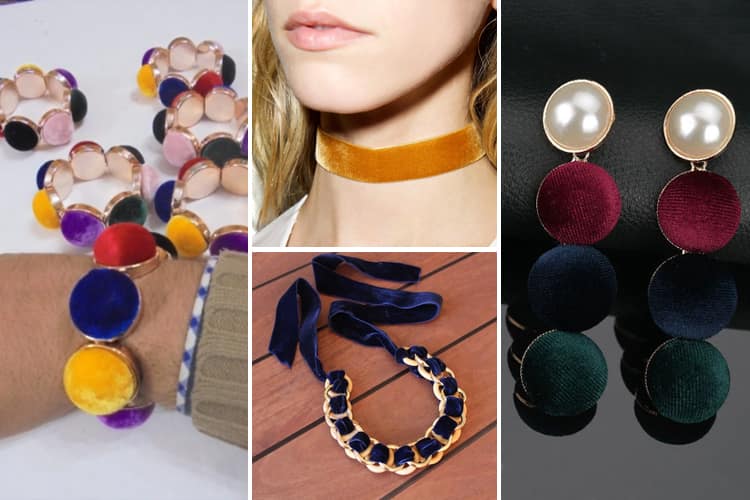 You Can Wear Anything In Velvet
For the holiday season, most would prefer picking up something red, such as a velvet dress, but if you don't want a dress, so be it. There are velvet pants that can be worn, either the wide legged ones or the skinny ones. They look cute and they are pretty festive in their own ways to wear and make a fashion statement come through as well. You can pair up your velvet pants with dark or bright colored tops, and they would look fabulous. Here are a couple of options for you to check out.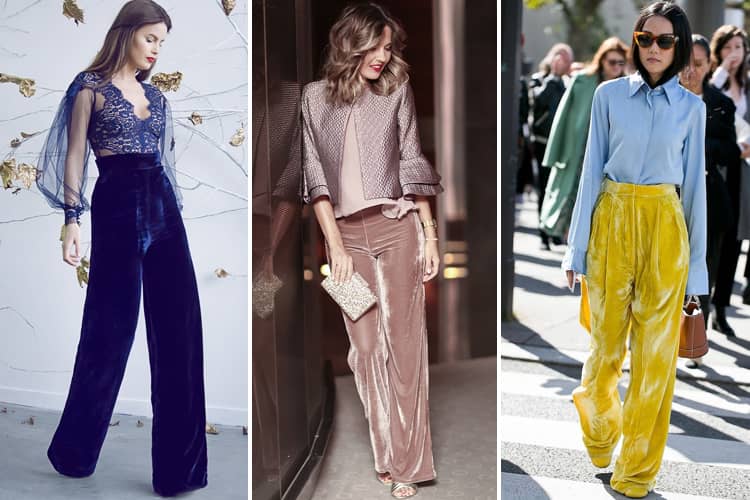 Try Wearing Velvet Overalls This Year
While we were talking about how you could opt for velvet pants instead of skirts and dresses, let's head back to the 90s, shall we? Back in the day, velvet skirts and overalls were major fashion trends, and now they have made a comeback with a modern twist. They look very casual for sure and can be worn for many occasions with friends, but if you choose darker colors with a structured look, you could wear them for special important events and gatherings too. They are very comfy to wear, and look royal too. Here are a couple of options for you to check out, and maybe someday in future go ahead and try them out too.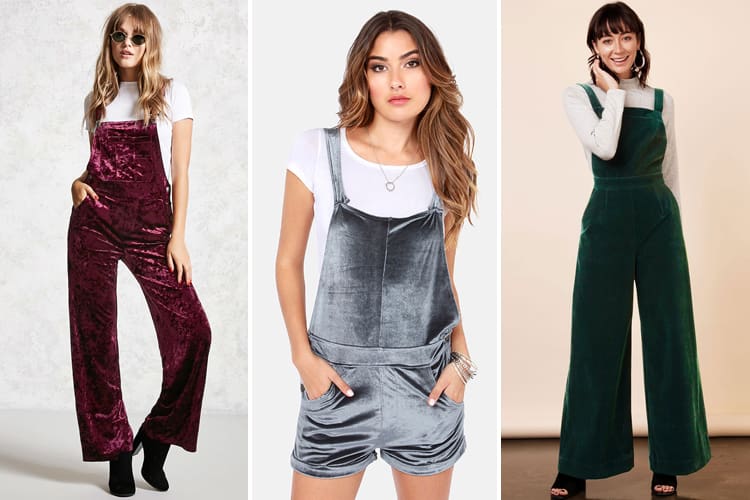 [sc:mediad]
Velvet Jackets And Blazers Are The Best
If you do not wish to have too much of velvet on you, but still want that royal touch and that fashionable zing, you can opt for velvet blazers. They come in a wide variety of colors, from the very bright to the very sober to wear. Most popular ones that are worn during the holiday season for the vibe to come through as blues and greens, blacks and burgundy. You can wear them with plain skirts, denims, skorts, shorts, or even with your sarees when then climes are cold. If you are opting for a velvety two piece number, the two should be in the same color and design. They can have embellishments and designs on them, but that is okay for the holiday season or to wear them for very special occasions. Here are a couple of blazers and jackets made from velvet to check out.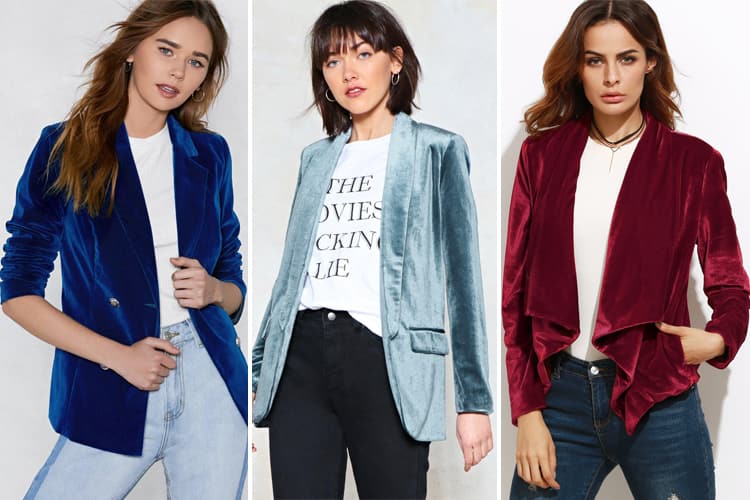 About Shoes?
We cannot consider a wardrobe to be complete when the shoes are missing. A gorgeous pair of flats or heels for the holiday season in velvet is a must have, but they can be worn all through the year. They keep the feet nice and toasty, and they bring about a sense of elegance always. For a casual look, you could try wearing velvet sneakers too, and they are pretty trendy. There would be no problem finding something in velvet for your lovely feet. Here are a couple of choices to look at and admire.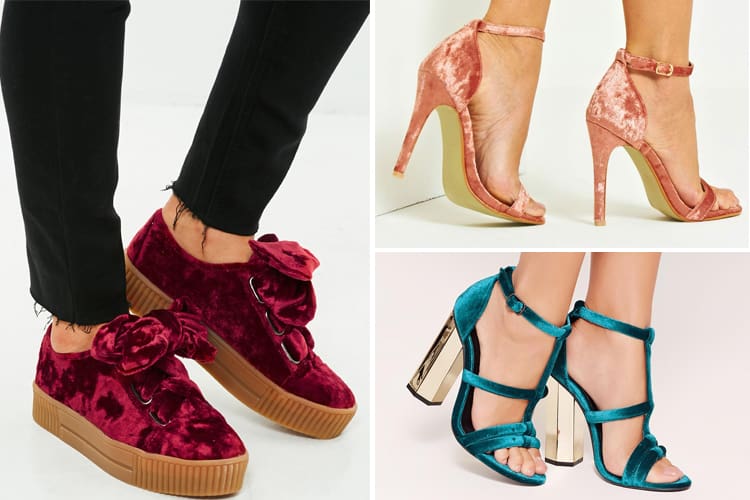 Stock Up On Velvet Accessories
We must mention about stocking up on velvet accessories too, if you do not wish to dress in velvet clothing and shoes. From earrings to bracelets, bags to pouches and more, a touch of velvet can make your fashion statement a very fabulous one. They are available in a wide range of colors and you can be as loud or minimalistic as you want. Velvet chokers are very trendy fashion statements right now, and they have come back from the 90s. Here are a couple of velvet accessories to wear and try.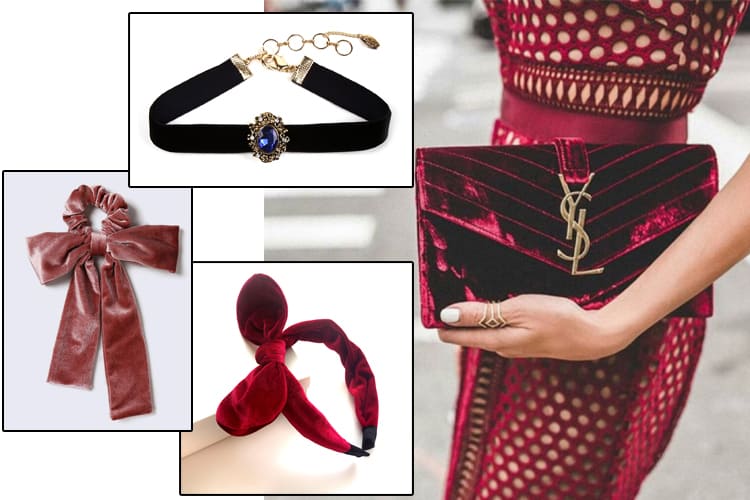 Now that we have shown you plenty of ways to wear velvet, let's take a look at some rules for wearing it.
Dos and Don'ts of wearing velvet
Only one item of velvet should be worn. There are many who wear two pieces of velvet on them, but in all senses, it looks great on the ramp and in fashion magazines, not in real life.
Play it safe when you wear velvet in lighter shades, because it can be tricky to pull it off. Deeper tones are best to stick too, unless of course you are confident enough to carry it with a great attitude.
Velvet clothing should be ironed well, since it comes with cuts which need to be sleek or else the appearance goes for a toss. Crimps and folds in velvet hinder the look, and makes one look drabby and cheap.
When wearing velvet accessories, the lesser the better. For layered necklaces to wear, you should have it in silver or gold, and with a deep neckline on the dress. Chandelier earrings or statement bracelets are best worn with high necklines.
We hope this post on velvet fashion comes in handy when you decide on wearing the fabric in some way. If you own something in velvet, we would like you to tell us how you wear it and with what accessories. We are eager and always waiting to hear from you. Do write in with your views on velvet fashion!