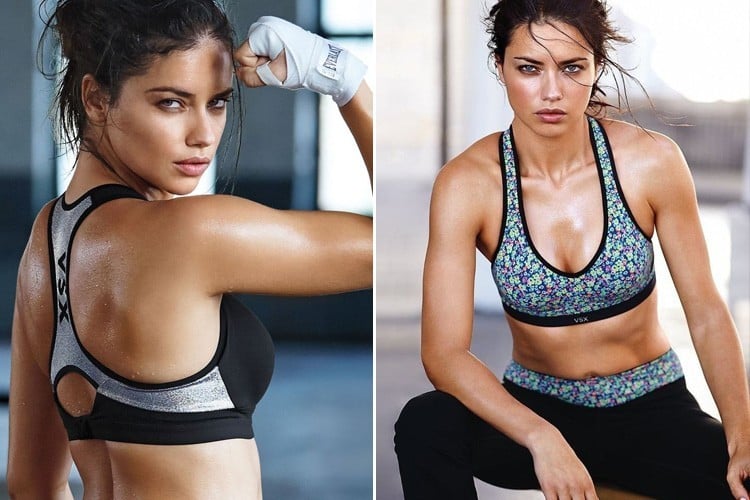 She has been ruling the Victoria's Secret ramp since 2000, and now she is also a successful actress. The Brazilian beauty certainly has rocketed some success in the show biz that shows no chance of coming down. Adriana Lima, since the genesis of her career is known for her gorgeously toned body and well maintained physic. It is really worth admiring that despite being a mom to two, Adriana continues to be one of the most sought after models in the business. And all of it is attributed to her regular exercises and dietary habits. Since her figure rises curiosity among many, we are here to give you a detailed account of her workouts and eating chart.
[Also Read: Victoria Secrets Angel Miranda Kerr Diet And Fitness]
Adriana Lima Workout Routine
HIIT It!
HIIT is something that Adriana swears by. High Intensity Interval Training is a pattern of exercise in which activities of high intensity are followed by those of small less intensity and the process is repeated. The actress uses jump ropes to increase her athletic and cardiovascular capacity. This contributes in quick loss of fat and effectively tones up her body. After giving birth, as she was determined to lose the post baby fat, it was HIIT that came to her rescue and helped her lose all that flab.
Exercises Focused On Muscles
In addition to HIIT, she also performs high intensity exercises which encourages building up muscles and blesses her with the desirable body structure. To get the kind of shape required to look gorgeous in photoshoots she does body weight leg squats accompanied by abdominal workouts. She is not someone who stresses on the use of a lot of machines. She is not even a fan of weights for abs. The super model has achieved that body mainly by sculpting movements which appear really strenuous and result yielding.
Punching Blows – But Not Random
Like Gigi Hadid, Adriana also has a flare for boxing and includes the practice in her daily workout. Instead of punching blows randomly, Adriana combines some complex drills with strength and velocity. She states that because of the cardiovascular nature of boxing, she has kept herself physically fit and mentally sharp. The movements are precise and keep her balanced.
[Also Read: Fitness Apps]
[sc:mediad]
Love For Capoeira And Yoga
Capoeira, a part of Brazilian culture is also preferred by the VS angel. It is a form of exercise that combines martial with dance and music and is performed in high speed with power. Adriana vouches by yoga too. It lends amazing flexibility to her body. One may also catch her spinning and jogging on a daily basis.
What Is She Eating?
How She Starts The Day
Adriana's day starts with oatmeal and raisins and some egg whites. If mood allows she might add milk and coffee to it too. Alternately she might opt for some Muesli with honey or yogurt. Like most supermodels, she follows a diet plan that entails lesser calorie intake as the day progresses.
Lunch and Snacks
Her lunch comprises some meat, chicken, or fish with vegetables. Green grilled veggies are her favorite. She makes sure her lunch has a good portion of fiber content. Raw veggies like cucumber, and carrots form her snacks. A little bit of chocolate for energy with a spoonful of honey often makes it into her plan.
[Also Read: Jennifer Lopez Diet And Fitness]
What's For Dinner?
Beauties of the show biz are known to keep their dinner light. Hence, Adriana only takes salad for dinner. This gets her a good sound sleep and keeps her refreshed on waking up. It can be stated that Adriana abides by a special diet designed at weight loss only till a definite extent and then maintains this weight by increasing calorie intake slightly. Her regular diet will have 5 ounces of any kind of protein and she is also a fan of various protein shakes.
Adriana just doesn't cut out meals from her day. As her has herself stated, her diet chart and been planned and recommended by doctors and it matches the strenuous exercises that she follows up her meals with. Like most modern models, she eats regularly and against the popular belief of starving oneself to stay thin, she eats in plenty. She makes sure that her restriction doesn't hollow her health in any point. So if you are among those who starve to lose weight, now you know, you were doing it all wrong.