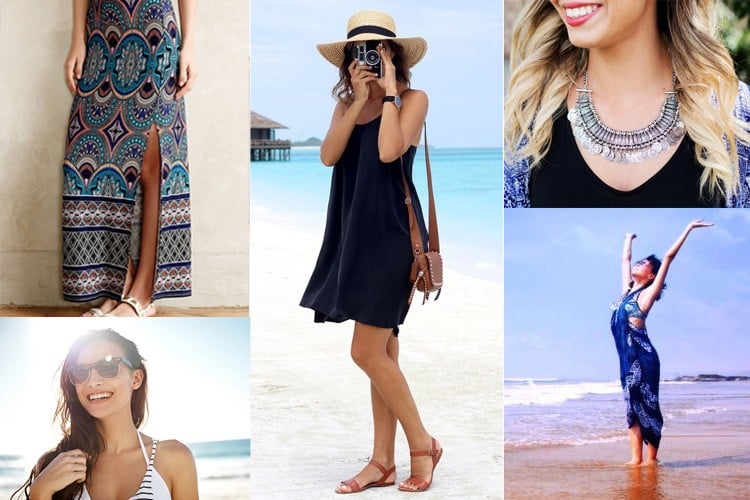 Are you a travel freak by the mountains, and hills? Or a beach bum who loves to stroll around on the seashore with your hair tied in a messy bun, donning a cool pair of sunshades to avoid the glare and a can of beer in your hand. If it is the latter, welcome to Goa. Never mind if it is the nation's smallest state, it is where you will have loads of fun without a shred of doubt.
Goa is the most sought-after destination when it comes to a perfect beach holiday. And it is the laidback spirit of this place which asks you a valid question – what to wear in Goa.
In other words, what to wear in Goa – Goa dress code. Whether it is a casual day of beach hopping or sun-bathing or the nightlife, here are the dresses which will make you the perfect beach babe when in Goa.
Fashion Must-Haves To Wear In Goa:
Check out our list of some style essentials before you start packing up for your Goa trip. You will love them.
1. Bikinis:
You know something – Goa beachwear is incomplete without bikinis. If you are planning to get into the water, a sizzling swimsuit is one of the basic essentials you need just like carrying a good sunscreen is a must to enjoy the surf, sand, and sun. Goa is one such place in the country which welcomes you with open arms when wearing stylish beach outfits is on your mind.
If wearing skimpy swimwear makes you feel uncomfortable, tankinis and high-waisted bikinis are good options too. Do not look like a misfit in jeans when everyone around you is in bikinis. Is it worth the insecurity when you can pick a bikini which you feel comfortable in? Remember to wear bikinis, the Goa beachwear only in beach/pool areas not in public places unless you want to be a cynosure of all eyes. Mind you, in Goa, modernity is just limited to the beach, not beyond. Got it?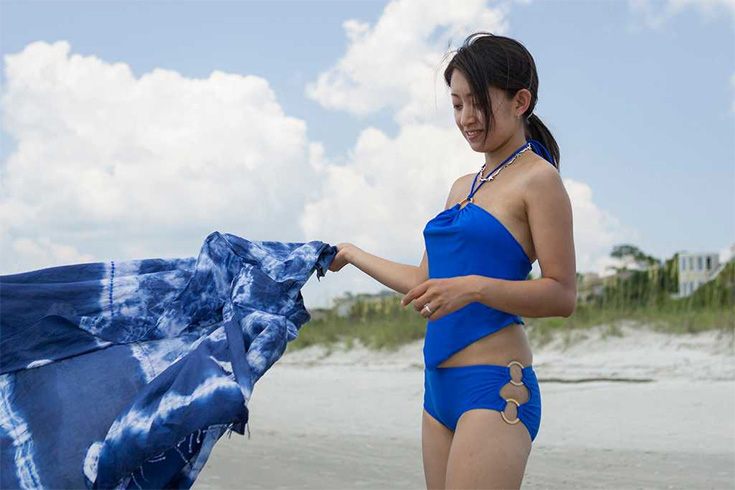 2. Sarongs:
Bikinis are not everybody's cup of tea. A sarong is one of the most popular clothes to wear in Goa for curvy ladies. The sarong wraparounds are perfect for beach holidays and can be thrown over your swimwear. You can even turn a sarong into a dress by wrapping style and comfort together. Sarongs come in vibrant colors that enhance the overall vacation mood and can be tied up in multiple ways.
Goan beach market gives you plenty of options in the sarong segment. Bargain it right, as then it becomes an enviable steal.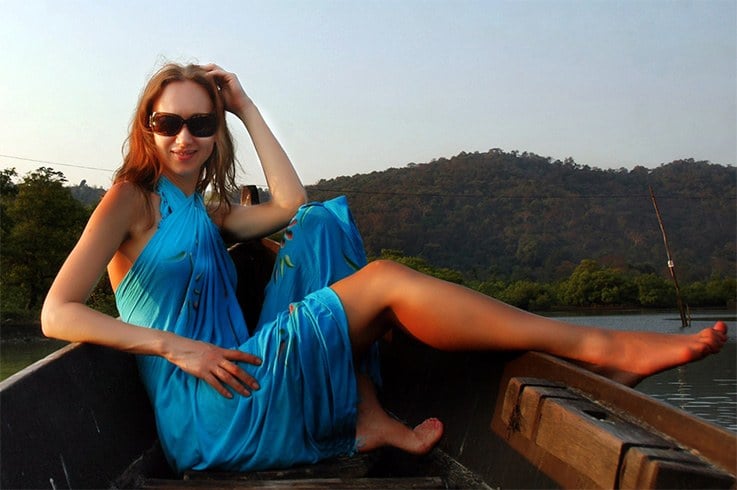 3. Beach Cover-Ups:
When you wanna leave the sand, then don this layered over swimwear. Beach cover-ups are light and airy and perfect for the hot and humid weather of Goa. No need to tie them up as you do with sarongs. The best part about this Goa dress is that it comes in different styles – kaftans, kimonos, to ponchos.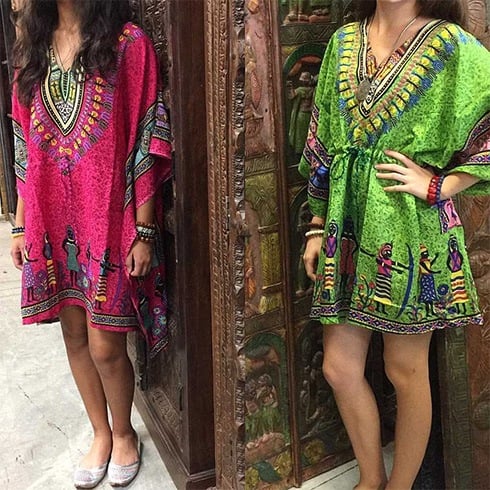 4. Linen/Cotton Shorts:
Whenever you are holidaying on a beach, it makes sense to carry fabrics that can dry up easily. Stay away from wearing denim shorts. They take their own sweet time to dry up and they can get pretty uncomfortable in the heat. The numerous pockets in denim shorts will have the sand getting into them and it will take a few weeks to get them out completely. Ouch! Are you still going to wear denim on the sun-kissed beaches of Goa?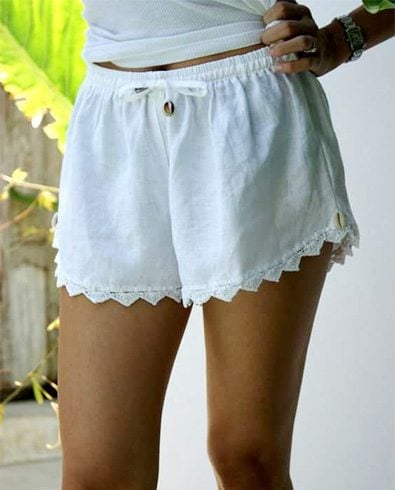 5.Loose-fitting Trousers:
For those of you lovely beach girls who are not keen on wearing shorts or don't want to get tan on your thighs and legs after wearing skimpy outfits, loose-fitting bottom wear is another smart choice from our list of dresses to wear in Goa. Try out wide-leg pants, harem pants, gypsy pants, palazzos, culottes and linen cargoes.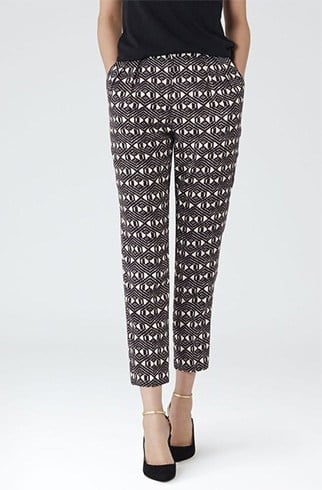 6. Spaghettis/ Tank Tops:
It is time to leave the boring formal shirt and dull t-shirt home. Pack in halter-neck spaghettis and racer-back tanks as quintessential Goa dress code. These are space-saving and give you the happiness quotient since you are not able to wear them in work life. And you can pair these with almost anything.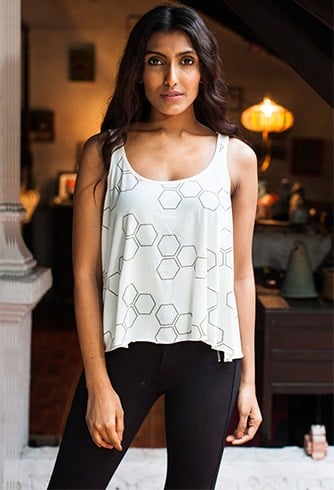 7. Sundresses:
What can be more vacation-friendly than a floral printed dress, a sunhat and Hawaiian flip-flops in Goa? Wear them for an evening stroll or while stepping out for sightseeing or enjoying a lazy seafood brunch at the beach shacks.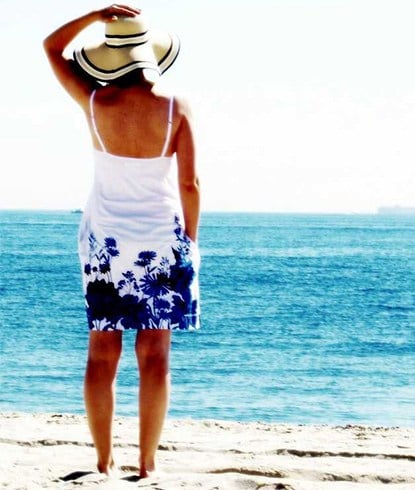 8. Long Skirts:
The fun of wearing long skirts is that they are flowy and give you absolute freedom while dancing (even shorts do but the comfort varies from person to person). So essentially, with long skirts, you get to feel the air and ooze some feminine charm!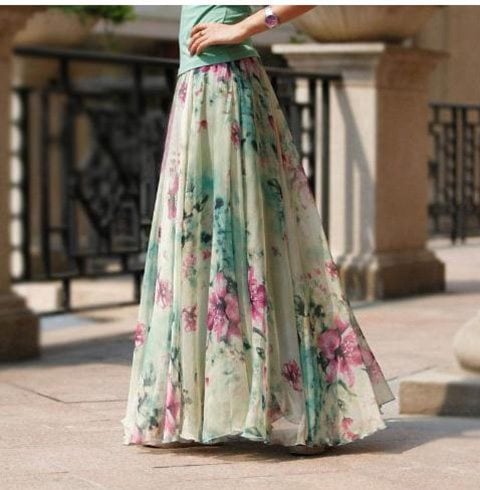 9. Maxi Dresses:
Enjoy a trance party at Goa or stop by a bar for a couple of shots when you are dressed in a tropical printed maxi dress. Off-shoulder maxi dresses and side-slit maxis are your clothes to wear in Goa.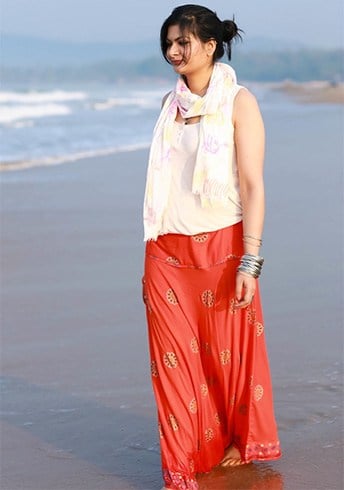 10. Printed Jumpsuits:
If the idea of dresses sounds boring to you, then go for long jumpsuits or playsuits. The printed ones add to the fun quotient and also double up as beachwear.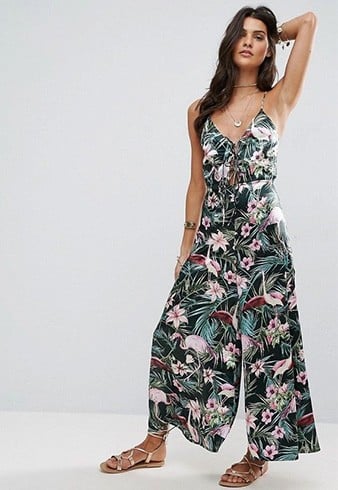 11. Sequined Shorts:
Shorts are comfortable. And there's no doubting that. There are so many options in shorts – lace shorts to high-waist shorts and then sequined and embellished shorts. Pair them with a neon top and you would look rocking before you go party hopping.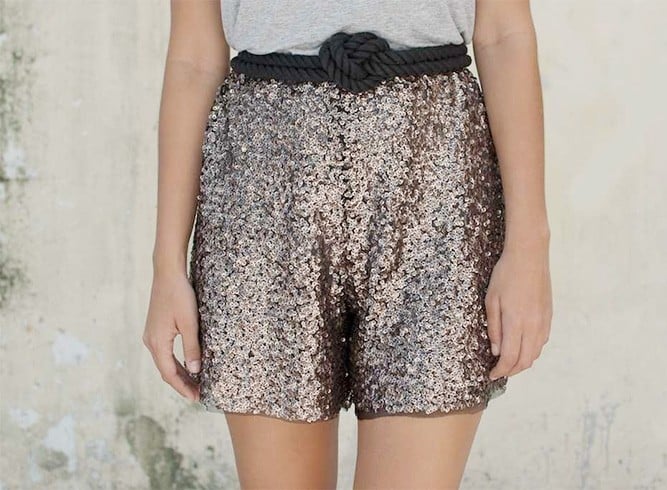 Accessories To Wear In Goa:
Accessorize right. That's what you should emphasize on what to wear in Goa – Goa dress code. Here is how:
1. Straw Hats:
Go to the Goan flea market and you will find plenty of straw hats to protect you from the sun as hot as you, apart from adding that extra oomph to your look.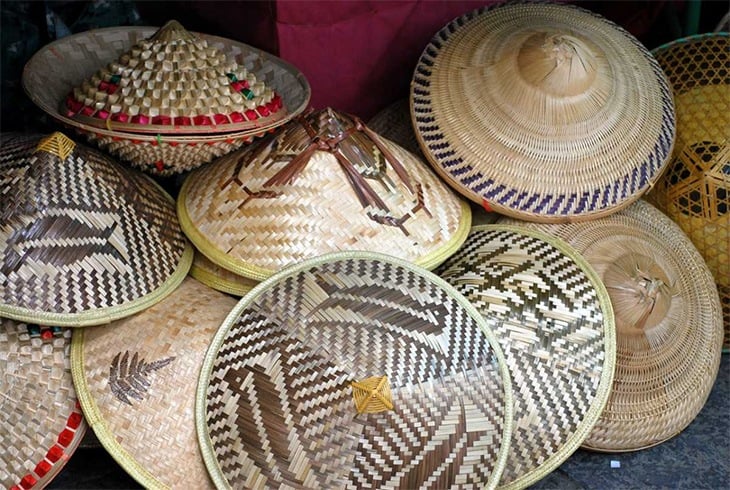 [sc:mediad]
2. Scarves:
Humidity in Goa can play havoc with your hair. Put on a pretty looking scarf for protection as well as enhancing the look of your Goa beachwear. You can also tie up a bandanna around your head.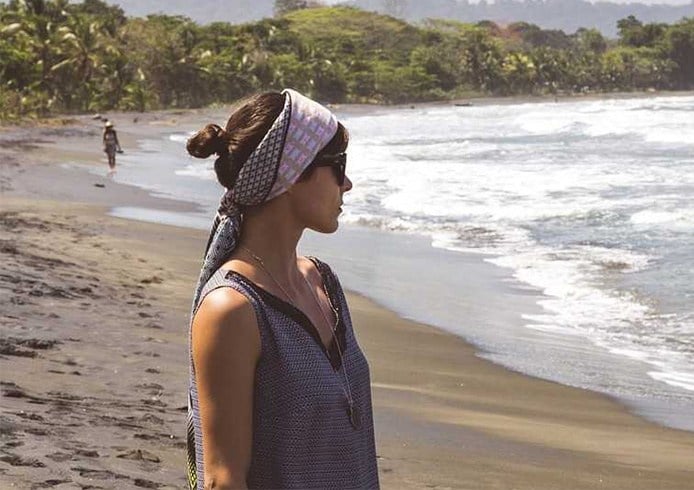 3. Flip-flops:
That's a staple go-to Goa dress code. No bulky shoes and stilettos when in Goa. Just get yourself a good pair of Crocs or open-toe sandals.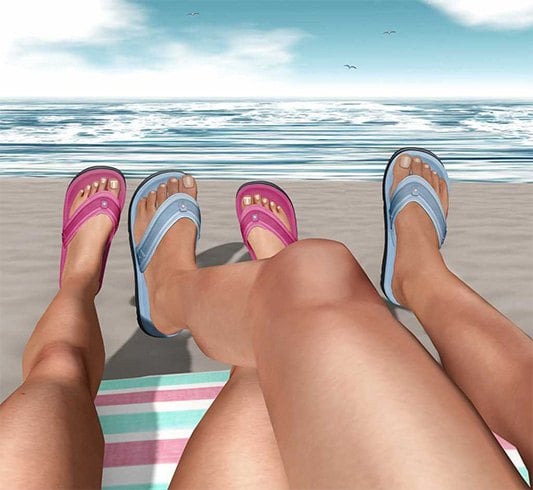 4. Sunglasses:
If you want to spend most of your time in Goa at the beach it's time to take out your sunnies. In fact, reflective mirror finish glasses are a rage these days. Not only do they do their part in protecting your eyes, they also up the style quotient. Since Goa welcomes quirkiness, never be afraid of experimenting with the frames.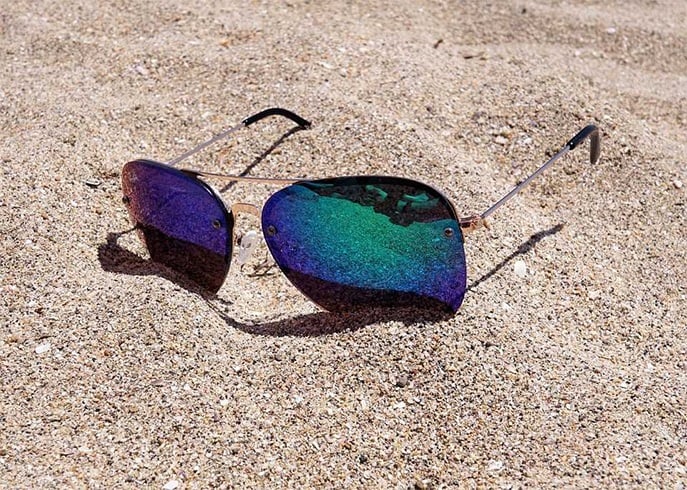 5. Chunky Jewelry:
Are you still going to be wearing chokers and gold when in Goa? The call of the hour when on the beach is lightweight and trendy jewelry. Explore lots and lots of shell bracelets, large bead necklaces, waist chains, anklets, funky looking toe rings and danglers. Go boho-chic! But keep your metal accessories away from saltwater.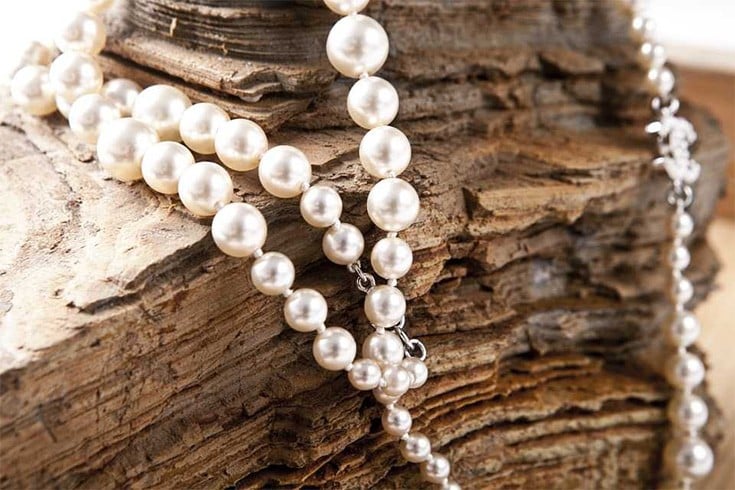 6. Tote Bags:
Keep your LUXE bags in your wardrobe because Goa beachwear demands bright colored tote bags to stock all your essentials – whether it is beach towels, or sunscreen, gloss or maybe a book. Make sure your beach bag is made of waterproof material. Stay away from leather bags.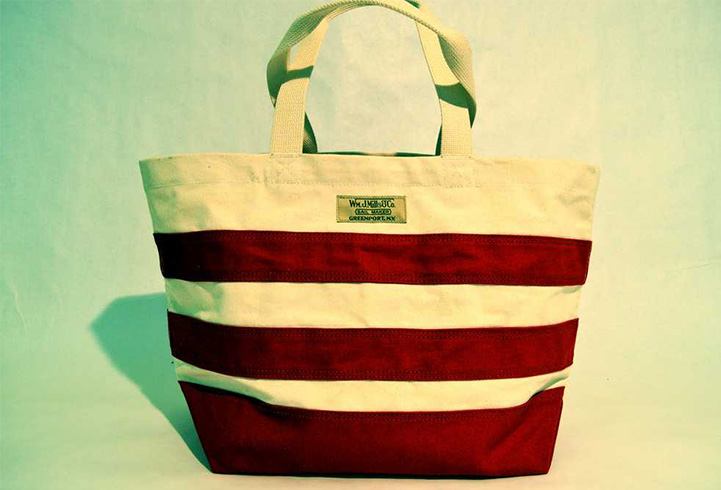 What NOT To Wear When In Goa:
This is an important point for first-timers traveling to Goa. You better know the NO-NOs before packing your bag for your Goa trip or when you are already there.
1. Jeans:
The Goa dress code is meant to unwind from city life, not get back to city life. The best way to loosen up in Goa is when you give up denim.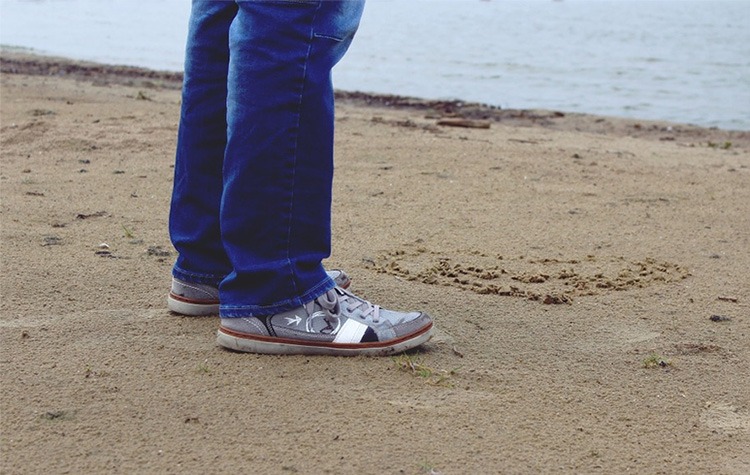 2. Synthetic Fabrics:
Considering the sultry and humid weather of Goa, it is best to stay away from polyester, nylon, and leather. Carry Egyptian cotton, linen or fine silk.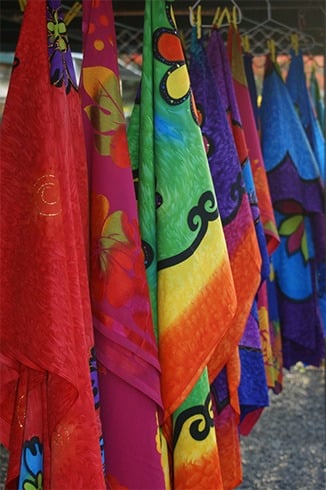 3. No Sheer And Ill-fitted Swimwear:
Goa beaches are bikini-friendly but do not wear swimwear which ends up showing the parts you never wanted to show. Stay away from sheer tops and bottoms as well.
4. Closed Footwear and Heels:
A beach is not a ramp walk. So abort the idea of wearing heels and pumps. Flats would be the best bet and running shoes if you are going for morning jogs.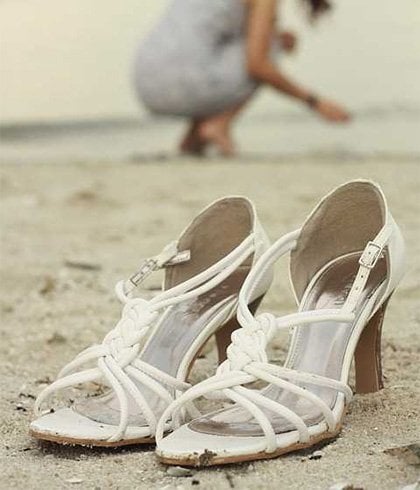 5. Expensive Jewelry:
Most of you might think this one doesn't come in the list of dresses to wear in Goa. But jewelry is an accessory in dressing. Avoid losing your precious jewelry in the sand and ditch it for some silver trinkets or bohemian baubles that gel with the carefree vibe of Goa. Carry silicone strap watches and not your expensive watch (unless you are adamant about wearing the latter).
6. Heavy Makeup:
The climes of Goa are going to ruin your makeup. Why should you end up looking silly wearing heavy makeup when you can go for nude, simple and minimal makeup. Tie up your hair in a bun, put some coral pink on your lips and go for lightly-lined eyes.
7. Hair Dryer:
In Goa, apart from the lovely beaches, you get salty wind and water. Now, these can make your hair frizzy and dry. Don't worsen the situation by carrying hair gels and dryers. Windswept hair anyways looks amazing. So go natural!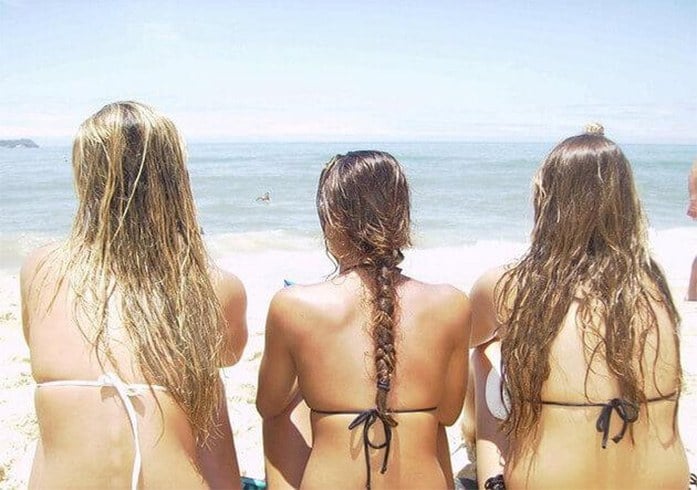 Now that you know what to wear in Goa – Goa dress code, pack up and get ready to enjoy your vacation in India's most happening beach destination. Remember to click your selfies in your super stylish beach avatar! Have a rollicking time!