The thing with our Bollywood leading stars is that they are always expanding their horizons and juggling several hats. Besides their careers in movies, they also venture out to many other things. Bollywood stars who have already established themselves are branching to other more lucrative paths. It is up to them to make it big and many of them have actually done it!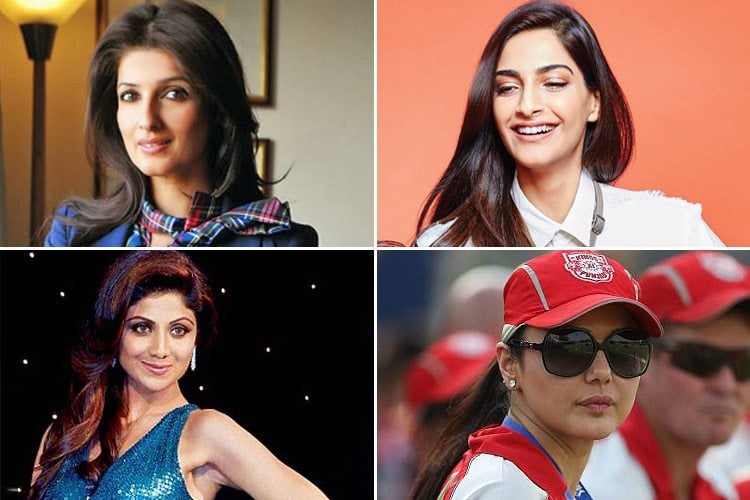 Bollywood Women Entrepreneurs:
In this article, we will talk about some of the women entrepreneurs in Bollywood and the path they chose to make it big. Of course, for them, it's a little bit easier because their credibility in the market has already been established and some of their brands have actually become quite famous. So let's read about some famous female entrepreneurs:
Shilpa Shetty:
Ever since her movies started dwindling Shilpa slowly made her way into the very lucrative world of fitness and IPL. These two lines are booming in India right now and she made a wonderful switch. She has always had an amazing body and hence, it is easy for people to follow a woman who emphasizes on a way to eat healthy and be fit. Shilpa Shetty has launched several fitness DVDs and at the same time also appeared on many TV channels and on YouTube to promote her range.
She is the co-owner of the cricket team Rajasthan Royals with her businessman hubby and has even launched her own perfume line. Recently, Shilpa Shetty also partnered with IOSIS range of spas in Mumbai.
Preity Zinta:
Preity Zinta is again considered one of the most successful women entrepreneurs form Bollywood. In 2008, Preity unofficially resigned from Bollywood and ventured into thaw world of IPL. She bought the team Kings XI Punjab and is often seen cheering on the team whenever there are matches. Her bubbly and adorable smiles seem to keep all the players in the best of the spirits. While not enjoying IPL, Preity can be seen enjoying beautiful vacations with her husband (she recently got married).
Sushmita Sen:
Our favourite Miss Universe seems to have tricked age and blossomed into a beautiful entrepreneur. The Bengali beauty is not just a single mother of two, but she also has her own very successful jewelry store in Dubai. The store is managed by her sister and mother right now and she visits there often. In the future, the ageless beauty aspires to open her own chain of spas and hotels under her company ' Sensazione'. She also owns a company called Tantra Entertainment and it produces movies.
Lara Dutta:
Another one of our favourite Miss Universes, Lara Dutta has ventured away from the movies long back and got into production. She has come up with a very creative production company called 'Bheegi Basanti'. Besides that, she also has her own range of sarees for which she collaborated with the brand Chabra 555. And because she is such a fit mother, she also has a Fitness DVD to her credit.
Twinkle Khanna:
The recently released Padman may have tugged at every woman's heart strings thanks to the topic it touched and it was produced by Mrs. Funnybones Production – the company that was launched by Twinkle Khanna. Twinkle may have left tinsel town long back, but she gained quite a foothold as one among the many successful women entrepreneurs from Bollywood.
Twinkle Khanna is funny, smart and very sarcastic and is well known for her funny columns in the newspaper. She has a book to her credit and now is also dabbling in interior designing. She is a co-owner of the brand 'White Window' that is known to provide interior design solutions for the rich and the famous. She is a boss woman and read her book to giggle at her wonderfully straightforward stories.
[sc:mediad]
Karishma Kapoor:
The elder Kapoor sister may have stepped away from the glare of the tinsel town, but she is enjoying on her own might as a successful entrepreneur. Karishma Kapoor is now a co-owner of the company Babyoye. This company makes items that are needed for babies – including clothes, food items, toys etc. She is also the face of the famous Hyderabad-based ethnic wear brand called Neeru's and is often seen in their ads and billboards.
Dippanita Sharma:
Now, this is one successful entrepreneur who has ventured into a totally niche area – A yacht chartering business. Dipannita owns a luxury yacht she lovingly calls Shazma and plays hosts to corporate parties, luxury parties, and private parties – basically any kind of gatherings that need to be hosted on a yacht. She rents out the yacht to people who are looking to gather and it's doing quite well for her!
Anushka Sharma:
From marrying one of India's most eligible bachelors at a secret ceremony in Italy to having her own clothing and production line, the young business mogul (if we can call her that) has ventured and dabbled into a lot of stuff. Her production company is called 'Clean Slate Films' and has produced the thrilled called NH 10. Anushka's clothing line has also been the talk of the town for some giving a trendy look to most clothes. Plus, her line is super affordable and that makes it a favourite with many people. The young actress is really on a roll!
Sonam Kapoor:
Besides being our favourite fashionista, Sonam Kapoor has also made high fashion accessible to us by creating a high fashion line with her sister Rhea Kapoor and christened it 'Rheson' (A term they coined by combining both the sister's names). They have haute couture stuff (Thanks to Sonam's immense knowledge of fashion), but the good thing is, they sell at very affordable prices – it makes high fashion accessible to us. Rheson items can be found at Shopper's Stop and Westside and is a fabulous mix of Indi and ethnic wear.
SO this was our list of fabulous women entrepreneurs from Bollywood. Not all of them have completely left the line of movies – they are still a part of tinsel town, but once they feel they have achieved the pinnacle of success, they have some really enterprising and exciting businesses to look forward too and who said women entrepreneurs can't be exciting – take the yacht chartering business for instance. It's smart, it's radical and it's breaking stereotypes – we love a woman who takes charge like that and we wish all the women business folks all the very best in all their ventures. May the force be with them!