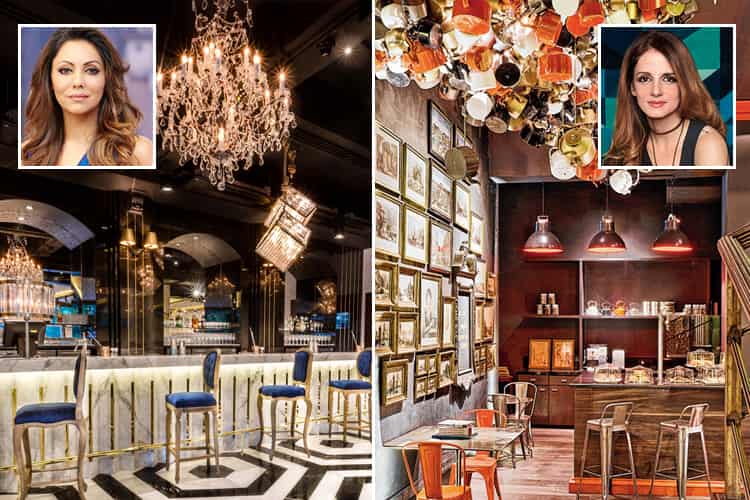 Don't call them 'celebrity wives' anymore, or just 'celebrities', for they are women of grit and determination, who have rose above the stereotypes and carved a niche in the world of interior designing. While some of them are married or have been to celebrities, others are self-driven entrepreneurs that have made a mark in the world of interior designing. The 'celebrity wife' label that we tag most of them with is now to go for good. They have created outstanding brands and here are 7 women interior designers who inspire us, showing us how to redo and decorate our homes with utmost elegance and style. Check out the 7 women interior designers who inspire us below.
Twinkle Khanna
Amongst the 7 women interior designers who inspire us, we have to mention Twinkle Khanna. She began her tryst with interior designing in 2002 and is known to be a staunch perfectionist. Her USP is all about blending- blending furniture pieces quite unique with one another, and without the show of effort that too. Twinkle is known for playing with understated concepts and minimalism. She believes in design aesthetics that make an individual's space a cozy dwelling to live in. Twinkle Khanna's project – The White Window is a concept which stores and stocks what is extraordinary, but very elegant and practical when it comes to home accessories and accents.
Gauri Khan
Gauri Khan may be the wife of a very famous superstar in Bollywood, but she is a multi-talented lady and a very famous interior designer of high affluence. Gauri loves exploring new avenues and ventures, and she began her tryst with interior designing working along with her best friend, Suzanne Khan with The Charcoal Project. She now has moved on and has her own brand for interior design, thus making her one of the most powerful women in architecture and design through The Design Cell. With Gauri's touch, you can expect nothing less than the best being bestowed inside a home. She has a stunning house of her own, and for Gauri Khan to do the same for anyone would mean replicating a lifestyle and a very stylish home. Gauri believes in bringing creative energies to the forefront, right from curated pieces to the flooring and more, she gets them all from the most stylish and exotic places for you.
Suzanne Khan
Sussanne Khan believes in the good old world charm, which should be brought back. For this celebrity interior designer, it is all about adding a touch of whimsical decor into a house. She loves keeping the interiors elegant and she loves playing along with vintage yet very artsy pieces to spruce up the mise-en-scene of a house. Suzanne when visualizing empty spaces dreams of bringing plenty of life into the void around, and she enhances the space using the best of her abilities. It is all about the curiosity that is brought to the forefront with Suzanne's work, and she aspires to be an inspiration for those with curious bent of mind, who would want to stretch the concept of interior designing to another level altogether. According to her, it is all about building homes and building dreams, much beyond the grasp of the ordinary that too.
Mana Shetty
Mana Shetty for long has been running many fashion boutiques across the city. However, her latest stints include the likes of R HOUSE. R HOUSE is a blend of the eclectic mix of luxury and high-end products – dining accessories to chic rugs, glass cascades to wonderful wooden furniture and more. They look very minimal and simple in make, but if you look deep enough, you would see the ardent craftsmanship and intricate details on every piece of furniture around. It is more of a collectors delight to have a house designed by Mana Shetty, and this is what makes her an inspiring woman of Home décor too.
Monica Khanna
Monica Khanna is a reputed interior designer and she has many years of experience which makes her famous. She is known to be the brain and the hands behind designing luxury trains- two of them- "The Palace on Wheels' and 'The Royal Orient'. Monica has plenty of awards, accolades, and recognition as well for her work, and she is an ardent believer of the fact that style is eternal, which needs to be celebrated. Monica fuses colors and textures and comes out with stunning concepts which are minimal and in all its simplicity so fine as well. One has to check out her curations at the famous 'The Delhi Design Store', where you would find plenty of sources and interior accessories, along with exquisite furniture as well.
[sc:mediad]
Shabnam Gupta
Shabnam Gupta is another powerful lady when it comes to interior design and home architecture. She has worked with many well-known names to turn their homes into artsy places of living. From Raveena Tandon to Rani Mukherjee, Kangana Ranaut to Parineeti Chopra's home and more from the world of Bollywood, Shabnam has worked for them all. Shabnam looks at the intricate details and takes up a lot of challenges to make the end product work for the client overall. She also is one of the few women to run two other companies- a retail venture on home decor and furnishings, Peacock Life, and her own interior designing firm- The Orange Lane. She has even done the interiors for famous spaces such as the well-known The Bar Stock Exchange and the esteemed Intercontinental Hotel's restaurants, along with Sassy Spoon, and even for Smaaash and The Pepperfry Studio too.
Parmeshwar Godrej
Parmeshwar Godrej is a name to reckon with. She is a seasoned interior designer for sure, but only a celebrity designer. She has made her name in the world of interior design for a very long time and does only for a select few. One of her ventures was the 3,401 sq ft apartment in Planet Godrej in Mahalakshmi, Mumbai, amongst the many others she did. Parmeshwar Godrej is staunch about the work she takes and the deliverable's she gives, which is why it is only through appointment that she takes up assignments.
We hope these seven women from the world of interior design have inspired you enough? Do write in and let us know what you think about the work of these seven divas.