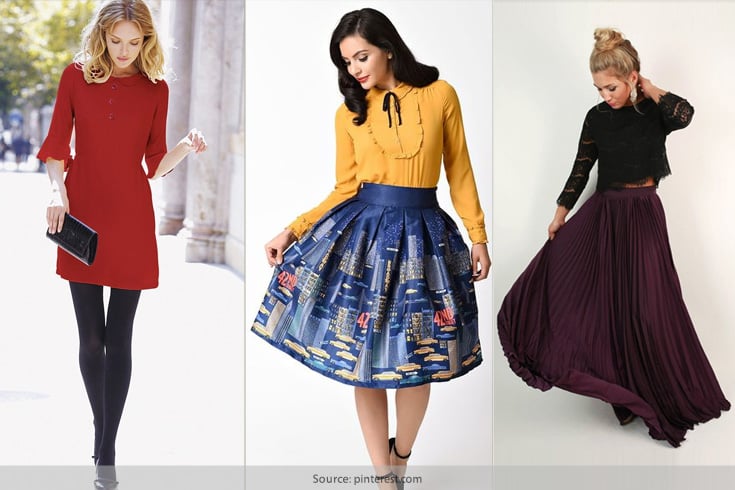 Tis the season of jolly goodness, when you get to flaunt your beautiful personality and make merry too- wait up there! Have you stashed up well enough for the wintry months fashion wise with the chicest of holiday clothes and outfits to stand out like a diva? If not, here are many fashionable holiday clothes for chic PYTs such as you to wear and flaunt around; the range of holiday clothes and holiday outfits ideas we bring to you are a colourful bunch, and can be worn mix and match too- use your imagination for the same.
[ Also Read: Best Blazers For Women ]
Gorgeous And Very Haute Holiday Fashion Statements To Wear At Work
Ditch the boring monotone colors and pop in some brightness in the winter months when you head to work six days a week. We bring to you colourful holiday dresses womens fashion statements that can be worn everyday to work and without an eyebrow being raised. You could even oomph up the fashion statements and impress clients at important meets, pairing up the holiday clothing statements with the right makeup, accessories and haute footwear too!
A chunky gray stole and a white crisp shirt, paired with a nice black velvet skirt and stockings for the legs would make an impressive business casual statement at work!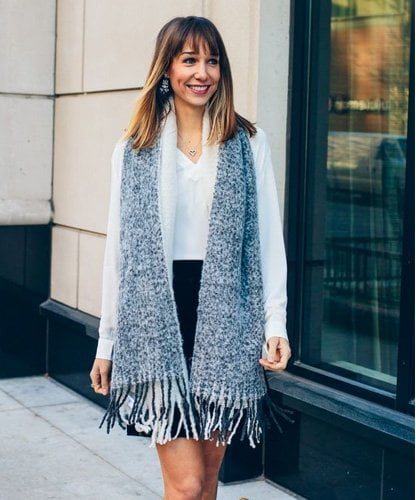 Thinking about what to wear for your after hours office holiday party? Think red, and a red one piece crepe dress for the spirit of the season to flaunt with a pair of pumps and heels in the same shade or in black would be amazing!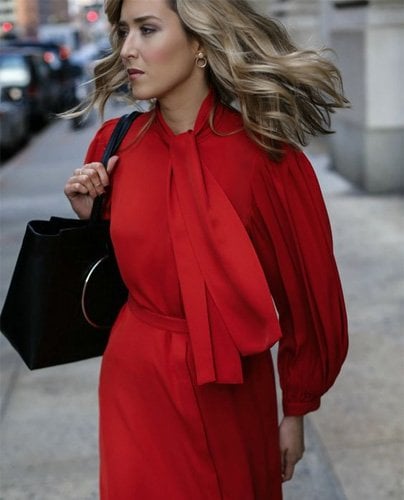 A waffle knit dress in burgundy tones can be worn with knee-length boots and a statement long neckpiece for the Friday fashion statement to make at work. Minimal and chic, pair the same with a netted stole or scarf to keep warm and leggings for a toasty touch!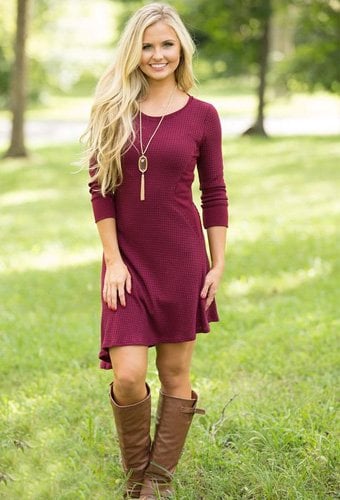 A waffle shirt in mustard tones with a printed blue skirt would make a retro touch to the business casual statement you want to make at work. Pair the look with heels or pumps for the feet, and your boss would be impressed.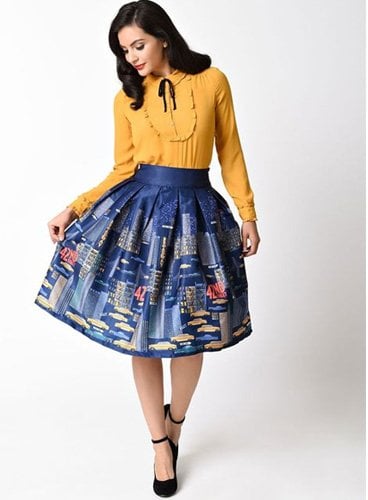 Plaid is a must have for the winter fashion statement to be complete, and when worn with a dark hued midi skirt, the look for the business environment comes as clean and sexy at the same time!
[sc:mediad]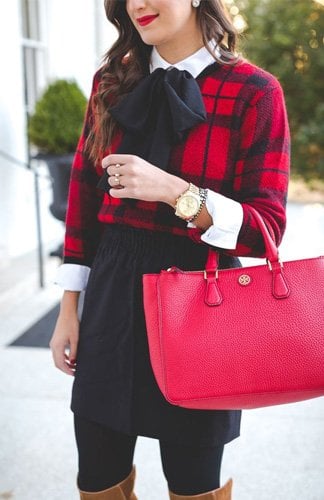 Indulge In A Little Street Style With Holiday Maxi Dresses
The streets have to come alive with chic fashion statements too, which is why we would look at holiday maxis to wear and flaunt this season. In various prints, colors, hues, styles and designs, patterns and prints and textures too, maxi dresses worn with knitwear fashion can make a haute elegant statement. Take a look!
Pretty black lace and cotton tops with a purple crepe holiday maxi skirt for the evenings out with friends; complete the look with boots for a sassy touch to come through!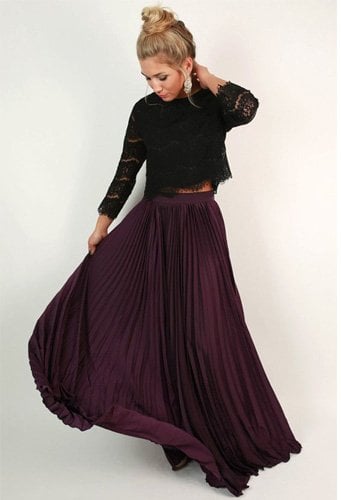 A little bling doesn't kill when you wear the same on the streets. A look so elegant and minimal but very street style too, which makes heads turn- a neutral toned shimmer maxi skirt paired with a white full sleeved top is the ideal way to hit the movies!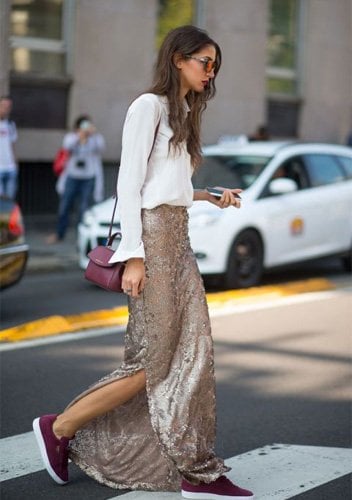 Gorgeous mauves mixed with pinks can create a magenta touch on the holiday maxi skirt, and pairing the same with a black top can be a cute affair to flaunt on the streets. Complete the look with a pair of flats or heels as per the occasion!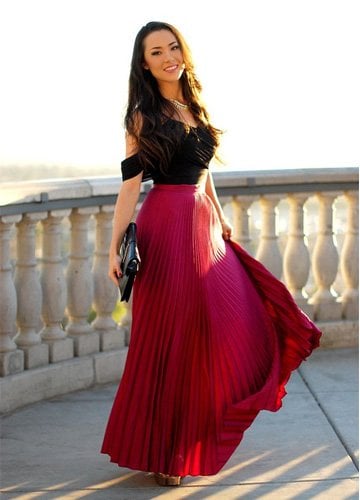 Party Way In Sexy Holiday Party Outfits
It is the season to break a leg and shake many more too, which is why we have brought to you ideas on holiday party outfits to wear and make fashion statements with- take a look!
For a cocktail party to attend, and when you want to beat the run of the mill thought of wearing formal holiday party outfits, here's your manifested fashion statement to make- a gorgeous burgundy skater skirt!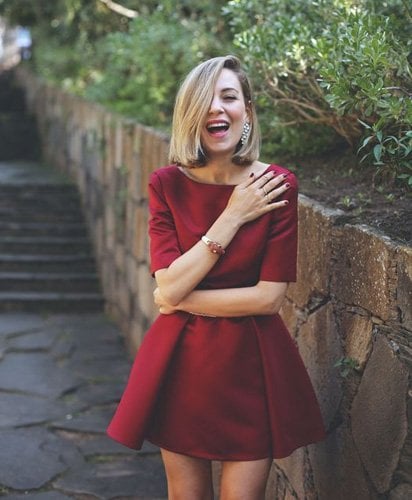 Vintage and classy in style, chic and sassy in the new-age saga, a floral fashion statement in a long dress is a must this holiday season!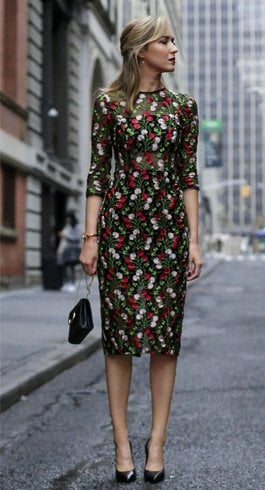 There are much more ways to flaunt your holiday clothes and fashion statements, but we want to hear from you on the same- write in!
Images Source: pinterest.com