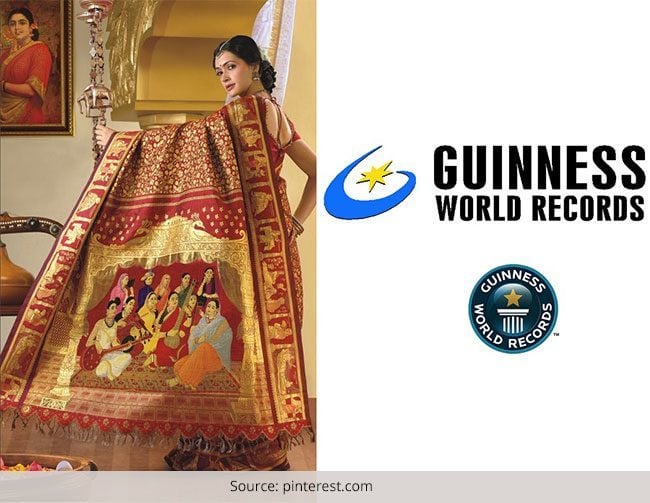 Did you know: the Ravi Verma painting saree by Chennai Silk is the world's most expensive saree priced at Rs. 39,31,627?
Acknowledged by Guinness Book of World Record as 'the world's most expensive sari', it has been designed by the handloom weavers of city-based textile house 'The Chennai Silks'.
This is what mentioned in the Guinness Book of World Records for the world's most costliest saree:
The most expensive silk saree was sold for Rs. 3,931,627 ($100,021; £50,679) on 5 January 2008. It was made by Chennai Silks, India and features reproductions of 11 paintings by the celebrated Indian artist Raja Ravi Varma.
The main image is a reproduction of Varma's famous 'Galaxy of Musicians' Took a total of 4760 man-hours to produce List of ingredients:
1. Gold 59 gms 700 milli grams
2. Diamond 3 carats 913 cents
3. Platinum 120 milli grams
4. Silver – 5grams
5. Ruby 2 carat 985 cent
6. Emerald 55 cent
7. Yellow sapphire – 3 cent
8. Sapphire – 5 carat
9. Cat eye-14 cent
10. Topaz -10 cent
11. Pearl-2 gms
12. Coral-400 milligrams
Weighing around 8 kgs, the 'Vivah Patu', worlds most expensive saree is flanked by 11 paintings by celebrated Indian painter Raja Ravi Varma and is designed by the director of Chennai Silks, Sivalingam.
As per Ramesh Raja, floor head, silk section, Chennai Silks, "The silk sari is made up of Navratna stones like diamond, emerald, ruby, yellow sapphire, sapphire, topaz, pearl, cat's eye and coral. It also has embroidered in metals such as gold, platinum and silver. It entered Guinness World Records."
[sc:mediad]
This 40-lakh worth bridal most expensive sari was designed on a request from a Kuwait-based businessman, who didn't want his name to be revealed.
For the worlds most expensive Indian saree, Ramesh further added,
"Our director conceptualized the design and it was later taken over and executed by the weaving team. It's a team effort and the credit goes to Chennai Silks. The sari is very much wearable. The weight is not a concern because once the sari is draped; one can hardly feel the weight. Our model wore the sari for the TV advertisement."
Below is the pallu of the World's Most Expensive saree.
Here is the image of a model wearing the World's most expensive sari.
Chennai Silks had designed a similar sari in 2007 and sold it Jan 5, 2008 to a Bangalore-based businessman, who bought the sari on the occasion of his 10th wedding anniversary.
A year later, a Kuwait-based businessman approached them for Vivah Patu, which he bought for Rs.40 lakh.
This worlds most expensive saree was produced using 7,440 jacquard hooks used for interlacing design and 66,700 cards used for punching design with the help of CAD software.
It makes us feel so proud that the timeless Indian traditional women's attire, sari has bagged a place in the Guinness Book not because of its encrusted precious stones, but for the celebrated paintings by Ravi Varma featured on its bodice and pallu. The pallu features the exquisite Raja Ravi Varma painting 'Lady Musicians', featuring women choir with an extensive color palette of 16 colors and 64 shades.
Weaving the saree was not an easy task. It took 36 skilled weavers and almost a year and half to complete it. The brocade features 10 different designs conceived from 64 combinations of colors. The border is flanked by precious nagasu ornaments.
The unstitched piece of 6 yards has still retained its aesthetic values, even though it's undergoing rejuvenation these days. The world's most expensive saree sold at 40 lakhs is a proof that the timeless traditional handloom sarees are still in demand.
The best part about this Ravi Varma painting saree is that it is wearable just like any other regular pattu sari. This is not their first ever innovation. In the past they had come up with perfumed sarees. "Bublee – 2500 in 1" was another creative sari priced between Rs. 2 lakhs and 5 lakhs without any ornamentation.
In a bid to become the manufacturer of the most innovative sarees in the world, the Chennai Silk came up with this 8 kg weighing Vivah Pattu saree which eventually got an entry into the Guinness Book of World Records.
Nita Ambani in the World's Most Expensive Sarees
Adding to the list of most expensive sarees in the world, Ms. Nita Ambani who is the wife of one of the most richest people in the world, wore a 40 lakh worth saree at the wedding of the Reliance Group of Industries CEO's son in Ahmedabad. This saree was again designed by the director of Chennai Silks, Sivalingam. which was similar to the Vivah Patu.
The most expensive saree worn by Nita Ambani has Lord Nathwada depicted on the back of blouse. No doubt these richest people have loads of money to spend on these things.
All said and done, do believe that these two sarees are some of the most beautiful sarees in the World. Stay tuned for more such interesting news!!