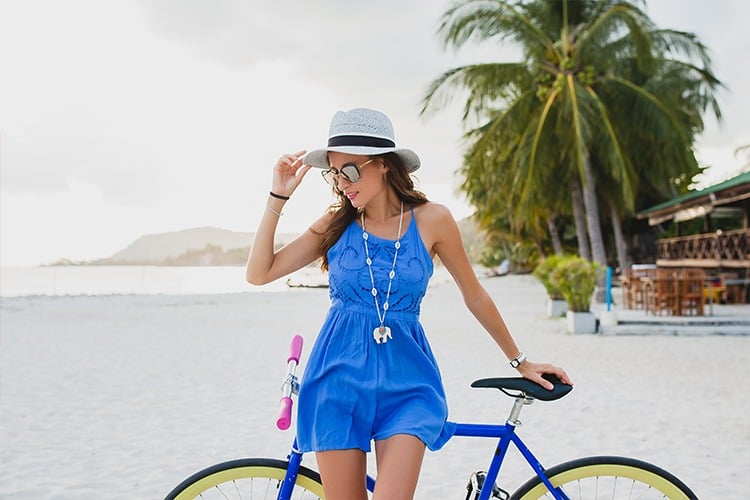 Mercury is rising, but your style shouldn't collapse. You can now keep your dress code relaxed. Keep it fresh and look effortlessly ultra stylish with these hot-weather must-haves.
Have a look!
Loose fitting pants
Shorts are commonplace in summer. If your wardrobe does have a harem pant yet then upgrade it asap, as loose fitting pants are in fashion these days. Call them harem or slouchy, they're going to give you a chic n refreshed look even in scorching summer.
You can pair harem, which is one of the trickiest trends of the season with anything from vests and tank tops with a blazer. You can either tuck in your slimmer singlet or just let loose a T-shirt, not over sized though.
This fashion-forward look works best for night-out and just pair it with heels to show your punk side and it also works well during day. Just pair them with a tank top, a jean jacket and flats.
Printed Blouse
If you've printed blouse or polka dot shirt then it's time to bring it to the front place in your wardrobe. It is one of the simplest ways to show up trendy at your workplace. Just pair it with a pair of plain pants of any shade and even please your HR for being in formal wear and simultaneously enjoy your voguish side.
And to give yourself a contemporary twist, go for court shoes in contrasting color.
Printed Dress
You do not have to spend a fortune for this. You can easily find one at Fashion Street in Mumbai, Janpath in Delhi, Goa beach markets and Brigade Road in Banglore at the best buys.
Go for a beautiful floral print, surf print, digitized ikat or anything that would make you feel light and refreshed. A rocking feminine frock is never out of fashion. You can find such design in most of the season's popular fashion runways, from Louis Vuitton to Peter Pilotto.
Be creative and complement your look with either an over sized handbag or huge danglers. Try to keep your neck clean and put on a smart heel.
Fail-safe dress
When you're confused which style put on, just for this dress. Believe us even celebs heavily rely on this tunic dress style when they're skeptical about what to wear outdoor. It's easy to pack and easy to wear it and it's great for traveling too.
Floral print dress is a fail safe option for summer and it's a must-have in your wardrobe. Just pair it with a jersey belt or some junk jewelry can also be a trendy option.
Tulip Skirt
This black knee length classic skirt with ruching is surely going to give a hot professional look. just wear it with a white shirt and tuck in. Minimize the accessory, just go for a long neck piece if possible, while black pumps will work wonders for your look.
Cascade Top and Pleated Jersey Slouch Pants
The cascade tops are best for gals suffering with weight issues. It is a great piece to be carried to any place – be it home, office or hangout. Pair it with a pleated jersey slouch pant to keep up your feminine element and complement it with red towering heels as show in the pic.
What customers say before buying it –
This is the type of thing I want to be wearing at home when I have unexpected visitors
Their views after buying it –
They were very Hollywood- starlet-at-home!
Gracefully Gathered Top
You can even go for a beautiful gathered top for your workplace or even a movie. You can pair it with anything from jeans to pleated jersey slouch pant and make your slouching sexy!!
Cropped Pants/Capri
With Summer Capri or cropped pants are also in. Top designers including Dolci & Gabbana, Emilio Pucci, Ralph Lauren etc. do not forget to showcase their designs in their spring/summer runways. It's one of the best outfits for a casual look.
For top selection, we leave this up to you – either pair it with an over sized tee or go for a tank top. However, be particular with footwear. Go for wooden platform heels or Audrey Hepburn-inspired ballet pumps and accessorize it with an anklet piece if possible.
Classic Skirt
Go girly with this figure-flattering classic A-line skirt, which is the sassy substitute for the pencil skirt.
Sheer Brilliance
Summer is a key player in your daily wardrobe options and it's the best time in the year to show off a little skin which isn't crime though.
This peekaboo trend provides an outlet for slightly sexier styling with just the right amount of "better left to the imagination" attached.
From wisely put sheer pieces to see-through skirt and top hems to nude necklines, you can go for ultra-girlish contours paired with even more feminine sheer details. You can either go for a see-through top or skirt with sheer element at the hem or simply pick a subtly sexy LBD. This dress is a perfect option for a sophisticated dinner or even for a nightclub.
Well, those are some of the hot fashion tips for summer 2013. Hope this helps!