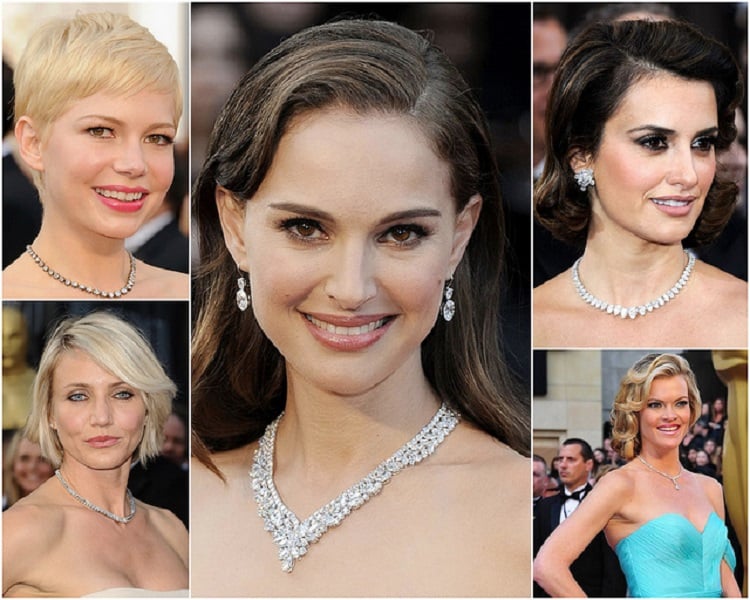 While all eyes are now set on the Academy Awards 2014, there is so much to pay attention on the Oscar red carpet as well. While spotlight is always on the Oscars dresses, the accessories and jewelries are not left behind. From Harry Winston to Stuart Weitzman, the Hollywood divas just outshine everyone else with their expensive ornaments adorning their explicit red carpet outfits.
While dazzling diamonds and precious gemstones have now become an integral part of Oscars fashion, let's have a look at the history of Academy Awards jewels in this edition.
Before that a brief GK session on the red carpet tiara.
Did you know?
Harry Winston was the first jewelry maker to bring diamonds and gems to the red carpet.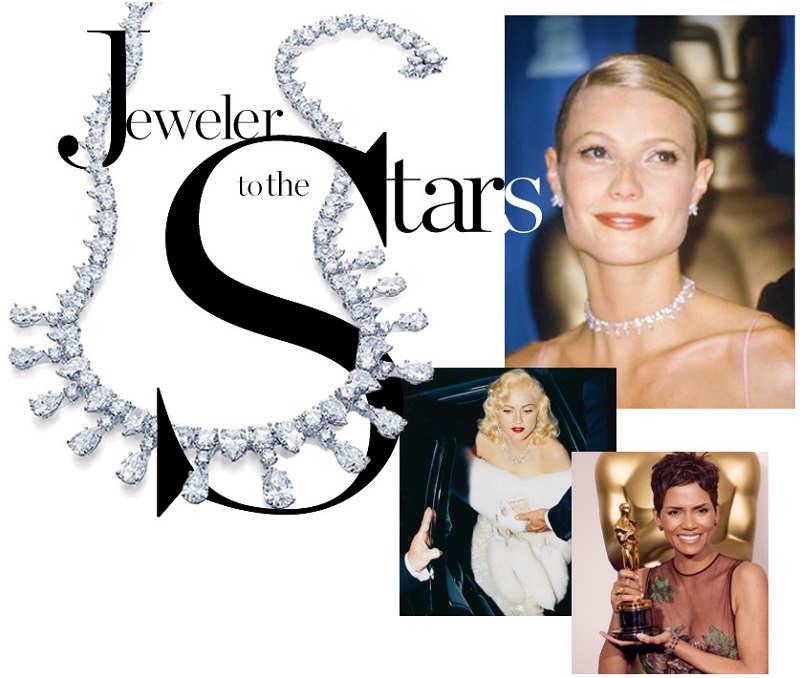 Let's find out how this American jeweler changed the face of red carpet forever.
It was in 1943 when the legendary diamond setter revolutionized the red carpet fashion, when he dressed the 1943 Academy Award winner Jennifer Jones in his signature diamond studded ornaments. A history was in the making, as Harry raised the bar of celebrities' appearances with diamonds – sparking the personality of the Hollywood stars.
And this is how the 'Jeweler to the Stars' was born. Even after 60 years, the Harry Winston diamonds continue to reign the Oscars nights. As I am covering this edition I am getting goose bumps remembering some iconic moments from Oscars history. For instance, when Halle Berry made history as the first African-American to win the Best Actress Oscars award, she was wearing Winston's rare orange Pumpkin Diamond, which added glitters to her historic moment.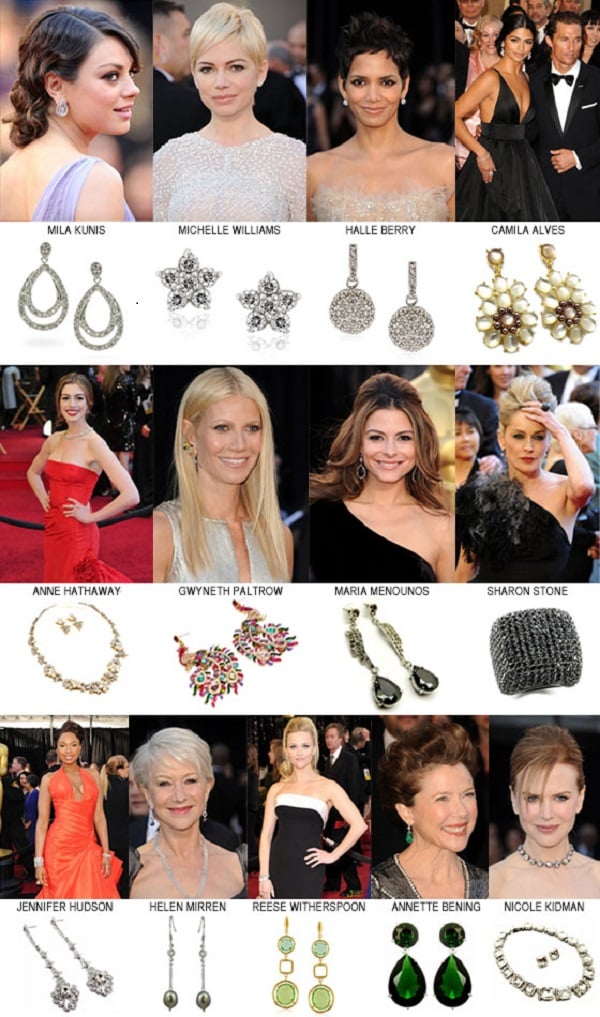 The Oscars glamor is indeed incomplete without Harry's solitaires. The tradition of dressing the leading ladies had already begun, so from Marilyn Monroe, Elizabeth Taylor and Katherine Hepburn to Halle Berry, Angelina Jolie,  Sophia Loren, Scarlett Johansson, Gwyneth Paltrow, Charlize Theron and the list just goes on; almost every celebrity longs for dazzling in his stones at the red carpet.
The Most Expensive Jewellery Ever Worn to the Oscars –
#1 Elizabeth Taylor
Cartier diamond necklace – $1 million
1970 Oscars red carpet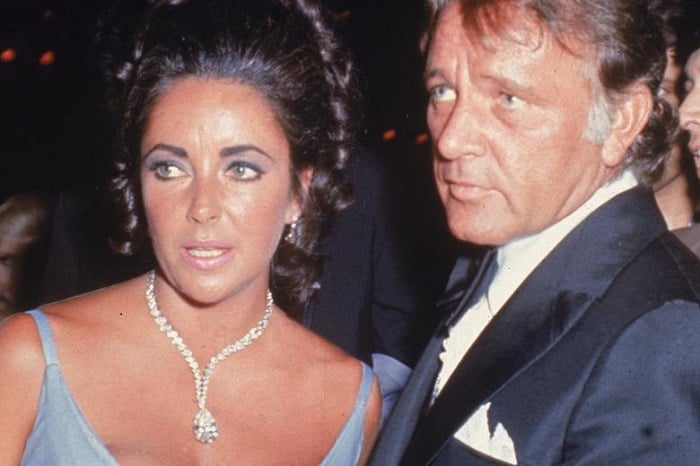 It is perhaps Elizabeth Taylor's one of the most iconic Academy Awards moments, as she showed up in a violet-colored chiffon dress with deep plunging neckline. She wore a 69-carat diamond necklace, which was gifted to her by her husband Richard Burton. Burton had purchased this 69.42-carat pear-shaped diamond at an auction for over $1 million. It was originally set in a ring. Then later on as per Taylor's suggestions, Cartier designed it into a necklace."
#2 Gwyneth Paltrow
Anna Hu Haute Joaillerie "Hearts of Winter" cuff bracelet – $1 million
2012 Oscars red carpet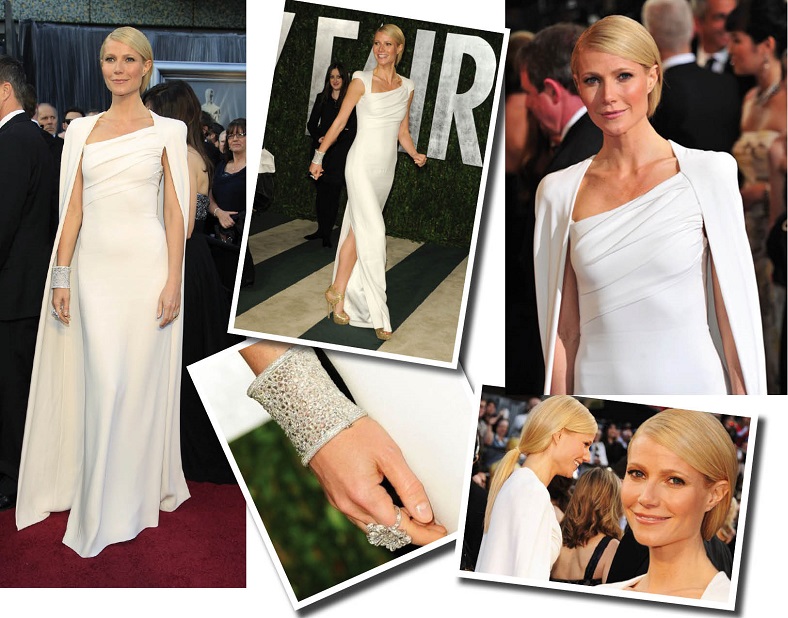 While Gwyneth Paltrow's stunning Tom Ford gown which was sufficient enough to shine on the red carpet, the actress did not minimize her accessories. While some understated ornaments would have worked so as to keep the focus on the smartly crafted silhouette, Gwyneth rather opted for thick, bold bracelet.
Her Anna Hu Haute Joaillerie "Hearts of Winter" cuff bracelet was encrusted with 2,368 diamonds weighing in at a total of 163 carats.
#3 Amy Adams
Cartier Jewelries – $1.3 million
2011 Oscars red carpet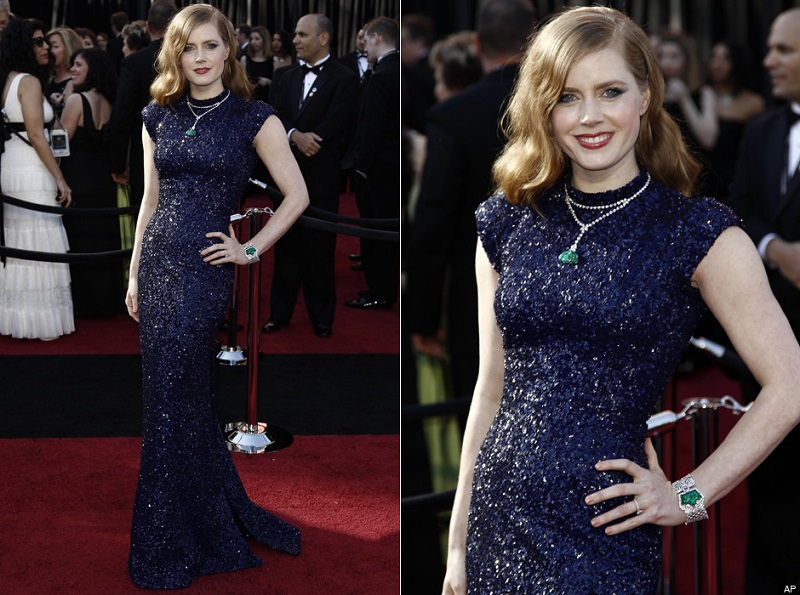 The Academy Award nominee of 2011 Amy Adams was indeed under the spotlight for two reasons. She stood apart from the rest of the crowd not only because of her shimmer blue L'Wren Scott cap-sleeved gown, but also for the jewelry she wore, worth $1.35 million.
'The American Hustle' actress donned a huge Cartier platinum and diamond Haute Joaillerie secret watch bracelet, which was encrusted with a 30.75-carat carved emerald and 575 diamonds. The bracelet is worth $1.025 million.
Adams paired her bracelet with a stunning pair of platinum and diamond 2-carat stud earrings, worth $35,000 and a Cartier platinum and diamond necklace with carved 33.24-carat emerald, worth $290,000.
#4 Angelina Jolie
115-carat Lorraine Schwartz stunners – $2.5 million
2009 Oscars red carpet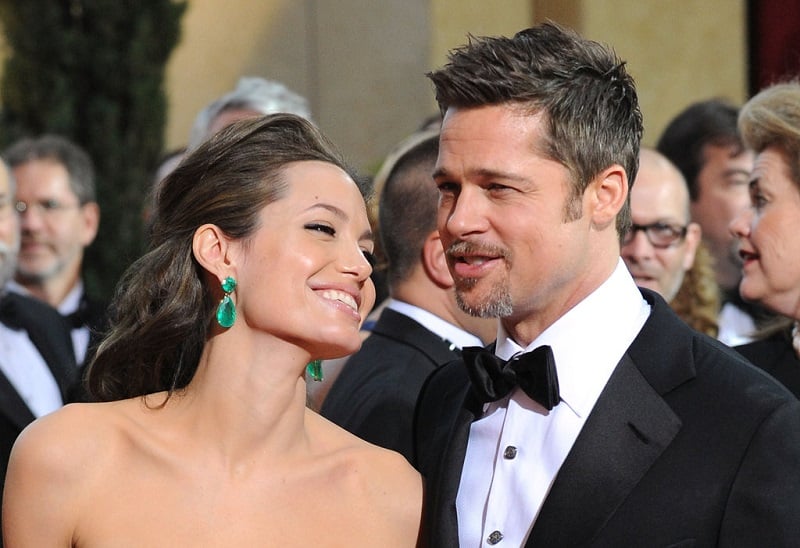 When Brangelina (Angelina Jolie and Brad Pitt) arrived at the 2009 Oscars red carpet, Angelina Jolie took the evening by storm as she awe-inspired every onlooker with her astounding outfit. Her emerald earrings – the 115-carat Lorraine Schwartz stunners priced at $2.5 million along-with her Elie Saab gown went down in the history to become her best dressed Oscar outfit till date, whilst getting a place at the top 10 best Oscar dresses of all time.
#5 Jennifer Garner
Neil Lane diamond necklace set in black gold – $2.5 million
2013 Oscars red carpet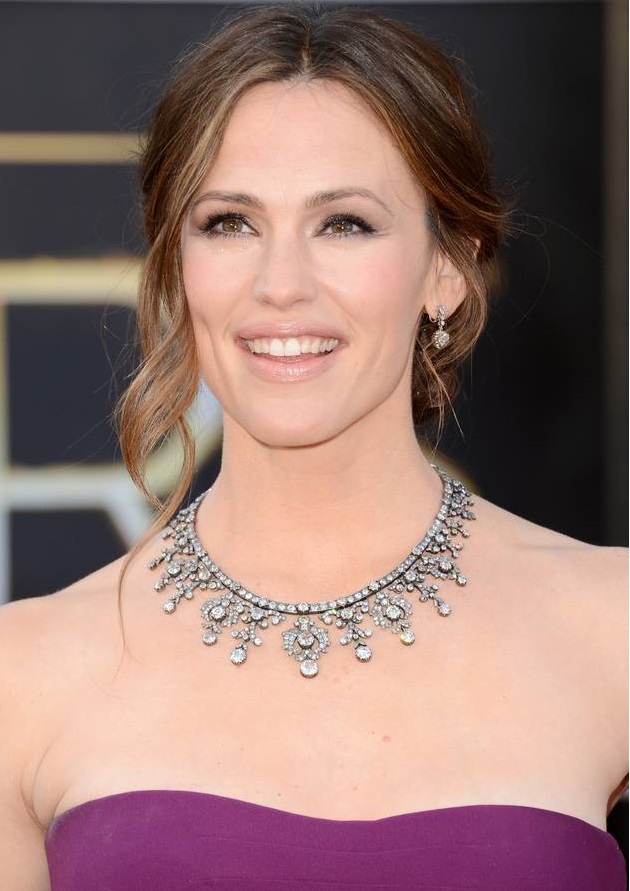 Even it's for a night, the celebrities in the rented ornaments shine like real stars of the sky. The Rachel Zoe team had chosen the Neil Lane creation to adorn Jennifer Garner for her big night. The team picked the stunning 200-carat darkened diamond and platinum necklace for Jennifer Garner to wear, which was vintage-inspired designed in dark platinum worth around $2.5 million.
[sc:mediad]
#6 Kate Winslet
Yellow diamond necklace with matching canary diamond earrings and bracelets by Tiffany & Co – $2.5 million + $975,000  
2010 Oscars red carpet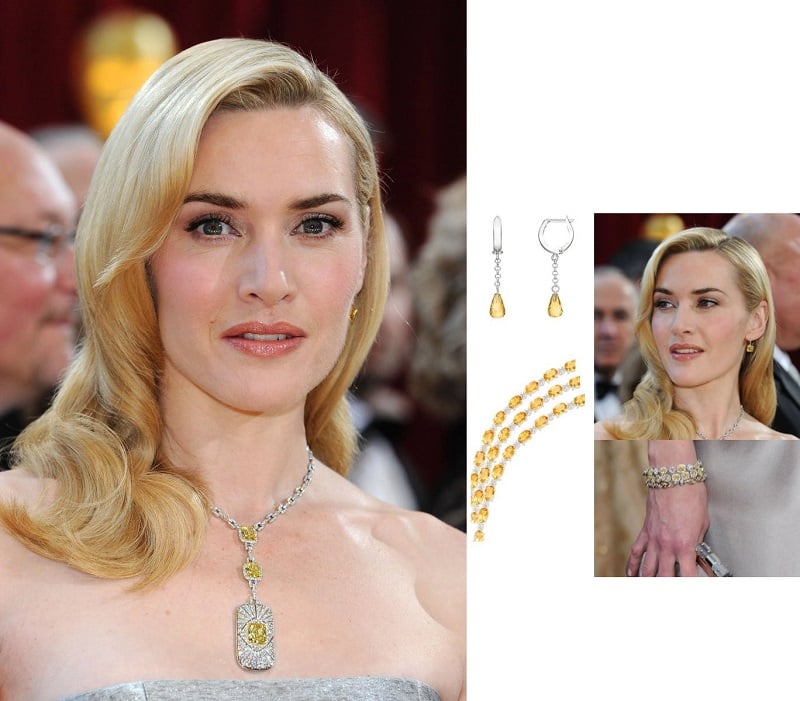 Well the Queen of Titanic probably doesn't need the Heart of the Ocean anymore, as she has now some more beautiful collections to her fame even then if it's for a night.
Tiffany & Co. has specially created the $2.5 million piece for Kate Winslet, who wore the blinding bling to the Oscars in 2010. The one-of-a-kind art deco-inspired yellow diamond necklace perfectly graced her Atelier Yves Saint Laurent gown.
#7 Charlize Theron
Harry Winston diamond studs and cuffs – $4.5 million
2013 Oscars Red Carpet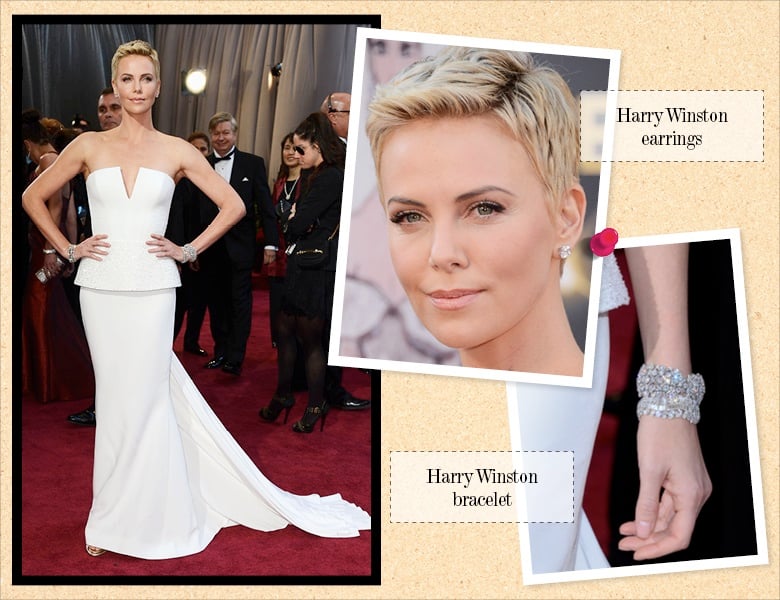 Charlize was the award presenter last year, who shunned in US$4.5 million worth of Harry Winston diamonds that night.
Her red carpet look is surely going to be counted among the most iconic moments in terms of Oscars jewelries. She looked spectacular in emerald-cut ear studs; a vintage 1959 58.07ct diamond lattice bracelet; a vintage 1959 'Cluster' bracelet; a diamond marquise lattice bracelet; and marquise-cut diamond cluster ring, all set in platinum.
While her stunning Dior Haute Couture dress perfectly complemented her exquisite Harry Winston accessories.
#8 Nicole Kidman
L'Wren Scott designed diamond necklace – $7 million
2008 Oscars red carpet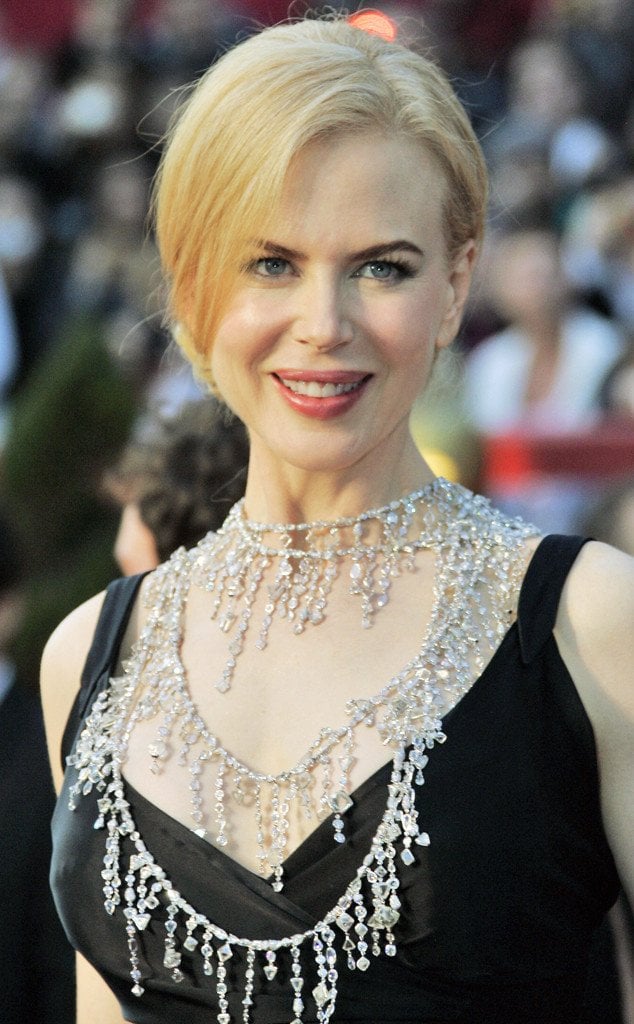 There has never been a more literal expression of the phrase "dripping in diamonds" than this – Nicole Kidman wore this startling L'Wren Scott-designed diamond necklace to the 2008 Oscars. The extravagant piece is encrusted with 7,645 diamonds and weighs around 1,400 carats.
It is indeed an unbelievable volume of diamonds which an average person will see in his lifetime. I just get reminded of the Patiala Necklace, whose original price was $25 million. Click here to know more about the world's most expensive necklaces.
It took around 6,200 hours to make the necklace. The spectacular diamond necklace 'SAUTOIR' is now displayed Deira city Centre outlet of Malabar Gold in Dubai.
#9 Anne Hathaway
Tiffany & Co. Lucida Star diamond necklace – $10 million
2011 Oscars red carpet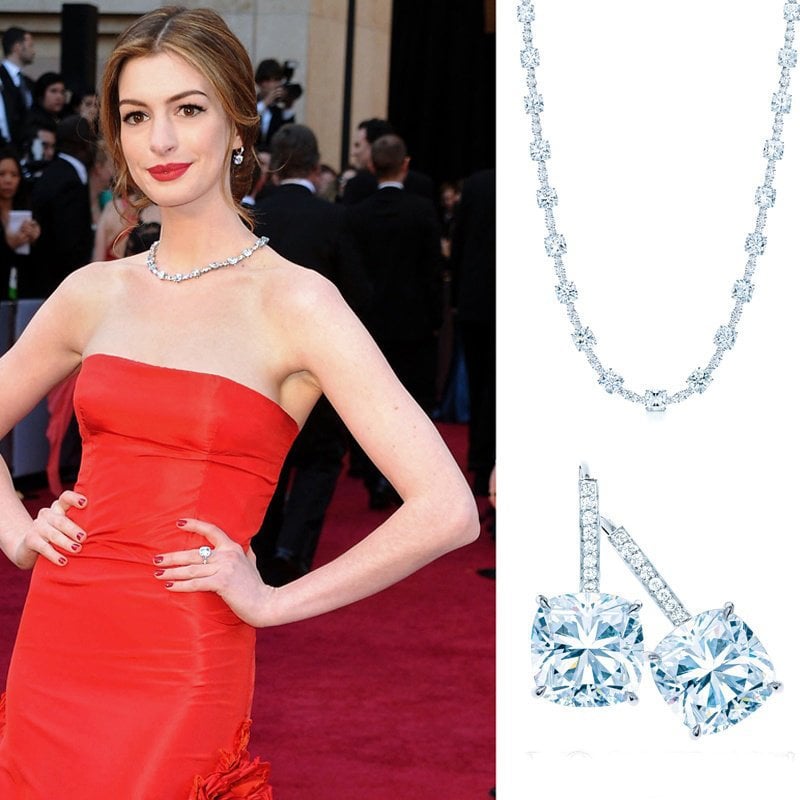 Anne Hathaway along-with James Franco had hosted the Oscars 2011. With every break, her outfit changed (7 in total). Apart from her fabulous outfits, the major highlights were her $10 million Tiffany & Co. Lucida Star diamond necklace weighing around 94 carats, a $285,000 Tiffany Legacy diamond ring and Tiffany Novo 10 carat diamond earrings.
The moment she arrived at the event, her red Valentino gown dazzled with those pricey diamonds, dragging everyone's attention in that evening.
If sources are to be believed, the 28-year-old show host was paid $750,000 to exclusively wear Tiffany and Co. jewels throughout the evening.
#10 Gloria Stuart
Harry Winston 15-carat blue diamond necklace – $20 million
1998 Oscars red carpet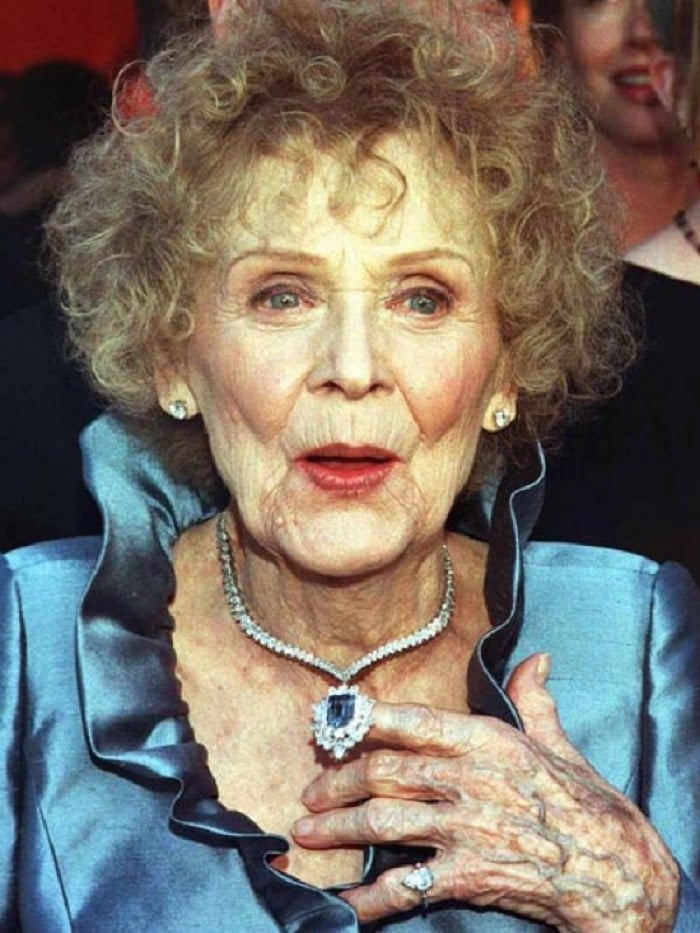 This is the most expensive Oscar jewelry till date. Honoring the 'Heart of the Ocean' diamond necklace from the movie Titanic, the Best Supporting Actress winner, Gloria was given the privilege to wear the $20 million Harry Winston sapphire and diamond necklace, which was an exact replica of the storied piece of jewelry from movie.
Hope you enjoyed this post!
Stay tuned for Oscar 2014 red carpet updates!!