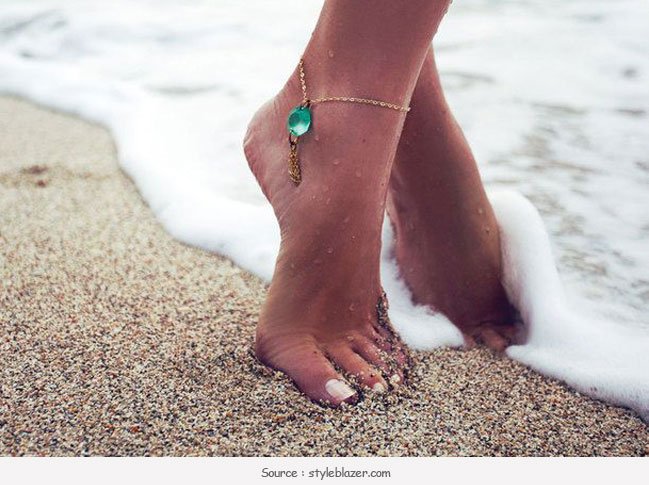 Yes they are back! Though a mini trend, anklets are making a significant comeback to mainstream fashion. Two styles are in demand at present – one is the barely-there fine chains with sparkling stones and the other is all out funky with bright colours and quirky charms.
In tune with the almost-invisible jewellery trend that is coming up, the super fine anklets are a favourite for semi-formal to party wear. The colours and charms rule the streets –tattoo like designs and chunky beaded rings. The single anklet trend is still on, especially with skirts, short dresses and jeans. But you can always get inspired by the traditional Indian payal and make some noise at that special occasion.
Summer or rain, the hemlines will keep rising this season. You just can't leave those long legs plain. Let a stylish anklet gives some company to your footwear. You will find them for as less as Rs 20/pair at the street markets. But, check out the malls and online stores for better variety and quality.
[Also Read: Anklet Patterns]
Here are a few trendy anklet designs for inspiration:
1. Delicate and Simple
When I said barely-there, I actually meant it – see for yourself. You really need an eye for detail to notice that super-fine gold toned chain around an ankle. But fashionistas always have an eye for detail and so be assured your accessory will attract some attention.
2. Fragile and Sexy
Here's another one from the almost-invisible style. You could try it on with a little black dress and matching pumps. Add some long gold toned chains with black beads to your neck and you would have classic elegance to go.
3. Gold Charms
Did I say charms are trendy? Yes, I did…check out that tiny sea horse on the gold anklet. Tiny charms and super-fine chains are best paired with jeans for that little hit of femininity.
4. Colourful Beads
Now, if you want a little colour other than metallic shades, try a bead anklet. Tiny turquoise beads on gold is barely-there, but stylish enough. You could get a couple of colours and wear them daily to match your outfits.
5. Funky Street Style
Now let's try the other popular anklet style – funky colours and quirky charms. Start with a beaded anklet with dangling crystal charms. This design is very much between street style and party style.
[sc:mediad]
6. Fusion
Want an indo-western fusion? Try a chain link anklet with tiny ghungroos in gold. You can either wear these with ultra-stylish high heels or pair it up with an ethnic outfit.
7. Traditional Best
Want something simple yet traditional to wear with that lehenga? Try this golden anklets with gemstones and kundan work.
8. Stringy Anklets
Try something other than gold and silver chains – Strings are stylish on your ankles too. They just need to be embellished with a few charms and beads.
9. Eco-Friendly
For all of you out there who like unique designs, try this wide hemp anklet with beaded detailing.
10. Layering Anklets
For a bold style statement, you could try layering two or three anklets too – either on a single leg or both. Just make sure you have a variety of colours and materials.
So, what's your anklet style going to be – funky colours and charms or barely-there chains and stones?
How many of you have tried the thong anklets? Heard it for the first time? Well, that's alright, I am here to help you out; these are extremely stylish anklets that not only go around the ankle, but also connects to the toe. Have a look below and do try these next time you are at a beach or just going for a walk to the park. You will definitely make heads turn!
11. Bead Foot Thongs
These pretty bead thong anklets that could be made at home with some colourful beads and a string. Just make sure to measure the distance between your toes to the anklets to make sure it's a perfect fit. This could be a fun, easy and simple DIY activity.
12. Crochet Thongs Anklets
If you know crochet, then this is there will be nothing more exciting than making these pretty anklets for yourselves. You could also make these for your sisters or friends and gift them these in their favourite colours.
13. Boho or Gypsy Style Foot Thongs
These look ultra-stylish and can make a very big fashion statement. But make sure you wear a simple maxi dress or a short frilly skirt with a crop top and enjoy all the attention. These could either be a great DIY or could be ordered online from various e-commerce websites.
Loved them? Not sure about you guys, but I am definitely getting my hands on most of these designs. Want to know how you could wear them with shoes and sandals?
Here's how:
Excited? Go get yourself a few of these beautiful anklets and tell us how you captured the eye-balls.