Going under the knife has now become a beauty staple for the celebrities, be it Hollywood or Bollywood. Soon after they go under the knife, the result is visible and they are either appreciated or ridiculed for their bold step. With a heavy pressure to look glamorous and beautiful, the actresses gear up to unturn every possible stone to look more attractive so that they can survive the lime light for long.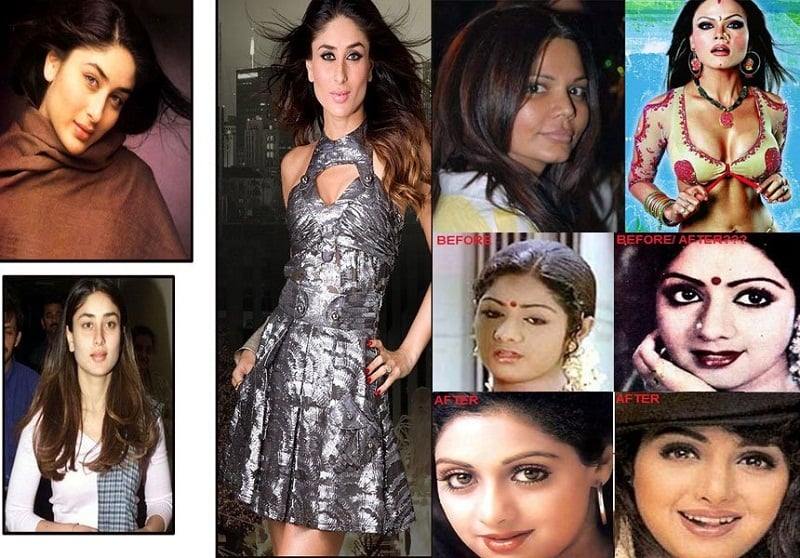 Because of being ridiculed over floppy ears, flat chest, ugly nose and broad cheeks to name a few, some of them are just provoked to go for plastic surgery to artificially correct their flaws. While there are already tons of horror stories of plastic surgery gone wrong, let's check out some successful cases as well, while we can have a look at the unsuccessful stories in our another edition to keep you alert and cautious.
So let's check out the actresses, who just lucky for going under the knife!
1. Shilpa Shetty
When we talk about successful Bollywood plastic surgeries, Shilpa Shetty comes first in the list. The actress has herself admitted that she never had a great face and that it is only through years, she has evolved.
Shilpa had this to say,
"I have never considered myself to be beautiful. I didn`t have the face to be an actress. The metamorphosis of Shilpa Shetty was slow and steady. See my first film and see me today. There`s a vast difference. I have changed so much. Physically, mentally…"
Her dramatic transformation from an ugly duckling to a gorgeous diva is nothing more than a fairy tale. The leggy lass, who debuted in Baazigar, was never satisfied with her body frame, mostly her nose and hair. She wanted to go for a nose job and not once but she has candidly admitted for going under the knife twice to correct her nose. The actress had to undergo a serious image makeover to reach where she is now.
Apart from her cosmetic corrections, Shilpa has a body to-die for. She is today an inspiration to millions of girls out there, who are trying hard to achieve a killer figure like her.
[Also Read: Things to Know When Getting Plastic Surgery]
2. Priyanka Chopra
Even though Priyanka Chopra won the Miss World title, she wasn't quite happy with her huge nose and her Desi features. The actress also joined the rat race and decided to go under the knife. Only after her cosmetic surgeries, the actress became popular for her lips. If you'll compare her initial days' photos and today's then you can immediately find out the actress went for rhinoplasty to reshape her nose.
Even the actress has gone through skin lightening treatments to look fairer (compare her Andaaz movie with her recent Burfi movie). Going under the knife even when there were already failure cases, was indeed a bold step and the actress should be thankful of God for just being lucky.
Her dramatic metamorphosis and immense dedication towards her work has also landed her with a lavish contract with Guess and not to mention two hit music albums.
3. Kareena Kapoor
The Kapoor daughter, who looked plain Jane in her debut movie, Refugee, showed off her glamorous avatar in her movie, Kabhi Khushi Kabhi Gham, but still she had a long way to achieve.
[sc:mediad]
The actress not only managed to become slimmer arguably than any other Indian celebrity, but also went under the knife to correct her face profile as well. Bebo opted for cheek implants and luckily her bold decision worked out. If you'll compare her Chupke Chupke movie images with Tashan movie images, you can clearly find the difference, where her high cheekbones are so much highlighted. Even rumors are that she has also gone through nose job, for which now the Begum dons well-defined cheek bones with a sharp nose.
4. Preity Zinta
Preity Zinta has indeed come a long way from the 'bubbly' girl into what she is today. Just like other actresses, she has also undergone a nose job, even brow lift and face structuring.
Earlier, she used to have a bigger nose and round face. Now after the face uplift, she dons a much sleeker profile now with highlighted eyes. We can now refer her as a cosmetic surgery power-house with sexy pouts, bigger eyes and restructured face.
Because of the face lift, her natural round face now looks oval and smarty reshaped. The IPL owner also underwent eyelid surgeries, for which both her upper and lower lids are now looking fuller and bigger. Even the actress is reported to have done a nose job. Her big nose is now revamped into a proportioned and well-defined nose.
Quite a dramatic makeover from the cutie pie in Kya Kehna to the sexy diva of IPL. In spite of all her attempts to look gorgeous and beautiful, I feel sad for her career. Hope she comes back with a successful second innings.
5. Shruti Hassan
You have to see it to believe it! The young and beautiful Shruti couldn't resist herself from going under the knife. The actress had a nose job done recently to get ride of her Aquiline nose. Being daughter to Kamal Hassan and Sarika, the actress was always under the arc light. And when she decided to follow her parents' footsteps, she had to toe the line, which even included her features. Not only the actress surgically corrected her nose, but even her cheek bones to look slimmer and sexier.
6. Sridevi Kapoor
The first female superstar of Indian cinema – Sridevi Kapoor. Having given a number of hits in her yesteryears, she was constantly under the knife to enhance features. Her various surgeries for the nose, lips and face as a whole maintained her youthful look. Although she's considered to be a evergreen actress who hasn't aged a bit, the botox and body-tucking procedures have played a major role too. Over 50 years, she definitely appears to be 10 years younger or more, the most desirable superstar of the lot.
7. Aditi Rao Hydari
Gaining popularity in recent times, Aditi has a stunning face with the most delicate features. Well, it wasn't the same all along. She had gone through a rhinoplasty procedure and lip fillers to achieve her balanced facial outlook. Her face now appears more symmetrical and proportional due to her slim nose which has added to her beauty.
Hold on for some more plastic surgeries. Coming soon!