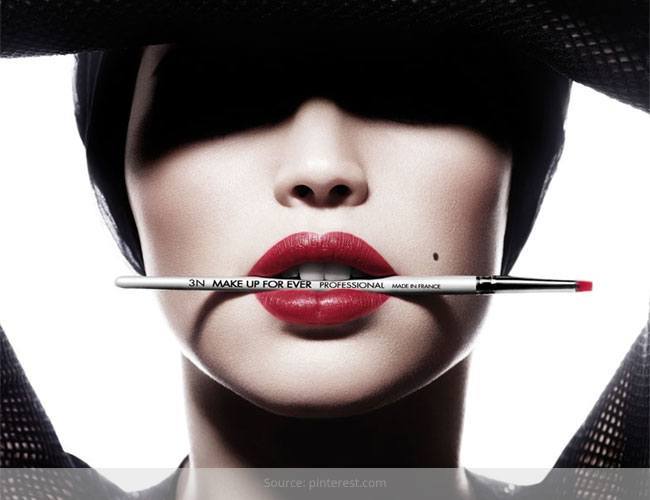 The latest trend of sporting a dark lipstick has taken over the internet. Deepika Padukone, Kareena Kapoor, and many others including yester years Rekha, have left us wondering how to wear a dark lipstick with utmost comfort and ease.
[Also Read: Lipstick Palettes]
Yes, it does take a lot of guts to wear a dark lipstick.
If you browse through online beauty forums, you'll come across questions asked by makeup enthusiasts how to do Rekha's lips or ideas on how to replicate Deepika Padukone's gorgeous IIFA 2014 Makeup? And I'm pretty sure, just like us, even other beauty blogs out there would be receiving similar queries on what shade to pick?
However, only taking inspiration from your style diva Rekha or Deepika, isn't enough, that's because red is no easy game to play with. It comes with an array of do's and don'ts to make it work on anybody's face. This bold statement can ruin your entire effort if not pulled off suitably.
[Also Read: How to wear the matte red lipstick]
Now the million dollar question is how to wear dark lipstick? Continue reading and stay inspired!
1. Take cues from celebs
Take tips from Scarlett Johansson's Classic Cream crimson lipstick which she flaunted while doing a Marilyn Monroe for Dolce & Gabbana campaigns and Dita Von Teese in MAC Ruby Woo. This will help you give you some ideas on how to wear red lipstick.
2. Keep the rest of the face nude
Take this as a thumb rule – when you highlight any part of your makeup say eyes or lips, keep the rest simple or nude. If you have noticed Sharmila Tagore in her 60s movies, where she highlighted heavy winged eye liner, she used to leave hers lips nude. The same rule goes for your lips as well. In order to avoid overdoing the makeup, try to keep everything else to the minimal and let your red pouts speak instead. However, you can wear a dash of mascara to compliment your pouts.
3. Know your red color
Only red lipstick isn't enough. That's because you will be bombarded with an array of shades in red, once you enter any beauty store. For instance, M.A.C offers you a wide variety of reds that includes –
[sc:mediad]
Ruby Woo
Rebel
Runway Red
Diva
Russian Red
Film Noir
Lady Danger
While every red is meant for a specific skin tone, it becomes necessary for you to know your right shade that aptly suits your undertone. Instead of getting carried away by your friend's new lipstick, it's always better to try out all the available red shades on your hand to get your perfect shade.
[Also Read: How to find the perfect lip color for your skin tone]
4. Use a lip brush
Do not use the lipstick directly on your lips. Instead use a lip brush that helps you in giving you dark lips at ease. Start from the outer corner of your lips and proceed towards center of both the upper and lower lips, followed by filling up the rest of the pouts.
5. Apply liner at last
Unlike the basic lipstick rules of applying the liner before wearing the lipstick, for this you need to save your liner for last. After filling up your pouts with brush, outline your lips with your liner. You can also use a conceler to give a better definition to the lips.
Volia! You are now done with your kissable dark red lips.
Hope this post on how to wear dark lipstick gives you some inspiration!