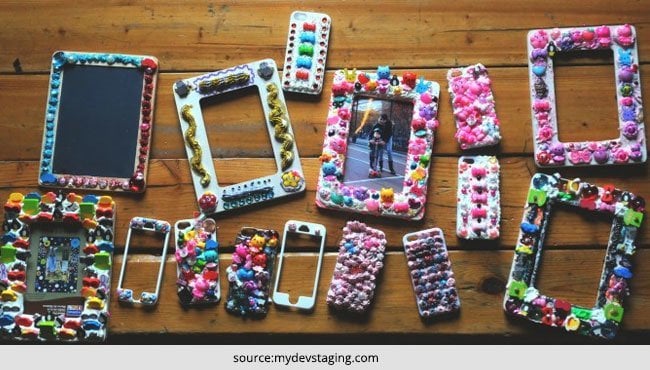 It's all about blinging it up! Who likes boring old stuff! You can give a completely new look to your everyday useable items by blinging them up with stuff that is lying around your house or is very easily available. Today we will learn about how to add some sparkle to your old stuff.
1.Sparkly Sandals
Flip Flops are the most comfortable sandals ever made. You can team them up with any outfit and still look great! For every day wear, plain flip flops are a tad bit boring. But you can bling them up so much so that they can be worn even to a wedding.
Buy some glitter from your nearest hardware store and some strong adhesive. Lay down your flip flops and sprinkle some glitter on the straps. You can colour coordinate them or give them a contrasting look too. For the more adventurous types, you can also attach rhinestones to them.
[Also Read: Top 10 Rules to Follow When Wearing Flip-Flops]
2.Cloths Peg Spin
Those plastic clothes pegs are so yesterday. You can give them an instant makeover by layering modge podge or fevicol on them and then dipping them in glitter. What a welcome change plus they shine in the sun! Involve kids for a fun activity and give them a free rein. You'll be surprised by their creativity.
3.Case Magic
You can't do without your phone can you? So, why not dress up your phone too? Phone cases are the easiest to give a makeover and you can get really creative with them. Think of a design in advance and make a sharpie lay out of the design on the case. You may want to try your craft on an inexpensive one if you are not too confident. Once you have your design in place, use adhesive to mark it all out. Carefully line them up with glitter. Voila! You have a wonderful case which is sure to turn heads.
4.Old Sneakers be gone!
You love your old Chuck Taylors. But wouldn't it be better if they could get a new lease of life from their old tattered selves? It takes no rocket science to give makeovers for your sneakers. You can easily dress them up with some bling and glitter.
[sc:mediad]
For this you will need some fevicol and glitter. Brush the glue all over your shoe and then sprinkle the glitter over it. Once you have covered the entire shoe, shake it off to release any loose glitter. Put them on and shine on!
5.Wake Up With Glitter
What's better than a glitter alarm clock to start your day with? Waking up in the morning is so much fun when you see your alarm clock sparkle and shine. For a bright morning, simply attach rhinestones to your alarm clock. Be careful not to stick the glue into the smaller parts of the clock. Once it's done, it would be a bright and sunny morning to get up to.
[Also Read: How to Wear Bling to Lunches and Casual Affairs?]
6.Add Some Glamour To your Cutlery:
Silver spoons and forks look great, but what if you dress them up in some wonderful glitter? You can use rhinestones and glitter on the cutlery's handles to get a vintage and beautiful look. They are so good to look at that you would be tempted to hang them up as showpieces!
Glitter and rhinestones can really give a wonderful look to your daily and everyday items. So, if you are getting a little bored of your old items, bring out your supplies and start getting crafty! A little glitter can't hurt anybody!