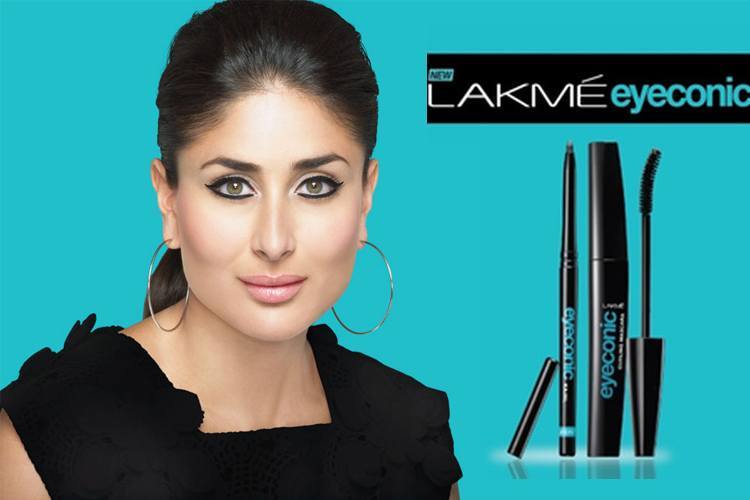 If you're looking for a good kajal lately then Fashionlady recommends you to go for Lakme Eyeconic Kajal. The best part about this latest eyewear item by Lakme is that it comes in 5 different shades of blue, green, brown, grey & white. Soon after seeing the promotional videos, Fashionlady team ventured out to grab all the 5 shades to see how they looked on different skintones.
The team randomly chose 5 girls from the workplace and asked them to wear individual eyeconic shades to find out which one looked the best. Amazingly every color enhanced the shape of the eyes dramatically. I thought it will be great to share review of all the 5 Lakme eyeconic shades with FL readers, so that they can go ahead and try out whichever shade appeals to them the most.
So let's check out how much Lakme India have lived up to their eyeconic brand value as there is no doubt Lakme eyeconic has been one of the cult favorites among Indian fashionista.
[Also Read: How To Apply White Kajal]
Let's start with our review rating first –
Rating – 3/5
Pigmentation – 4.5/5
Staying power – 3/5
Price Vs Quality – 5/5
Availability – 5/5 (Only in India though)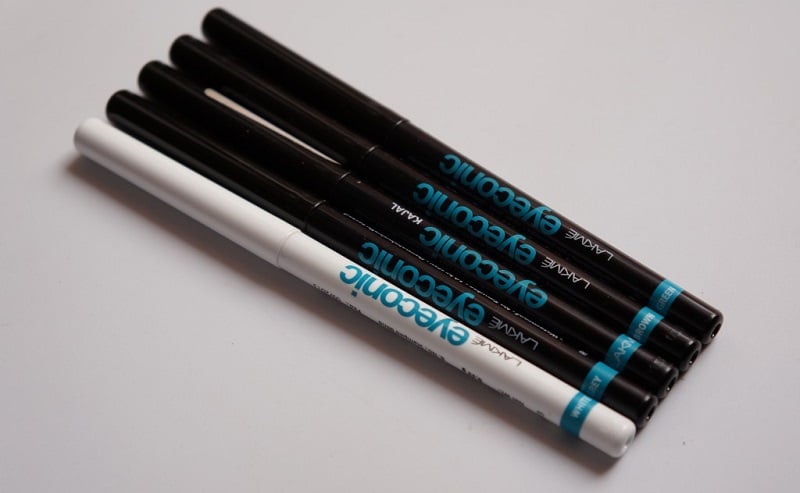 Strengths of Lakme Eyeconic Kajal
It Lasts up to impressive length of 10 hours
It is smudge proof
It is waterproof
It is dermatologically tested
 Price – Rs. 250 for 0.35 gm
Packaging
Except for the white eyeconic shade, all other items come in the same black colour turquoise blue strip with color of the kajal written clearly on the strip.
White eyeconic kajal on the other hand comes in white packaging. We loved the packaging of the white one the most. Anyways we hardly have to do anything with the packaging.
Fashionlady's experience with Lakme Coloured Eyeconic Kajal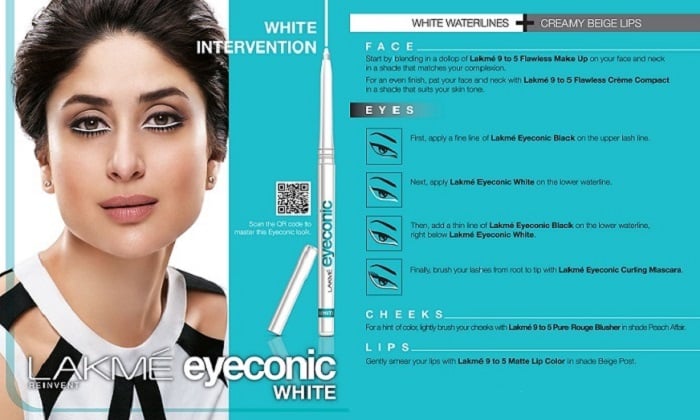 As mentioned above when we tried out all the 5 shades on models who had volunteered, they all turned out to be superb. To be honest enough all the five eyeliners glides beautifully and can be even worn by the beginners like a pro.
[sc:mediad]
These eye makeup items are extremely soft and run smooth on eyes. Moreover, there is no tugging whatsoever. These Lakme products are highly pigmented, thereby offering tad bit of extra softness. And due to this, the tip of the eyeliner may break down easily. So you need to be extra careful while applying. Even their lip liners are also of the same quality.
Women and girls with sensitive eyes can go for this item, as it's friendly with such eyes and doesn't cause any irritation unlike Revlon eyeliner.
As shown below two of eyeliner tips already broke down before we could start using them. Now review of each shade –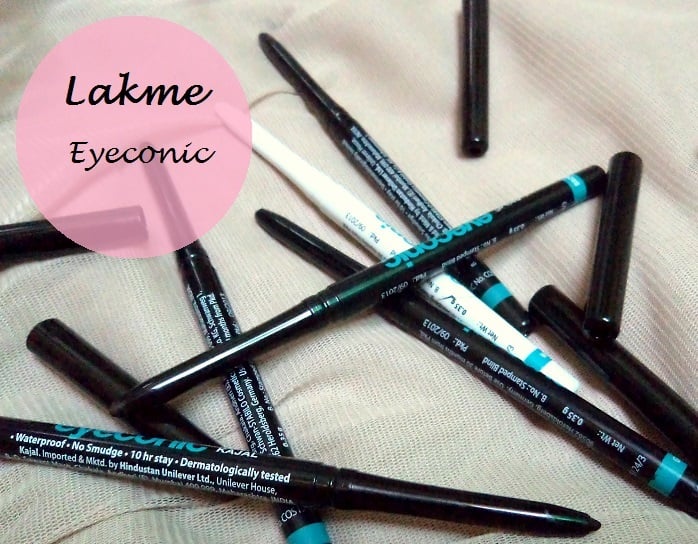 Lakme white eyeliner – Even though it's highly pigmented, it stays for around 6 hours before it starts fading out. We had even tried this shade on a model with watery eyes and it managed to stay for around two hours. It is milkish white by shade and we're pretty sure many girls in the circuit are going to like it.
Lakme green eyeliner – It's dark green by color with a hint of black in it. Just like white, it's also highly pigmented but doesn't last that long like other shades of eyeconic kajal. It starts fading out after few hours thereby giving an uneven look.
Lakme blue eyeliner – This blue almost looks like a less pigmented eyeconic green when you apply it on your eyes. Well to be frank enough me and my team personally didn't like this shade at all. Even this shade tends to fade after a while.
Lakme brown eyeliner – This one is a chocolate brown shade, which stay for long hours than the above three shades, and say about seven hours. You'll love the colour and pigmentation of this item particularly.
Lakme grey eyeliner – This is a lovely color which is quite pigmented. Generally grey shades turn out to be creamy and pigmented, but this one doesn't. It starts fading after 4-5 hours.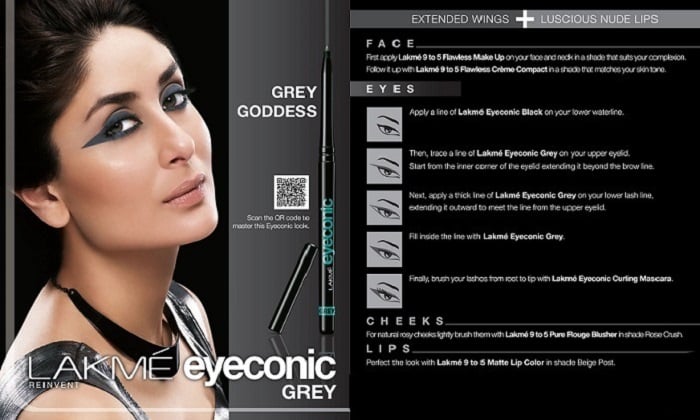 Why do we recommend Lakme Eyeconic Kajal
Pigmented and water proof
All are matte except which has tiny bit of shimmer which I like
Average staying power
Smudge proof
Travel friendly packaging
Affordable
My personal take on these 5 shades of Lakme Eyeconic Kajal –
Ability of staying for long hours is pretty average
Tip is really soft and fragile and keeps breaking down, so one needs to be careful about it
As I have all the shades, I need to keep checking out the names of the shade
I personally liked the brown and white eyeliners the most
Buzz is Lakme India is soon going to add one more new shade i.e. purple to their collection.