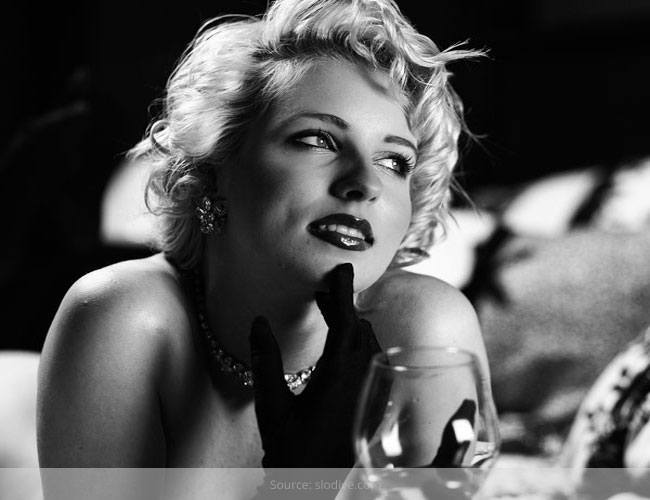 Hollywood fashion and style has always inspired millions of ladies. Finesse, charm and so much grace, Hollywood's leading ladies have been an embodiment of everything so chic! Here are some iconic looks that you can steal from Hollywood's best loved actresses!
Grace Kelly's Forever Look:
She was a Hollywood royalty whose life turned into a real life French royalty story. The apple of so many men's eyes, her style was always on point. Never a hair astray, never attire out of place; Grace Kelly was beautiful and had an even better fashion sense. She had a fashion sense which would surpass centuries. Even though she reigned as Alfred Hitchcock's muse during the 1950s, Kelly's sense of fashion prevails even now.
Steal Kelly's Look: Custom-tailored tops, skirts which nipped the waist, mostly feminine flats and the effervescent Hermes bags (She even had a Hermes bag named after her. It's called 'The Kelly').
[Also Read: Hollywood Actress in Saree]
Audrey Hepburn: The Mother of LBDs
Audrey's classic and elegant look cannot beat today's fashion. She was timeless and has left a legacy in the fashion world. Even in those days she had a closet which every modern woman swears by now. Hepburn had made LBDs famous and her penchant for tailored pants had made her sartorial choices popular all around the world.
Steal Hepburn's Look: LBD, a beautiful heel and some classic neckpiece complete with an up do.
Sophia Loren: Italy's Glamour Girl
Glamour was Sophia Loren's middle name. The Italian bombshell never failed to turn heads with her iconic style and sizzling eyes. Even if she was going grocery shopping, she would be impeccably dressed in a chic pair of stilettos and a dress with just the right amount of oomph.
Steal Loren's Look: Invest in a pair of stilettos that never fail to impress. They should be sexy yet comfortable. A sizzling dress, and not to forget those cat-eyes and a sassy bag
Katherine Hepburn: Miss Androgynous
She was someone who always tried to stay away from the limelight. A fiercely private person, her shyness from the fashion field made her an even more coveted fashion icon. One of the first actresses to have embraced men's tailored and straight trousers, her androgynous look is something women still follow today. Our Bollywood celebrities are rocking the androgynous trend these days.
Steal Katherine's Look: Menswear-inspired collared shirts, blazers and a good pair of shoes.
Ingrid Bergman: The 'Notorious' Natural Beauty
Ingrid Bergman was a Nordic beauty who refused to conform to the standards of beauty in Hollywood. She was staunch and she believed in fashion that did not encompass too much makeup.
[sc:mediad]
Steal Bergman's Look: Pencil skirts, brimmed hats and box jackets were her thing
Marilyn Monroe: The woman who wore confidence on her sleeves
The sex symbol for generations, Marilyn Monroe inspired thousands of women with her confidence and dressing sense. Monroe was known for her dresses and she especially wore dresses which would emphasize her beautiful hourglass figure. She stuck to single colours and her dresses did not have too many designs. Nevertheless she managed to stand out. She had the confidence that made her a cut apart from the rest.
Steal Marilyn's look: Make monochrome dresses your wardrobe staple. Keep your hair open and don't forget the touch of red rouge!
[Also Read: Hollywood Celebs Who Have Emulated the Iconic Marilyn Monroe]
Brigitte Bardot: The French Sex Kitten
Brigitte was quintessentially French. She exuded a French aura that still inspires many women around the world. With her perfect combination of sexy and stylish, she raged on in the 1960s and turned heads all over the world.
Steal Brigitte's look: Bikinis and floppy hats were her things. She paired them with flats, always and channeled her inner sexy with this.
Greta Garbo: Mysterious in Every Sense
Greta was known as the actress who wanted to be alone. Nevertheless, one of Hollywood's most private stars had a very distinctive style. She had an athletic side and loved yoga. She wore pieces which were comfortable and did not really conform to fashion rules.
Steal Greta's Look: Greta's look is all about minimalism. She wore dresses and gowns, but usually went with comfort. Combine your comfy dress with some easy flats and a hat for a very Greta-esque look.
Elizabeth Taylor: The Real Movie Star
Elizabeth was all about glamour. Even off-screen she would not give up her fabulous look. She was dressed like a movie star even at home: Hair perfectly done, Make-up on point and bling on point too.
[Also Read: Top 20 Vintage Makeup Tricks Inspired from Hollywood Sirens]
Steal Elizabeth's look: To steal the 'world's most beautiful woman's look', wear glamorous and sexy dresses. Don't forget to add the heels and some really fancy jewellery.
Some of Hollywood's most iconic stars had their own staple looks. You can try all of them and see which suits your persona the best right?