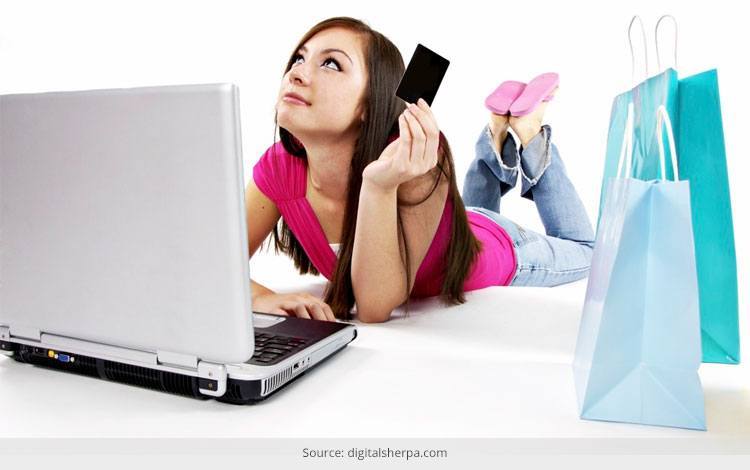 With tons and tons of people shifting their focus towards online shopping (yes! many of us are not interested in rubbing shoulders with rabid mall zombies and wasting our time travelling for it), it has become a norm in many households. But hey, the world of online shopping isn't all roses and chardonnay. It not only bears unforeseen risks, but also can be quite a spoilt-for-choice job. Today, we have for you our list of top 9 insightful tips in how to shop online like a pro! Read on sisters…
1. Hunt for steal deals. Snag pieces at great prices and keep an eye on discount coupons available at various websites for high-street brands. A super efficient way to stock up on basics, always, always make it a point to sign up for the newsletter when you are making your first purchase at any website to earn an extra off of 15 -20% on overall shopping.
2. Install handy apps on your smartphone. Do make it a point to be well abreast with the handy widgets, which give you alerts when your selected few in-season pieces are on a sale. Confused? Okay, have you ever used Pinterest? It is as simple as that. The only difference being here you can key in your specific size and colour preference of the variety you are seeking and it'll notify you as and when your favourite item goes on a sale.
[Also Read: Points to Remember While Shopping Your Nightwear]
3. Be weary of being a sell-out. Many websites have the options of receiving mails when a piece you wanted to shop is back into stock. It is also a great way to realise that maybe in the first glance those pair of shoes that appealed to you so much are perhaps just not worth your money. So, a great way to reconsider as money saved is money earned!
4. Create a wish list and on timely basis edit it. If you are not very certain on which particular product to lay your hands on, then we suggest create a wish list and forget about it for a while. This is also a great way to keep a track of sold-out products as the website notifies you when the product is back in stock.
5. Compare products across a wide variety of websites. Make it a point to always compare the product you are buying with 3-4 websites to make sure that you are getting the best deal. This will give you a clearer picture of how genuine the flash sales and limited periods discounts are. And hey, if you can at times just get luck by digging deep into various websites and get a few freebies along with your main purchase, then we suggest go hunting always.
[sc:mediad]
6. Create an email account that'll just have your mailing list. A great way to not only stay updated with what's happening in ALL the popular e-commerce websites of your choice, this method would help you keep your inbox de-cluttered by channelising all your energies towards a particular mail box. This way whenever you are in a mood to shop online, just go ahead and open that mailbox and sail through tons of newsletters and lucrative deals.
7. Be adventurous and scout for things you would generally not buy online. This can be a great way to dispel fears of online shopping while you shop sweat-free. Just make sure that the return policy in place and go ahead splurge on!
8. Customer testimonials can tell you a lot about the product. Spend a fair amount of time reading customer reviews as they can give you a much better picture of what the item is really all about. Previous customer experiences can also tell if the product is 'true to its size and quality', as promised by the website. That being said, do not get too judgmental about them, and try and absorb them with a pinch of salt. Because while many of them genuinely comment, there are many time-pass mongers who might have wildly different sense of style when compared to yours.
9. Fill your wish cart quickly, and then edit with an open mind. Filling your wish cart in a speedy manner would help you in streamlining whatever you genuinely like. This flow can also assist you to put all your favourites in one place. This can also help you see how you might have put more than needed, while putting same style stuff in one place. Face the reality and save the decision making for final edits as it'll allow you to have a much happy time (and money-saving too!) while browsing through your lovely items.
Which of these tricks you genuinely follow in real life? What are your favorite online shops or if you have some online shopping tricks of your own, then do let us know your thoughts in the comments section!