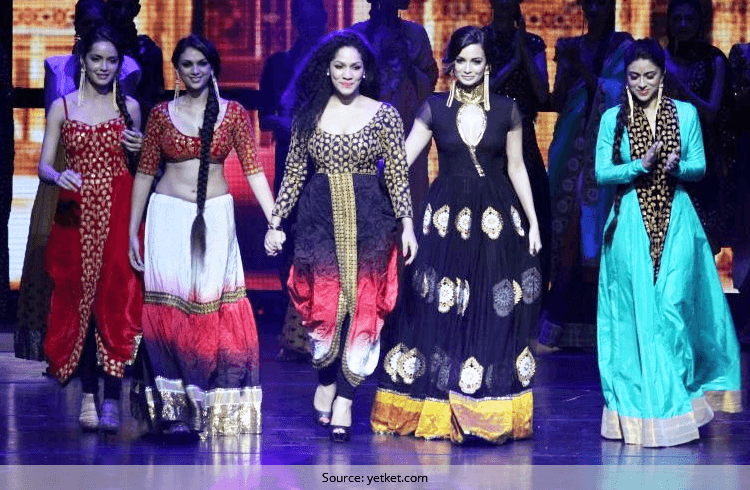 This Gen-Next Designer is someone who neatly conjures up visions of clothes that are tailor-made for free-spirited, feisty, fashionable, and forward-looking woman. Her rise up to the fashion ladder has been amazing. Known for her quirky style, she is among the youngest designer brigade in India and a fashion force to be reckoned with. You must have guessed it by now – we are talking about the curly-haired fashion dictator, MASABA GUPTA!
Year after year, this 26-year-old designer knows how to tap the pulse of fashion trends and given us something fun, fresh and vibrant every single time. Read on to know our top 5 reasons why we loved Masaba's eternal fashion sense and her clothes of course.
1. Masaba Gupta Has Mastered the Art of Refined Approach to Age-Old Sarees and Gowns
A rather radical approach to the age-old saree, and gowns with attached dupatta drapes make Masaba's collection exceptionally interesting and nonetheless charming. Her contemporary take on the saree, with a mullet top worn over the garment, was comically fashionable. Infused with flower power and audacious circular were the designer's choice of print. One could witness a blend of flared minis in beige, slinky gowns with multi prints, long sleeved, thigh length jacket with flared pants and cut-out sari gown in her collection. Apart from this, trapeze-printed top with bell sleeves, attached dupattas for skirts, bell bottom style shararas, long sleeved tail-coat cholis with printed saris and drop waist will-power maxi were the high points of the show.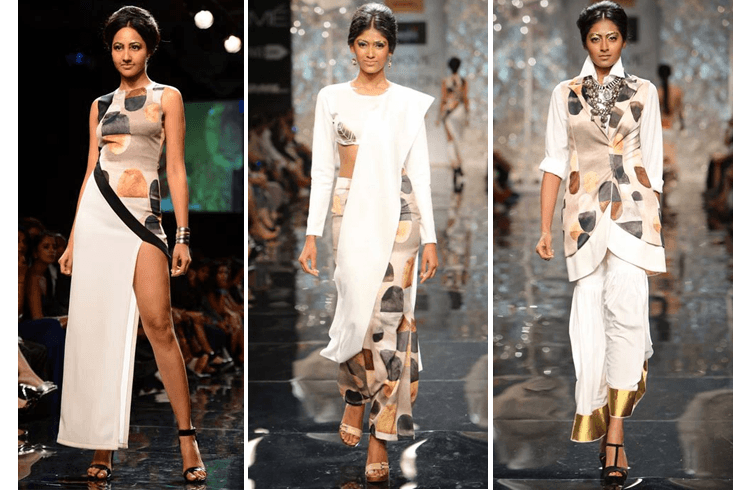 2. She Always Has The Most Adorable Showstoppers
Case in point being the wild and sensational Shilpa Shetty sporting a spoon-on-a-plate print in her 2014's 'Wandress' Collection. We have always loved Shilpa Shetty for her yummy mommy looks and ethereal style, but when we saw her in Masaba Gupta's creation as a showstopper it was a different look altogether. Shilpa Shetty sported an exclusively made black-based gown with attached dupatta (such a fun and never-before-seen concept!), which was filled with concentric circles, encircled with yellow borders. The sensuous cuts on the waist showed off ample skin, which was quite a breathtaking sight. Her floral print gown long cut-out dress featured a quirky print of a spoon on a plate, and believe us when we say just like her table fan look, this is soon going to a rage in the print world. The sultry actress was wearing a smokey eye look with the 60s retro centre-parting hairstyle with a frontal bun, which surely took us back to 80s fashion.
[Also Read: Masaba Gupta Scoring High on Designer Sarees with Satya Paul]
3. A Beach Time Soirée Feel is what defines Her Well – Yes, We Are Suddenly Transported To Goa When we See Her Collections!
Be it the latest candy dresses or her fan-print mania, she is mostly inspired by the beach-side woman whose adventurous and free thinking nature has been iconic, we loved looking at the touches of Goa in her latest catwalk presentation. A typical scene at Masaba's show would be – the model wearing geometric style flower and leaf print loose-fit beach covers worn with white bikinis, sarees teamed with long sleeved leaf print blouses, flared minis, printed slinky gowns, thigh skimming jackets, flared pants, cut-out sari gowns, bell sleeve trapeze patterned tops, skirts with attached dupattas, bell bottom shararas, tail-coat cholis and drop waist – and when you have so much to see and ponder over, what's not to love?
[sc:mediad]
4. Colour Me Pretty: Young and Eye-Catching Hues Were Everywhere
Masaba Gupta's fabric choice is always scuba, satin, jersey and crepe for the trio of prints, along with an inventive palette of yellow and eye-catching neon hues alongside beige, white, brown and black – a break from the usual golds, silvers and pinks, we reckon!
[Also Read: Paint it Neon like Masaba Gupta]
5. She Nails the Retro Fun of the 1960s and 1970s Vibe With Such Penache
Dating us back to 1960s and 70s with her bouffant hair, block-heeled shoes and glitter makeup look, Masaba Gupa sure knows how to rock it in retro style! Apart from the look, dated pieces that rules her runway included bell-bottom pants, mini dresses, sarees, bell-sleeve shirts and deep V-neck tops.