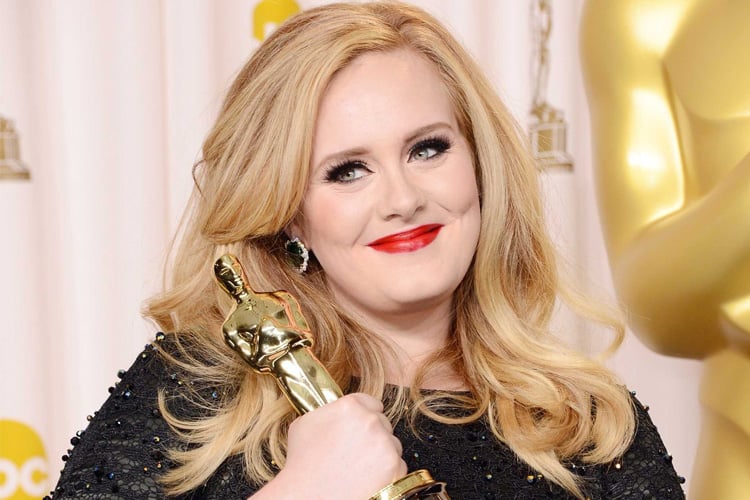 Personal Details
| | |
| --- | --- |
| Name | Adele Laurie Blue Adkins (her nickname is Adele) |
| Birthday Date | 5 May 1988 [celebrity_age_calc data="1988-05-05″] |
| Birth Place | Tottenham, North London, United Kingdom |
| Sun Sign | Taurus |
| Eye Color | Green |
| Hair Color | Light Brown |
| Nationality | British |
| Religion | Roman Catholic |
| Education | Schooling in BRIT School of Performing Arts and Technology (2006). No details on her College studies. |
| Occupation | Songwriter and Singer |
| Marital Status | Married |
Family Details
| | |
| --- | --- |
| Father | Mark Evans |
| Mother | Penny Adkins (furniture –maker and an organiser of adult-learning activities) |
| Siblings | One brother Cameron Evans |
| Spouse | Simon Konecki |
| Children | One son named Angelo (born in Oct. 2012) |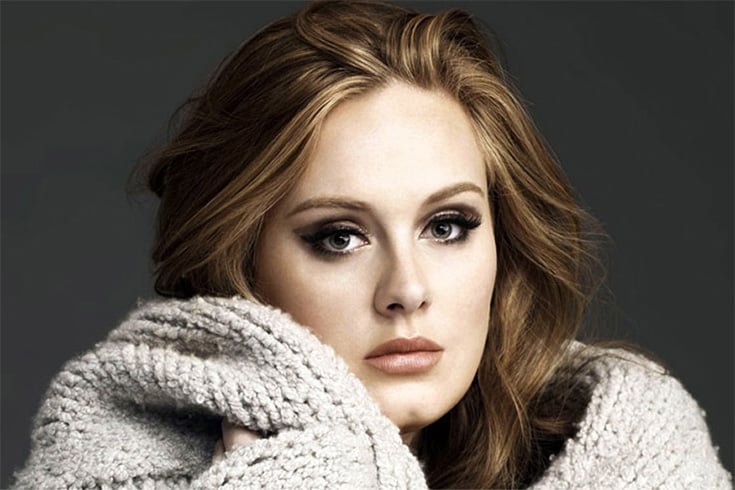 Body Status
| | |
| --- | --- |
| Build | Voluptuous |
| Height | 5 ft 9 inches |
| Weight | 82 kg |
| Waist Size | 34 inches |
| Hip Size | 38 inches |
| Shoe Size | 8 (US) |
| Dress Size | 18 (US) |
| Body Measurement | 36-34-38 inches |
Adele has made it to the cover of Vogue – UK and US editions.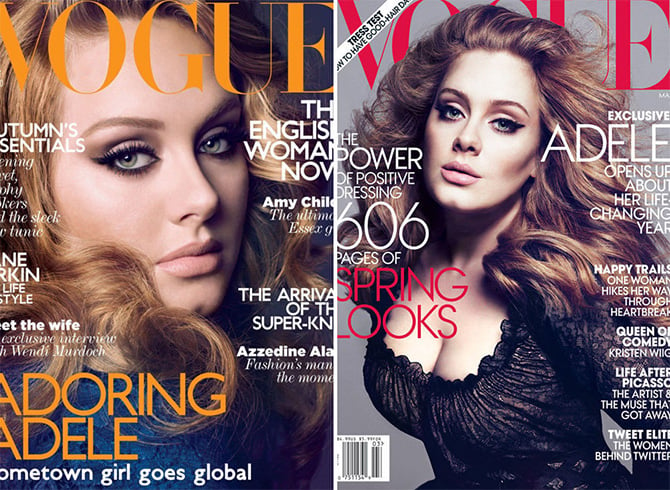 Let's check out Adele's other loves (besides singing and winning trophies).
[sc:mediad]
Favorite Things and Hobbies
| | |
| --- | --- |
| Color | Green (it is the same colour of her eyes) and BLACK |
| Food | Ham, Lasagna |
| Place | Not known |
| Sport | Football, Cricket |
| Brand | Christian Dior's Hypnotic Poison and Chanel (for makeup) |
| Actor | Tom Cruise, Bradley Cooper |
| Actress | Julia Roberts, Sandra Bullock |
| Film | The Godfather, Scarface, Twilight Series, Charlie and Chocolate Factory |
Adele owns the most fab collection of designer dresses in which color? BLACK!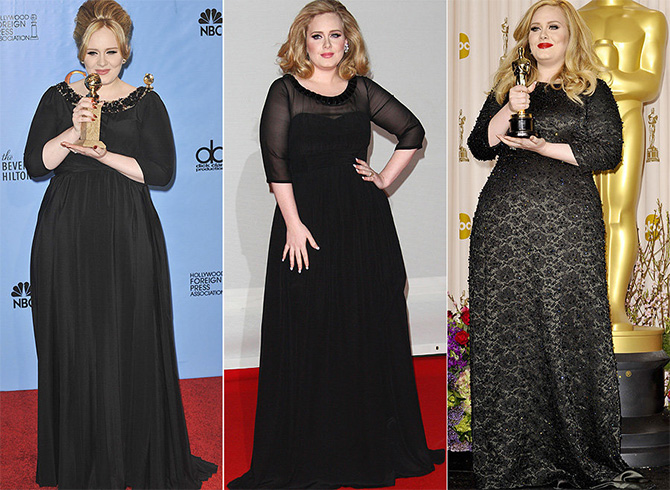 Music for thought – Adele has shattered YouTube and chart records in the world over, courtesy her 2015 comeback single 'Hello' and accompanying album '25'.
Adele Weight Loss
ADELE REFUSES TO BE A SIZE ZERO (what other celebrities swear by). She is of the opinion "I would only lose weight if it affected my health or sex life". Gosh! Look at the guts Adele has to say this.
Workout Plan:
Adele is getting trained under Pete Geracimo – who has sculpted the bodies of David Hasselhoff and Kim Cattrall.
According to the fitness instructor, Adele's regime is a fusion of circuit training, weightlifting and cable machines.
Diet Plan:
Adele shared with the Daily Mail about her "Sirtfood Diet". This diet plan encourages slimmers to eat plant-based foods like kale, buckwheat, green tea and turmeric.
The biggest ditch that Adele made was to her sugary tea (her hard-core Brit habit).
"I used to drink 10 cups a day with two sugars in each so I was on 20 sugars a day," she told The Sun. "Now I don't drink it and I have more energy than ever."
Social Profiles
Interesting Facts
Now for 'Trivia' time…
When she is away from London, Adele gets into a homesick mode and doesn't like flying.
There is something interesting (and I would say highly creative) about Adele's album names. Her albums are named after her age. Say, for example, 19 depicts her age 19 when she made the album. We all wish she brings out an album named 99!
Adele cancelled her 2008 American tour. Guess why? She wanted to spend time with her BF. Later on, she regretted it and called herself "ungrateful".
Adele stood 6th on the Forbes' list of highest paid celebrities under the age of 30 in 2012.
In the year of 2015, Adele branded herself 'a feminist'. She said she believes in equality for everybody, regardless of race, gender or sexuality.
Images Source: instagram