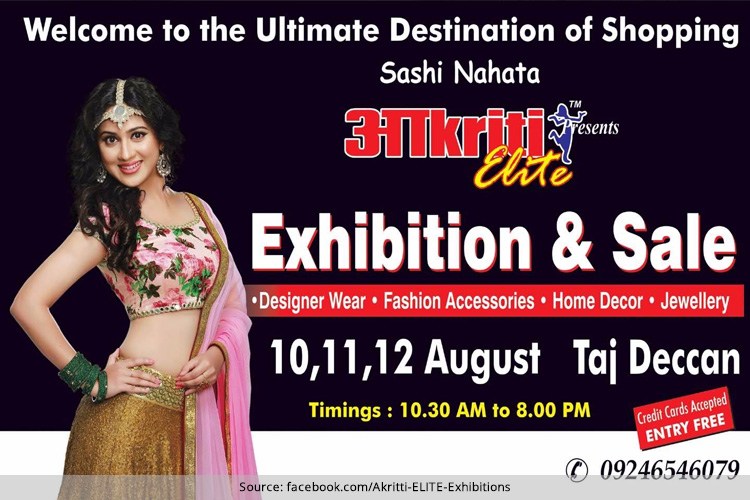 It's the start of the festive season, and the people of Hyderabad are known to celebrate every festival with great vigor, glamour and style. And to top it all, look who is back to color and sparkle the town? It's Akritti Elite Exhibition!! Yes, you heard it right. The exhibition which rendered the elite fashion outing recently, is back to mystify the minds of fashionistas all over again with illusive collection of fashion brands and labels.
The big event is scheduled to cast its spell at Taj Deccan, Banjara Hills, Hyderabad, from the 10th to the 12th of August. Like always, fashion enthusiast, Mrs. Shashi Nahata, the sole mind and heart behind the event, brought together remarkable designers and brands from all over India.
Here's naming a few brands and designers – Style secret, Reins, Maayera, Famia, Lemon Pie, Sangeetas, La Bellaz, Rani Saheba, Amrapali, Astha Creations, etc.
Now that we have a string of festivals lined up like Varalakshmi Puja, Rakhi, Ganesh Chaturthi and many more, we can't wait to wile away our time and whisk through the upcoming designs and patterns that savor our palette.
[Also Read: Getting Candid With Quirk Box]
Pooling together a plethora of choices ranging from designer apparels to accessories, home decor to lifestyle concepts, and art and artifacts to gifting ideas, we strongly believe that this season's exhibition is definitely worth looking forward to.
It is undoubtedly the best place to shop for this season's fiestas. Once you experience the class and collection of the Akritti Elite exhibition, we assure you that you will never settle for less. Every exhibition of Akritti competes with itself and consistently beats their own game.
[sc:mediad]
Make the most of this fashion interface of interaction to indulge in the latest trends, and experience the talent and taste of fresh ideas. If you have been a part of the event before, you will agree that the exhibition and sale is highly irresistible and positively mesmerizing.
Make your celebrations much more colorful and vibrant by shopping at Akritti Elite exhibition, and share with us your delightful experience.