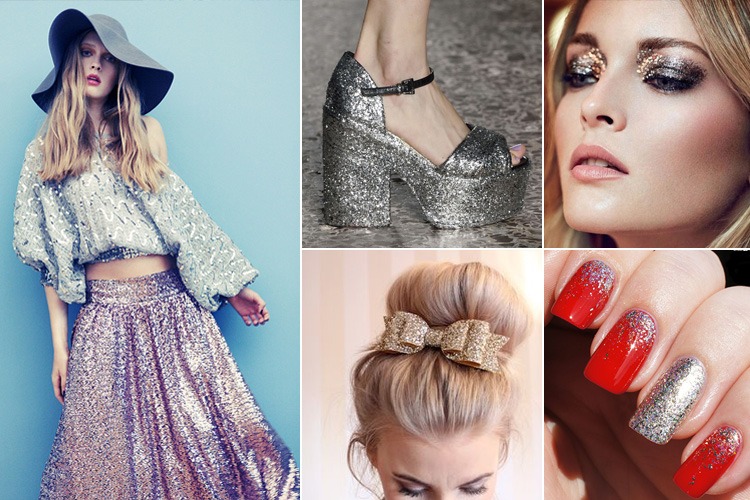 Glitter love all the way, and this is what we are going to talk about today. Now when it comes to glitter love, make no mistake dolling up yourself or else you may just end up being a walking talking Christmas tree and you don't want that to happen. Here are a couple of ways to flaunt glitter love everyday, take a look and get inspired.
[Also Read: Bejeweled Fitness Trackers: Time To Get your Bling Game On!]
Glitter For The Feet
This is for the lady that loves her glitter but shies away from wearing too much of it. You don't have to dress boring anymore. Keeping it minimal and chic, glitter love can be worn on the feet. You have a range of pumps, heels, kitten heels and open toed heels to wear and flaunt, or maybe ballerinas and mojaris, khussas too to wear. So why stay away from lovely Glitter ideas for the feet? This sure is one way to make Mondays extra finesse and interesting, which is why a touch of glitter around is much needed.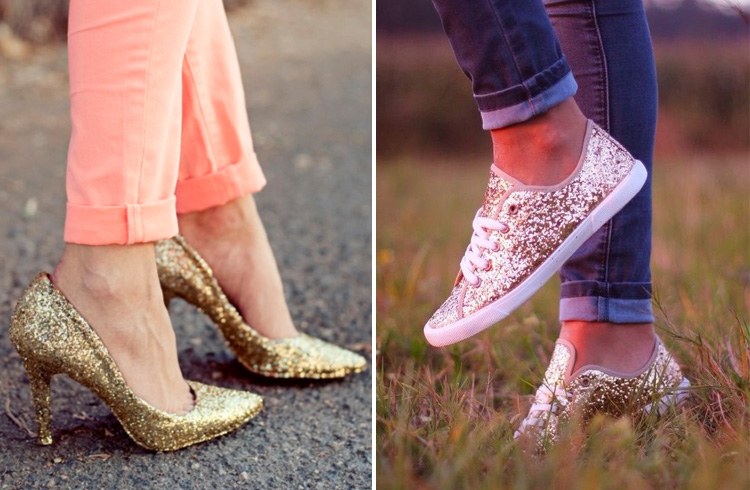 Those Nails Need Glitter Love Too
Bored with the matte finish on nail art? Well it is time to up the ante and spruce the gloomy monsoon grayish mood around, with some glitter of course. Look at our previous posts on quirky svelte chunky frosty nail art and emulate them. Your boss at work wouldn't mind a subtle touch of glitter and the college authorities wouldn't raise an eyebrow too. Hence, glitter nails are another way to flaunt your love for all thingy shimmery!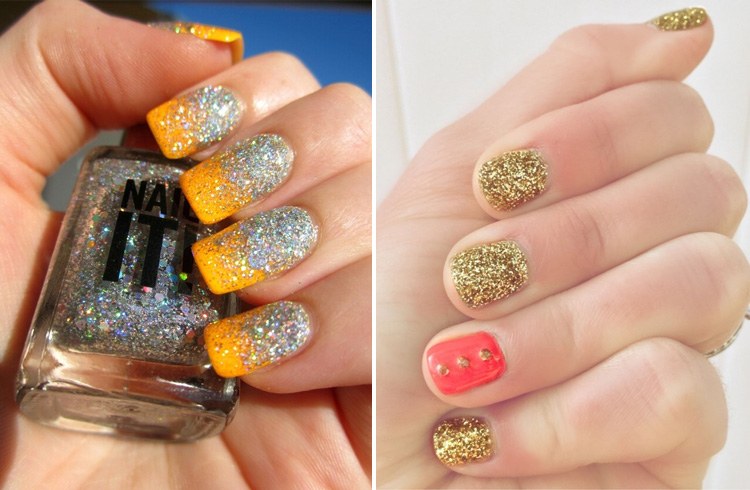 Glitter On Work Wear
Now here's the thing, we know you love wearing glitter but shy from doing so at work. Yes, work places have their own ground rules, but we can twist a loop here and there to get that glitter working for you. Maybe a glitter belt with an all monochromatic look can add a spunky statement this Friday? Pep it up with bold lips and natural makeup to distract the onlooker, what say?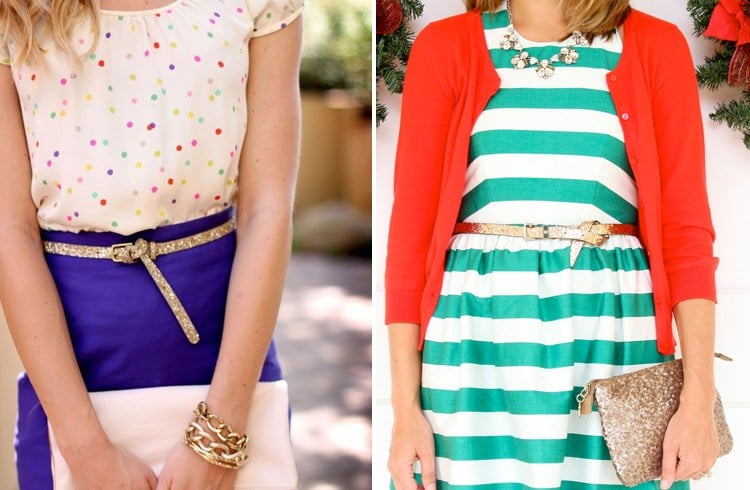 At An After Office Party
Transit into the domains of a diva and enthrall the onlookers around with a touch of glitter to spruce up the night. Glitter skirts till the knees and a solid hued coat, with glitter heels and a clutch in solid hues for company; an ultimate fashion statement that shows how to flaunt the glitter look, without having to try to hard!

For Your Bestie's Birthday
When girls want to have fun, they stop at nothing! Glitter hot pants, paired with a summer coat and a crisp top, along with heels for the feet makes a svelte fashion statement that throws everyone into frenzy! Try the look this time for your besties birthday!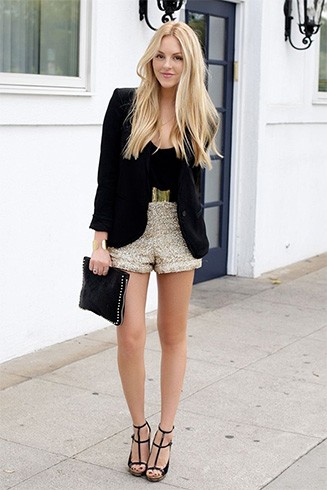 Glitter On The Street
The street lass doesn't mind bathing herself under the rays of the sun, for that ultimate tan to come through. This is why, she wouldn't mind a little sparkle and shine all the way, with a top made from sequins and so chunky. Pair the look with ripped rough denim bottoms and heels or shoes for the feet!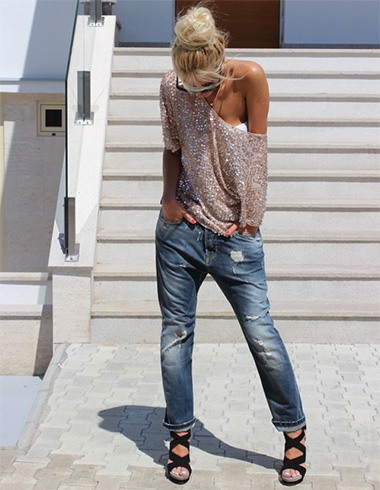 Cropped Glitter Jackets
Add a little more pizzazz and glam to the statement you make at the bars and pubs this time, with glitter sparkle fun. A cropped glitter top in silver to nude tones with denims for the bottoms and heels for the feet can make the bartender swoon!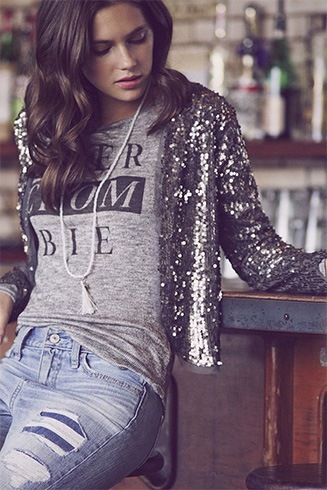 [sc:mediad]
Hair Needs Glitter Too
Chunky headbands to cute pins and more, you can wear your hair anyway and any how you love it and yet make a fashion statement so trendy. Think about keeping it minimal though, or else the head would look too heavy to balance the look. Golden leaves to tiny flowers, geometric designs to quirky chunky pins and more, get trendy!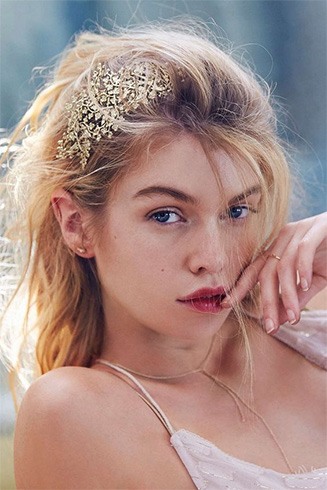 Makeup Wise
While we don't necessarily promote the idea of too much shimmer and glitter under the sun, which makes the look so gray and dull, we would still want a touch or a stroke of glitter pencil on the eyes or the lips, say what?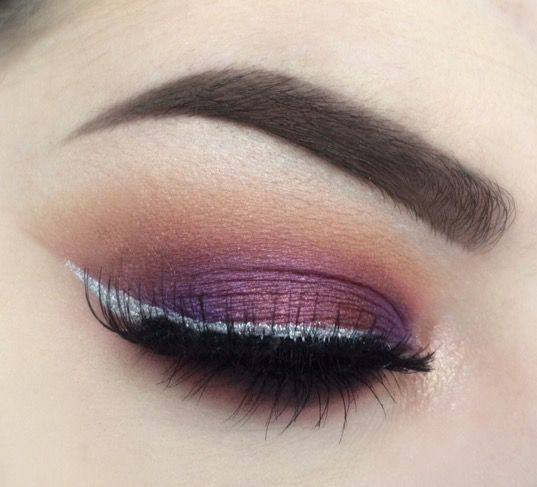 Enjoy your tryst with all things glittery and nice with our tips to show your glitter love!
Images Source: pinterest.com