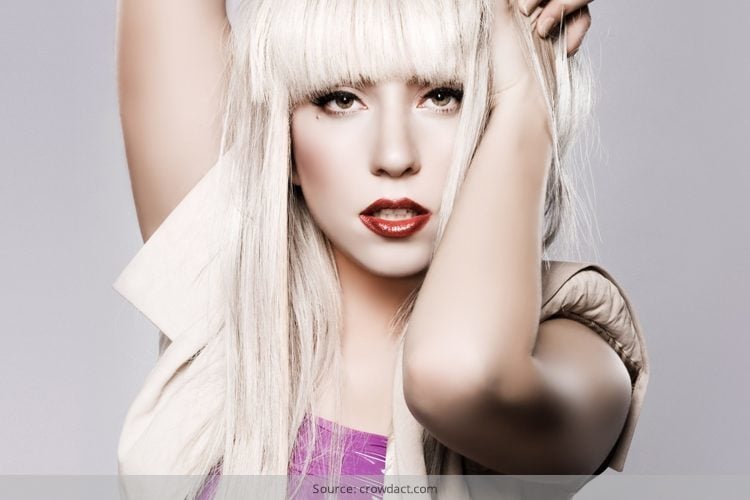 Stefani Joanne Angelina Germanotta who is famous around the world as Lady Gaga is notable for her unique sense of fashion that no other celeb can ever brave. The American singer shot to fame with her very first studio album that quite well suited was called "The Fame" in 2008. This album hit the coveted no. 1 position not only on the Billboard Dance charts but also also on music charts in over 6 countries.
[Also Read: Selena Gomez's Diet And Fitness]
Lady Gaga dresses the way she does, because she is the owner of a body that she takes pride over. And it is not really a cakewalk to achieve those stats. But because we creeped throughout the interwebs and gathered as much info we could to tell you, what goes into the making of a Lady Gaga.
Lady Gaga Workout Routine
Lady Gaga has appointed Harley Pasternak as her personal trainer and he is a master at his trade. He has prescribed her a diet chart and an exhaustive exercise routine. A major component of Lady Gaga's workouts are her dances and the rehearsals. But, to add to the stress, she goes on to perform these workout activities, as advised by her trainer Harley Pasternak. Apparently, Harley has also coached Robert Downey Jr., Alicia Keys, and Halle Berry, and his elite clientele in itself speaks volumes of his expertise.
Warming up is a must for every work out plan. And so the Lady is made to warm up by doing simple exercises that mainly involves slow running. The queen of dress up then segues to rope skipping and continues with it for 5 to 10 minutes. She is aware of the importance of cardio in getting a fit body and never forgets to miss it.
[sc:mediad]
And once the warming up session is done and the diva is ready for some more extensive exercises, she works on the Harley Bar. The very effective Harley bar is designed by celeb trainer Harley himself. Lady Gaga was so impressed by it that she carries the Harley bar with her everywhere she goes. The bar is mainly a combination of a Dumbbell and Barbell.
Few more essentials of the 'Born This Way' artist are Skater Lunge in 10 reps with 3 sets, and Seated Trunk Twist in 30 reps per side with 1 set. She is also a fan of Yoga and performs a few stretching exercises to maintain the flexibility of her body. Her workouts stretch for half an hour every day. She is regular with it, and follows the routine religiously Monday to Friday. But that doesn't translate to a break from exercising on Saturdays and Sundays. Apparently, her weekends are dedicated to cardio so she could burn some utilized calories.
[Also Read: A Look At Deepika Padukone Diet]
Lady Gaga Has A Strict Diet
The kind of demanding career she has, working out alone is just not enough. To make sure she has all the claim on her throne, she has adopted a very strict diet too. And as we mentioned, her diet chart was developed by her coach Harley. "Lady Gaga has always been active, but about a year ago, she decided she wanted to have the best abs, legs and arms ever, so she stepped up her workouts" said the celeb fitness trainer. Lady Gaga has a five factor diet that needs her to eat two full times meals and three servings of snacks throughout the day.
Unlike a lot of celebs who don't like but still have to take them, Lady Gaga really relishes her vegetables. As she confidently says, "I'm on a very strict healthy pop star diet. I don't eat bread, just vegetables, salad and fish. Eating like that is much better for me anyway but on Sundays I sometimes eat pasta"
Her breakfast mainly consists of whole wheat flour pancakes, fat-free milks, and fruits. Her three times snacks comprise salads, turkey, sugar-free beverages, green chips and coconut water. Salad is a must even at dinner time. But she adds some fish and Tofu to keep her full during the night.
But at times she does crave for other yummilicious food, like every other girl on the planet. And she keeps a day reserved for eating whatever she desires.
So now you know, even the Lady isn't "Born That Way" and tons of hard work goes in to stay that way. The glamour of the show biz might appear lucrative but it certainly demands a lot of perseverance and we are just all praises of it.