With the popularity of Stranger Things, the maddening craze of neon colors and customized denim jackets, it's safe to say, the 80s are back with a bang! With this returns the trend of over-the-top hair that had been missing from the mainstream for a while now. Yes, we are referring to the perm.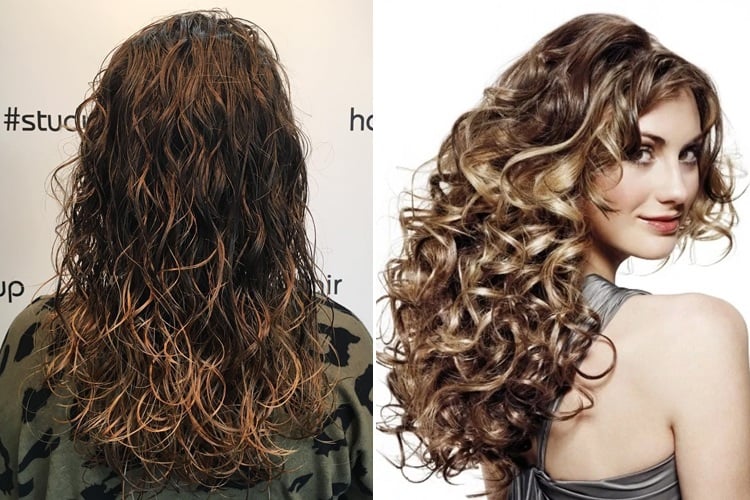 The last time I saw someone perm their hair was over 20 years ago, and it was my aunt who just a few weeks prior to her wedding, in order to get the then "hep" look ended up treating her hair with a mad amount of harsh chemicals and finally achieved the perm look that was all the rage. Not only for style purposes, but many hair experts suggest perms for thin hair for its added volume. Thanks for the progress made in hair styling technology, today we can get those perfect curls while retaining the health of our lovely manes.
How To Perm Hair?
Perming techniques have evolved manifold in the past couple of decades and all for the better, Beauty does not demand to sacrifice health now. Thanks to modern science, you can literally, perm your hair at home by yourself, though we recommend visiting a professional at least the first time. However, you may try a hand at it from the next sittings and here is how you do it.
Wash your hair thoroughly till every spec of dirt is removed to ensure absolute cleansing that will let the perming enter the hair shafts.
The disulfide bonds need to be broken so the hair becomes more flexible. Apply a perming lotion across the length of your hair. The type of perming lotion that needs to be applied depends on the kind of perm you are eyeing, you could choose from options like acid, alkaline, and exothermic perm.
As perming lotions loosen the disulfide bonds in your hair, you need to wrap the hair tightly around curling rods with a radius of your choice to curl and redefine their structure.
The time you keep the hair tied to the curling rods depends on the density and tightness of the texture of curls you want.
After you remove the rods from your hair apply a neutralizer to rejoin the disulfide bonds in the hair strands into its newly given curly structure. The neutralizing time, also, depends on the length and thickness of your hair.
After washing off the neutralizer, we'd advise you to steer clear of shampoo, oil, heat or any kind of hair styling products for the next 4-5 days.
Now that you know the basic steps of getting a perm, let's talk about the top perm hair ideas. Those who are gifted with naturally curly hair can also take inspiration from these uber cool perm styles.
1. Spiral Perm In Blonde:
There's a reason why they say – go big or go home. And it stands true for perm hairstyles too. The bouncy and tight curls you get from a spiral job look magnificent and straight from a fascinating movie. Bleaching the hair blonde before you perm it will add to the style and make for a perfect beach-ready look.
2. Natural, But Unnatural:
This kind of perm looks as though you were born with them, they are that natural. The natural curls can be achieved by using really narrow curling rods during the perming process. You might have to use a special comb to tame the fizz created by it, but once set, it looks wonderful for sure.
3. Mohawk Perm:
With two hair transformations in one go, the Mohawk takes the hair perming to a whole new level and brings out the badass in you. We all know it's not for the faint hearts and rocking it takes a lot of daring in itself. Adding a bunch of perms at the top, with the shaved, straight sides making a striking contrast against the tight curls. This hairstyle would take your game several notches up.
4. Lion Mane Spiral Perm:
This perm is what I recommend to those who are sick of their dull and lifeless hair and are trying to infuse a new life into it? A spiral perm is exactly what's needed to add shiny curls and dynamic volume from roots to tips of those long tresses. In fact, it's called the mane perm for we know, with your natural charisma you would look fierce yet flawless like the lioness in this look.
5. Defined Root Perm:
Of all the perms we are about to discuss today, this is the sexiest. It will lift your hair up from the very roots adding tons of volume to it. You'll love the frame it forms around your face, before shooting off in all ten directions. The Super Defined Root Perm can have people looking for their jaws on the floor, such is the illusion of it.
6. Diffused Perm:
Confused about the title? Why at all getting a perm if it needs to be dried in a diffuser? But the story here is, a diffuser will open up the curls and they will bloom to their best shape. Though it up to you what color you pick for your tresses, this one will look amazing on jet black hair.
7. Bushy Perm:
Going by the typical "beauty standards", the bushy hair might not be considered the perfect hair for a maiden, but hey, when have we allowed those obsolete perceptions command our choices anyway? You don't have to expose your permed hair to a countless of styling products and achieve that flawlessly defined look. At times, just take it easy, let it air-dry so it creates a beautiful and bushy mane when brushed later.
8. Multi Textured Perm:
Now there was a time when every curling rod had to be placed accurately to accomplish a head full of perfect curls. But we are in the 21st century now, and messy hair is the new perfect! To get multi-textured perms use curling rods of various sizes so it results in messier and more natural-looking rings.
9. Partial Perm Hair:
If you are the rock chick girl in a hard rock world, what are you even waiting for? Unleash the uncontainable in you and get these partial perms. What you basically do is, you leave your roots as they are and curl only the lower half of your hair. The look is sexy and it is rough and the one sporting it looks like a rockstar.
10. Relaxed Waves:
If you thought you can only go for tight curls while getting perms you were misinformed. In fact, if this is your first experiment with perms and you are somewhat unsure of it, consider getting some relaxed waves by using the technology of digital perm. In case of relaxed perms, your waves would stand out only when your hair is dry, not as much while wet. These free you from a committed relationship with perms and allows you to style your hair a little differently once in a while.
11. Partial Digital Perm:
This one will be your favorite if you have fantasized about having hair that looks as though they were blow dried – all the time. This could only be done in a salon with proficient hair stylists who would perm your hair ends digitally and leave the roots and midsection hair untouched. Due to the permanency of the look, you would have that straight-out-of-the-parlor look always. This is the ideal perms for long hair.
12. Crazy Huge Perm:
We all thought that only Julianne Hough can carry off those perms like a boss, honestly though, those huge –in-your-face- perms actually look pretty awesome and you have to try them at least once if you are a lover of perm. The length of Hough's hair is medium and it's been permed into some ridiculously large curls that turn into a gorgeous curly bob look. Why not give it a try than to admire silently?
13. Beachy Waves Perm:
Beach waves have been the go-to style every time we failed to finalize any particular hairstyle. So why not try to create some permanent beach perms? The relaxed and undaunted curls in this look can be worn to any occasion or venue and would go perfectly well with any outfit of your choice.
14. The Taylor Swift Perm:
Carrie Bradshaw has inspired women across the globe to ditch their poker straight hair for once and embrace the curls to look stunning and grab eyeballs. I have seen many of my friends taking rounds of the beauty parlous to get the perfect Tay Tay Perm. There's something out of the world about how unruly those blonde locks can get – we say, get your dark hair bleached blonde before diving in for the curls.
15. Ginormous Perm:
Queen Bey sported a striking ginormous root perm hairdo at the premiere of the movie Goldmember; it's been 15 long years but we are still fangirling over that hairdo. Yes, it takes guts like none other to attempt those blonde rings, but as I said earlier, you gotta take chances if you wanna stand out in the crowd.
[sc:mediad]
16. Burgundy Short Perm:
It's quite impossible to mention Beyonce and not land up talking about Rihanna. Now, Bad girl, RiRi has had her fair share of experiments with hairstyles and hair colors. But it's this burgundy hue that got me all inspired. The deep red in the short spiral perm bob makes for a fabulous look. It is very biker babe and could also be styled to look classy too.
17. Short Wavy Hair Perm:
The length of a short lob can is enough to perm them into loose waves. The cute quotient of this relaxed wavy hairdo is emphasized more because of the adorable short bangs that frame the front.
18. Grungy Multi Textured Perm Bob:
Now perms can be more versatile than you think. Who knew we could have such a unique bob look with perms. Topped it off with few super short fringes. Don't worry about the curls as they totally have a mind of their own. If you've been eyeing the grunge style for a while, this is what you must go for.
19. Bleached Blonde Perm Bob:
We all have heard the age of saying – blondes have more fun. Though I have been disregarding it as a 'saying' of sorts, this hairdo totally makes me want to believe it. The fine waves of this perm have coupled with the blonde dye job giving a warm sun-kissed vibe to the appearance. This is the kind of look you want to show off to your friends after returning from a long vacation at some exotic destination.
20. Big Body Perm:
Not a fan of tight perming? Love big and bouncy curls instead? A body perm is what you are looking for. It will give you big curls which are not as tightly coiled as the curls structured in a spiral perm. These big rings look elegant, natural, and have the oomph factor that makes every head in the party turn towards you.
21. Tousled Curls Partial Perm:
Some may want to keep people thinking that they are wearing a natural look and keep the secret of styling to themselves. This tailor-made perm is for those types of people. Not only are the tousled curls done on the lower half of the hair length, it uses only wide curling rods so as to create huge curls. When they are tousled up together, they offer an effortless and natural look.
22. Olaplex Partial Body Perm:
Olaplex has basically transformed the whole theory of the perming process by reducing hair damage. Even in this case the lower half of the hair is partially curled in big rings with the help of Olaplex and the roots remain undamaged. You may round up this look with some straight bangs to frame your face and look as though you have walked straight out of the Milan Fashion Week runway.
23. Wet Hot Perm Bob:
Considering the lob and the bob is in vogue right now, it goes without saying that people are looking for more variations in the lob too. One choice would be to go for this wet look. Wet curls look more defined, if allowed to dry without any styling they will still create a relaxed and wavy look.
24. Mixed Digital And Cold Partial Perm:
At times, we all want to channel the cute girl-next-door in us. And this is exactly what this look gives you – it may appear hard to nail but it's certainly worth the effort. First, big curls are created in the lower half of the hair using digital perm that turns into well-defined rings when dry. The bangs are then done in a cold perm to create the complete look giving it this natural aura of effortlessness.
25. Cold Perm:
There's something mysteriously sexy about a woman's wet hair. Now add curls to the wet hair, they become sexier with the moist fragrance of freshly washed hair. The appeal of this look can be further upped by using a cold spiral perm that gives a richly defined scrunched up curls that can literally make your husband call his office and ask for a day off.
26. Multi Textured Short Hair Perm:
This is perfect for the one who is looking for a dramatic transformation in the hair. Yes, we know a short bob is cute by itself but it does run the risk of looking a little messy if not styled carefully. You can add that style to it by getting a multi-textured perm. Being a permanent solution, this will save you a bunch of time that would have gone in styling the hair every day before stepping out.
27. Voluminous Body Perm:
To have a head of full-bodied curls that cascade down her back sounds like a dream and to get this dreamlike look you need to invest an hour every day by using your curling wand. But if you want to save that hour everyday step into your salon and get this body perm which, after a couple of hours, leaves you with big, bouncy and beautiful curls that you can boast about every day for six months.
28. Wild Olaplex Perm:
Who doesn't want to be wild and free? Even our hair wants this and to grant them the freedom they so badly want we can give them this Olaplex perm. It adds tons of texture and dimension to the body of our hair and helps reveal that crazy wild side of your personality you have been hiding for so long. Let your hair loose, style them into a short shag bob and let those spectacular curls do the talking.
29. Swooped Bangs Perm:
This is another brilliant take on the classic perm we have known since ages. We have talked at length about long, mid-length and lobs, but this length is something unique from every hair we have discussed so far. The curls of this hairstyle sit proudly on the crown of your head and look like a million bucks every day.
30. Partial Perm with texture:
Beyoncé surprises us with one curly hairstyle after another and this has continued since ages. She was seen sporting a partial perm with natural roots at the top while the rest of the length was arranged in a multi-textured perm. This makes the hair at the crown fall flat neatly and creates gorgeous and voluminous curls that caress the sides of her face. This not only furthers the diva-like looks but also accentuates her cheekbones.
How To Take Care Of Permed Hair?
Perms may look amazing but know that it is a long-term commitment that involves special care and nourishment. To make sure your perms stay as gorgeous as the first day, months after months and the damage stays away, adopt the following hair care measures.
Treat your tresses with regular conditioning and nourishing hair treatments. Hair which is not healthy from the roots to tips will not be able to hold the perm for long. So give it a break from arduous styling for a couple of months. Following the process of perming hold on to any other hair styling treatments for the next 3 months at least.
A lot of protein erosion takes place during the perming process. Eat a lot of protein-rich food and apply protein loaded hair masks regularly to restore the loss. You may buy these packs from a store near you or make your own DIY hair pack at home.
Make sure to moisturize your hair regularly. Go for a hot oil treatment at least once a week and an oil massage twice. Hair craves moisture after any hair styling process and we must cater to their demand. You may skip deep conditioning treatments but oiling is a must and no less than twice a week.
A need of permed hair cannot be satiated by products you used on your regular hair. It's now time to switch to products which are gentler on your tresses and would pamper them with extra health and moisture. Only choose a shampoo manufactured for curly, permed or treated hair instead of any off the shelf product. And don't miss to pick the conditioner that goes with it.
We would never advise you to towel dry your hair after perming. Absorb the excess water with the towel and then let it air-dry by itself. Rubbing with a towel may cause breakage.
Also get yourself a soft paddle brush and a wide-toothed comb, a wooden one would be great. For detangling your hair, first, comb them gently with the wide-tooth comb while damp. Apply a live-in serum and let it dry. Once dry, ease up the bigger knots with the comb. Now brush your hair with the paddle brush.
With these super easy styling tips, you will be able to restore the health of your hair faster. Now its time to pick a perm of your choice from the above style guide and take it to your hair stylist.