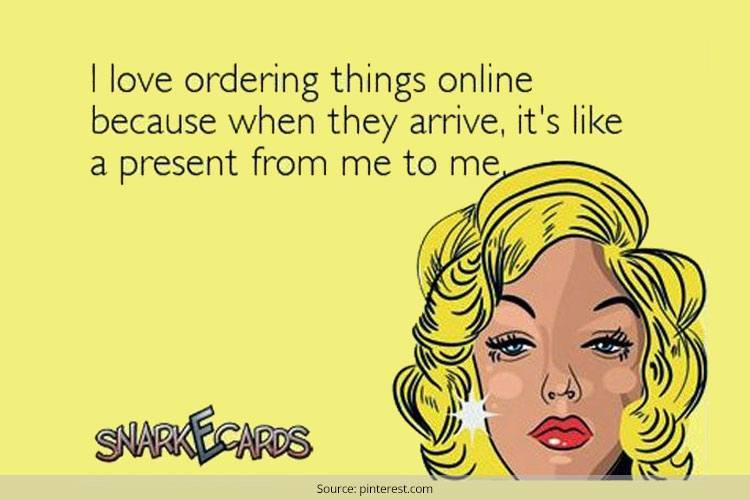 Yes! This is what we feel like when we shop online. Waiting for the mailman every day, getting excited every time our door bell rings, in hope that – "Yes! This is my parcel". The anticipation of freshly wrapped clothes and the urge to try them in the comfort of our own bedroom. All these feelings cannot be described in words. But in all honestly, online shopping in India has become a boon!
We have shopped from many different sites. We have followed domestic Facebook and Instagram accounts, and got clothes, accessories, bags, footwear and what not, online. We have all tried big brands and tried our hands at buying luxuries from renowned websites. Few of us have also done the mistake of shopping from foreign websites and paid a lot of tax at customs. #Sigh
But what we have found recently is going to blow your minds. A fabulous brand has decided to go all in with their website and everything that's available in their stores is available on their website as well. Just two words to give you endless hours of window and online shopping – American Swan.
Now, jumping down to the most import questions – Price range
Well, they aren't expensive. But they aren't cheap as well. American Swan seems like one brand which caters to people from all walks of life. You can be in college and flaunt their designs or you could be working in a big corporate firm and flaunt their designs. Wethinks catering to everyone's need and pockets is their motto. Which we absolutely love!
What do they have:
You name it and they have it. From tops to t-shirts to jump suits to bags to accessories. They have just about everything. Here's a sample of what they have!
Tops:
They have crop tops, cotton tops, ganji tops, formal tops, flirty tops. Like we said, catering to every girls need! They also have beautiful high-lows for girls who are conscious about their hips being seen.
T-Shirts:
You want cool t-shirt for your guy this summer? Look no further. American Swan offers the best, budget friendly, atmosphere friendly tee shirts. From graphic tee's to polo tees. They have it all.
[sc:mediad]
Denim Jeans:
They also have jeans which give you the perfect fit. Straight cut, skinny, mid waist, high waist, white washed, rugged, boyfriend jeans are a few categories that we are naming here. But this is one section that won't disappoint you if you are looking for something perfect. Check it out and you can thank us later.
[Also Read: How To Style Boyfriend Jeans for Women]
Casual Shoes and Sandal:
Judge a person by their shoes? Ever heard of that? Yeah, so for you to follow that you'd need decent pair of shoes. Like the saying goes – practice what you preach. Another budget friendly thing that we loved about American Swan. Check em out.
Fashion Jewellery:
How can we live without Fashion jewellery? Yeah,we are Indians and we like gold but who doesn't have fancy fashion jewellery in their closet? Its like our secret vice! Collecting such items. American Swan stands up to its name and gives us a generous section of fashion statement jewellery to chose from. You have chandelier earrings, layered jewellery, earrings etc.
Offer's running presently:
SALE – A four letter word that can soften any women! You want to impress her? You want to avoid her fury because you forgot your anniversary? Just text her this link and your card details and trust us, all will be forgotten! Presently, they are having a massive 53% off on orders above 999. All you'll have to do is use code – SPRING53 while you check out. Voila!
In closing we would like to say – Siddhart Malhotra is their brand ambassador. Need we say more? Like really? Any questions on the sexy quotient of the brand when they've got Sid endorsing it? Nah!! Just take our money!!