Ariel Winter Bio
She became a house hold name at the tender age of eight for her adorable performance as Alex Dunphy in Modern Family. The girl is now a beautiful 19 year old, trying to get a foothold in the big bad world of Hollywood. Having tried her luck in music too, Ariel gained exceptional success as a voice artist dubbing for her title character, Sofia the First in the Disney Junior show.

Ariel Winter is undoubtedly one of Hollywood's youngest and most notable talents. With a personality of loving her body while embracing her curves, showing off her body and taking fashion risks, Ariel seems to be growing up.

Ariel Winter Height | Ariel Winter Age | Ariel Winter Boyfriend | Ariel Winter Family | Ariel Winter Without Makeup | Ariel Winter Career
Being in headlines recently for making a bold statement in showing her cleavage while wearing a dress created positive response. She has made fashion statements and is bound to make more soon. Her body positivity is so contagious and inspirational!
Though she started her career in the entertainment industry at a very young age with Cool Whip commercial, she has managed to take time out of her busy schedule to complete her higher studies.
However, her Hollywood journey has never been smooth. As a teenager she had to deal with many struggles, body shaming being the beginning of it all. But there is more to this charming woman in the making, so let's go ahead and learn more about her.
Personal Details
| | |
| --- | --- |
| Name | Ariel Winter Workman |
| Birthday Date | January 28, 1998 [celebrity_age_calc data="1998-01-28″] |
| Birth Place | Los Angeles, California, U.S. |
| Sun Sign | Aquarius |
| Eye Color | Dark brown |
| Hair Color | Ariel is a natural blonde, though she always dyes her hair dark. |
| Nationality | American |
| Religion | Christianity |
| Education | Though initially home-schooled, at the age of 14 she decided on going to a Los Angeles private school. She has been accepted in University of California, Los Angeles and will attend the Fall 2017 semester. |
| Occupation | Voice actress, actress, singer. |
| Marital Status | Single |
Family Details:
| | |
| --- | --- |
| Father | Glenn Workman |
| Mother | Chrisoula (née Batistas) |
| Siblings | Shanelle Workman (sister), Jimmy Workman (brother) |
| Spouse | Ariel has never been married. She is currently dating Levi Meaden. |
| Children | None |
Past Relationships
The 18 year old has had her share of flings, and why not?
The first man in public eyes was Australian actor Callan McAuliffe. But that was a really short stint that lasted only for a month in 2011.
From 2012 to 2013 the actress dated American actor Cameron Palatas.
After breaking up with Palatas, she started seeing Laurent Claude Gaudette in 2014. They made many appearances together, including Coachella 2015 and also took him to her prom in 2015. Thing turned sour just a year later and the couple broke up in 2016.
Since November 2016, the modern family star is with Levi Meaden.
Body Status:
| | |
| --- | --- |
| Build | Voluptuous |
| Height | 1.55 meters |
| Weight | 56 kg or 123.5 pounds |
| Waist Size | 28 inches |
| Hip Size | 34 inches |
| Shoe Size | 7.5 US |
| Dress Size | 10 US |
| Body Measurement | 38-28-34 |
Ariel Winter Without Makeup
When Ariel Winter stepped out without makeup, all we could see was a glowing face. Her natural skin has such an ever lasting glow that keeps her face fresh at all given times. Her pretty and petite features were clear as she was heading with a bag on the streets. Ariel is rarely seen without makeup, and this was a fresh side to her that didn't disappoint.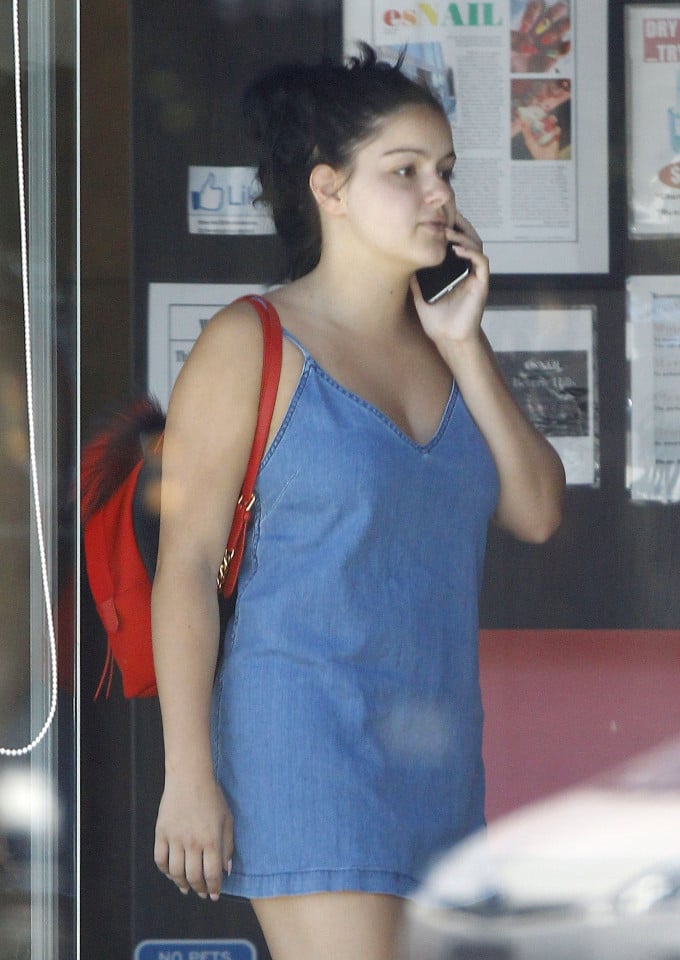 Favorite Things and Hobbies
| | |
| --- | --- |
| Color | Green |
| Food | Marshmallows |
| Place | Bora Bora, Mexico |
| Sport | Basketball |
| Film | Rushmore |
Professional Career
First Debut: Ariel,s movie debut was in the 2005 crime-comedy movie Kiss Kiss Bang Bang where she played "Young Harmony Faith Lane". Her first television debut happened the same year in the CBS sitcom Listen-up.
Brand Endorsements: Cool Whip commercial at the age of 6. Ariel has also been associated with Nintendo and Charter commercials
[sc:mediad]
Carrier Achievements: She won 4 Screen Actors Guild Awards for her outstanding performance as a part of the Ensemble in a Comedy Series.
Remuneration: $75 thousand per episode of Modern Family
Net Worth: 7 Million
Ariel Winter Weight Loss
Workout Plan:
Ariel has come a long way from the days of being bullied by internet trolls for being a little bulkier than they would want a celeb to look like. The aerial we see today has a perfect body with a booty that would give Kardashians a run for their money.
But the shocker is Ariel doesn't just go to the Gym. She enjoys biking and hiking and other outdoor activities that doubles as cardio for her.
However, she religiously does her squats to keep that perky booty in shape.
Diet Plan:
Ariel Winter adheres to a very healthy lifestyle staying conscious about her consumption. She practices the famous strategy of portion control for every meal that she enjoys and takes only those food item which will benefit her in one way or another. She steers clear from junk food and is not a big fan of processed food either. She knows as how low in nutrient content they are.
When fixed between what her body needs versus what her body desires, she always picks what her body needs. A good amount of fresh food, and green veggies loaded with vitamins and minerals and found their way into Winter's regular diet.
She has cut off of unwholesome and nutrient-deficit foods from her life and introduced complex carbohydrates and fibers aplenty. Healthy cereals like wild rice, oats, and whole-grain cereals are a staple in her diet. Winter consumes a great amount of proteins daily, most of her protein comes from eggs, fish and chicken.
She is a sucker for water, and that too the plain one. The sugary beverages have not found a fan in Ariel. In an average day she easily imbibes 3 litres of water that, in addition to quenching her thirst, help her suppress appetite, flush out toxins and bless her gorgeous skin with natural radiance.
One secret mantra is garlic – she wears by the health benefit of garlic that starts with improving metabolism, detoxifies the body and eliminates fats from our cells. But we are sure she includes a healthy amount of garlic in her diet because it works amazingly toward reducing body weight.
Interesting Facts
She might have deceived you into thinking that she is one studious girl through her role in the hit comedy series Modern Family, but what you don't know is she is one bad-ass and can beat the hell out of any jerk any day. She holds a purple belt in Taekwondo.
We all think of the beautiful green mermaid with red lustrous hair when we hear the word Ariel. You'll be delighted to know that's the exact thing the actress's mother had in mind. She was so much in awe of the Disney princess, she named her little girl after Aerial – the little mermaid. So does that make Aerial Winter a princess in reality too? When who knows? But we'll like to know if Mamma Chrisoula knew that her little girl will grow up to work with Disney too?
Ariel is more regular like any one of us, than we may have ever guessed. Just like every young adult or teenager, the actress is completely obsessed with Twilight Series and has confessed her major crush on Robert Pattinson. The only thing that divides us from the rest of us is the fact that she has met Robert in real life.
She is one of the voluptuous women who are naturally gifted with curves, but Ariel's naturally fuller body became a medical challenge for her. Just at 17, she had breasts heavier than that of a full grown woman that led to shoulder pains and other discomforts. While Hollywood is notorious for getting implants to make their boobs bigger, just at 18, Arial decided and went under the knife to get hers reduced by a few cup sizes.
Her obsession with music is high and she wants to become a celebrated singer someday. We can have any career aspiration but we all have a fixation over Taylor Swift and Mylie Cyrus, just like Ariel Winter who dreams of working on music with her favorite stars.
As both of them were early young during the first season of Modern Family, people might believe it was Winter's first work with Rico Rodriguez, who played Manny in the hit sitcom. Truth however is, the two (the then) child actors had worked together in a movie called Opposite Day and had been best friends since then.
Another fond dream of Arial is to host the Saturday Night Live. She doesn't miss it any cost, despite the demanding work schedule she has.
We have touched on the fact that she has a penchant for singing. But what not a lot of people know about is her band Wickedsweet that she shares with her BFF.
The 19 year old doesn't share the best relationship with her mother. Her mother is known to be alcoholic and less of a responsible adult. In 2016 Ariel filed for emancipation and got herself out of her mother's custody. Ariel remembers the years spent with Chrisoula as horrific and abusive. She is now happy staying with her elder sister that she is super close to.
Though the most accomplished, Ariel is not the only actor in her family. He elder sister, Shanelle Workman is also a soap opera actress and gained some fame for her role in One Life To Live and The Bold and the Beautiful. Her brother-in-law David Gray has appeared on Castle, Rizzoli & Isles, and Criminal Minds.
The star literally rules social media – especially Instagram and Twitter. While most celebs will ignore a couple of haters, Ariel is not taking anyone's stupidity. She doesn't wait a minute to take down nameless haters on social media, whether it's to protect herself, or to protect any other female celeb. She aims at being a good role model for kids by demonstrating strength and fighting against bullies.
Now though the bad-ass woman that she is today, she was not this strong and vocal during her early years. She has had her struggle with the cyber bullies who tried to rip her confidence off and called her flat-chested before she grew into the voluptuous beauty we know today. She lacked self-assurance and felt broken, but it wasn't long before she learned to wear an armor made of acceptance and love herself.
Not everyone in Hollywood could secure a place in the Kardashian-Jenner good-books. Apparently, this young actresses has had that achievement already. Ariel and Kim are quite pally and the former has come to Kim's aid when she faced a helluva backlash for her nude selfie. Out of gratitude, the mother of two sent Ariel a bouquet of flowers with a handwritten note, "Women supporting other women is so powerful." Ariel was quick to upload a picture of it on her Instagram with the caption – "I gotchu @kimkardahian always xo."
She had to suffer a lot of money problems till her estranged mom was managing her paychecks. Ever since the emancipation the 19 years old has cultivated a fondness for the finer things in life. She is one shopaholic and wouldn't mind blowing away her hard earned cash on designer clothes, shoes and bags. In one shopping spree, Winter reportedly spent around $1,500 at Christian Louboutin, $1,200 at Victoria's Secret, and around $9,000 at Chanel.
It's not just her character Alex on the Modern Family, but even in real life Ariel embraces the flannel shirt. Maybe someday Alex will stop wearing those basic 'boring' shirts, but they will always stick with Aerial.
Ariel has many dreams, few she had turned true, few she is working on. Hope you have found out every single detail about your favorite star in our sum up!
Recommended Articles:
Amy Schumer Latest Updates
Megan Fox Latest Updates
Demi Lovato Latest Updates
Kat Dennings Latest Updates
Taylor Swift Latest Updates
Jennifer Lopez Latest Updates
Mouni Roy Latest Updates