Personal Details
| | |
| --- | --- |
| Name | Demetria Devonne "Demi" Lovato AKA Demi Lovato |
| Birthday Date | 20th August 1990 |
| Sun Sign | Leo |
| Eye Color | Brown |
| Hair Color | Naturally a brunette, but Demi is one of those celebs who have a passion for hair colouring and she has been seen in a host of different colours, including blue and green! |
| Nationality | American |
| Religion | Christian |
| Education | Cross Timbers Middle School, but later home-schooled because of bullying at the school |
| Occupation | Pop artist, activist, actor and R&B artist. Demi wears multiple hats. She started off as a Disney actor and now sings and is a part of popular movies too. |
| Marital Status | Demi is unmarried, but she has had a string of relationships. |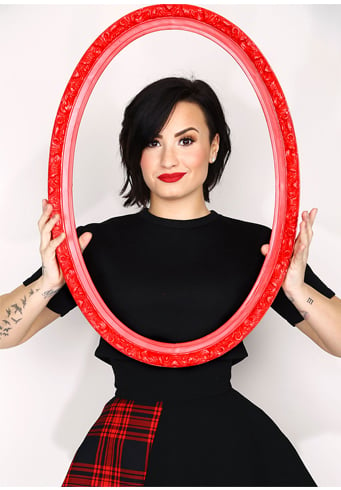 Family Details
| | |
| --- | --- |
| Father | Patrick Martin Lovato (Engineer and musician) |
| Mother | Dianna De La Garza (Former Dallas Cowboys cheerleader) |
| Siblings | Older sister – Dallas, younger maternal half-sister Madison De La Garza, older paternal half-sister Amber |
| Spouse | Never married |
| Children | No kids |
Body Status
| | |
| --- | --- |
| Build | Demi is of medium-built and her weight often fluctuates, but she is slim |
| Height | 5'3'' |
| Weight | 121 pounds – 128 pounds |
| Waist Size | 27 inches |
| Hip Size | 36 inches |
| Shoe Size | 7 (US) and 37.5 (EU) |
| Dress Size | 10 |
| Body Measurements | 34-27-36 in or 86-68.5-91.5 cm |
Brand Endorsements
Demi has been the brand ambassador for many well-known brands including Skechers (She was the face of the campaign in the year 2016) Tampax (She endorsed the brand for them in the year 2015) and Acuvue contact lenses (She was the face of the campaign in 2012 and this was one of the first brand endorsements that she had done)
Demi Lovato Weight Loss
Demi Lovato is the unsaid pro of no-makeup selfies looking like an absolute cutie. On or off the screen, her looks are just as angled and chiseled,leaving no room for flaws. She embraces her authentic self and never shies away even when makeup-free. She recently also started a 'no-makeup' campaign to go along with the launch of her skin care line. With motivating captions and messages, she urges every woman to love themselves in all forms.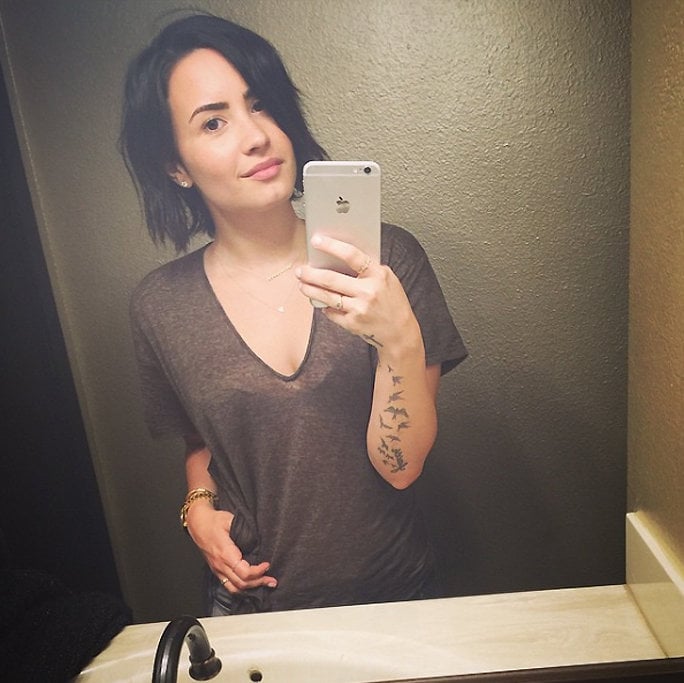 [sc:mediad]
Demi has always struggled with body image since her entry into this field. Demi was also diagnosed with two disorders – Bipolar disorder and her eating disorder bulimia. She has fought very hard for these two issues and has worked for a long time on getting rid of them. The star in fact admitted that she was tormented with these issues since three years and finally decided to work to get better.
In the midst of all this, Demi was also criticized for her weight gain. It was a really difficult time for her until she decided to lose 30 pounds and astonish everybody. Demi worked very hard to shed those pounds and worked with a trainer to become a confident version of herself.
The main reason Demi's weight had been yo-yoing was because of her substance abuse and binge drinking. She was not mindful of what was going inside her and ate almost anything and everything. She then hired a fitness and diet coach who brought her body back to shape.
Right now Demi is a very confident and enthusiastic celeb and even talks openly about all her struggles in a bid to help other youngsters with becoming confident with their bodies.
Workout Plan
Demi mostly focuses on working out her leg and she even admits loving a workout that focuses on her legs! Demi trains her legs almost 2-3 times every week and focuses on her glutes and quads.
Here is what she does on a typical leg workout day:
Exercise One: Barbell Squats: Sets: 6-8, Reps: 6-10
Exercise Two: Walking Db Lunges Superset with Db Step Ups
Sets: 4, Reps: 30 seconds time under tension
Exercise Three: Leg Extension (slow motion)
Sets: 5, Reps: 10-12
Exercise Four: Hamstring Curl machine superset with Swiss ball hamstring Curls
Sets: 3, Reps: 30 Seconds time under tension
Exercise Five: Cardio Cool-down
Demi would end her workout with a 20 minute cardio set. To complete her cardio workout, Demi would jog on the treadmill, the elliptical machine or pedal on a stationary bike. It is a same pace workout and she would be very consistent with this.
Diet Plan
Before Demi began with her workout and diet plan, she was binge eating and binge drinking. It was only when she began a proper diet plan did she start shedding those pounds. For starters, Demi started avoiding carbs and only had them post a particularly grueling workout. She also stopped eating outside and focused on cooking for herself. This was she knew what she was eating and exactly what was going on inside her food. She focused more on greens and salads and also on cleaner and more organic foods. Processed food and alcohol was avoided as much as possible.
No wonder the celeb looks so good now! She has definitely worked hard to achieve that body!
Social Profiles

Images Source: pinterest
Recommended Articles:
Amy Schumer Latest Updates
Megan Fox Latest Updates
Kat Dennings Latest Updates
Ariel Winter Latest Updates
Taylor Swift Latest Updates
Jennifer Lopez Latest Updates
Mouni Roy Latest Updates