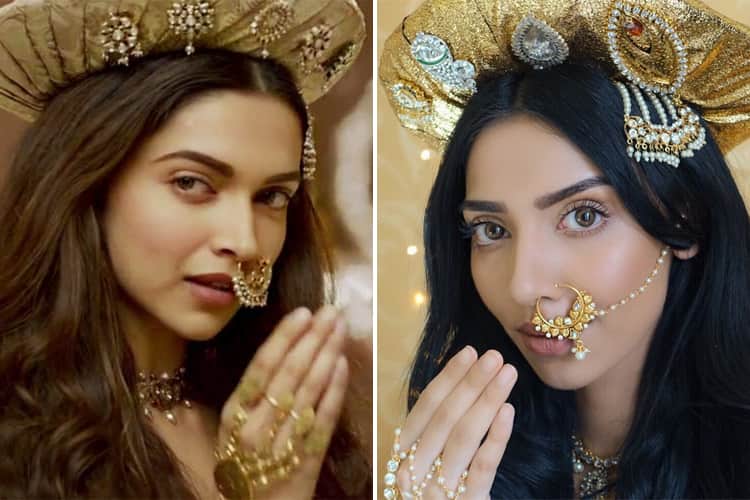 Deepika Padukone has a way with carrying off her different screen roles flawlessly. Right now, the focus is on her unibrows that she has been rocking for Padmavat, but before that she also rocked a classic look for the movie Bajirao Mastani – a look that's not too difficult to imitate when you have the best makeup tricks up your sleeve. So read on to know more and imitate Deepika's look in Bajirao Mastani.
Deepika Padukone Bajirao Mastani Look:
Bajirao Mastani is a classic historical romance set in the 15th century. The entire film is more about grandeur and so there are men and women dressed in the best of the best royal attire. Deepika, who plays the role of a Hindu, Rajput princess Mastani falls in love with the Maratha King Bajirao and thus begins a period love triangle. In the movie, Deepika has used makeup that makes her appear in a golden hue and is quite a spectacle to look at. She is beautiful, elegant and of course very princely. So before we get on to the makeup, let's check the basics.
Prep and Prime your skin right:
The first and the most important step before you begin your Bajirao Mastani makeup tutorial is to prep your skin with a primer. Here, the primer has a dual role – it will cover all your pores and prepare your skin for the application of foundation. Foundation will stay much longer and will glide more smoothly when you have used a primer. Some good primers include: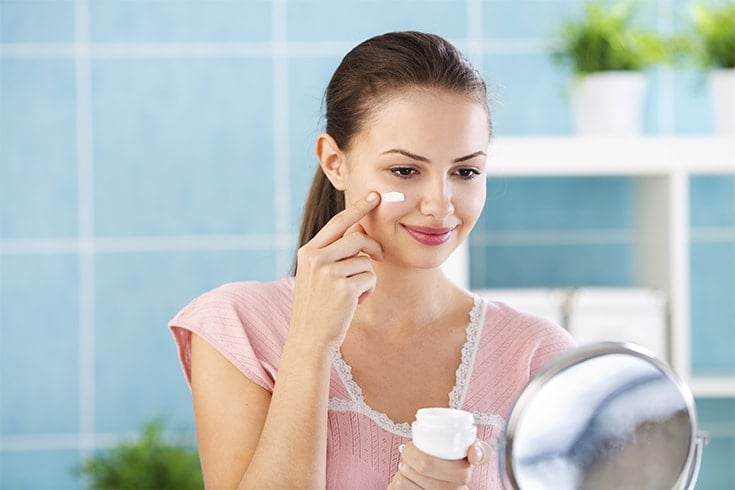 SmashBox Foundation Primer: This one works great for normal to oily skin and is the same shade as the foundation.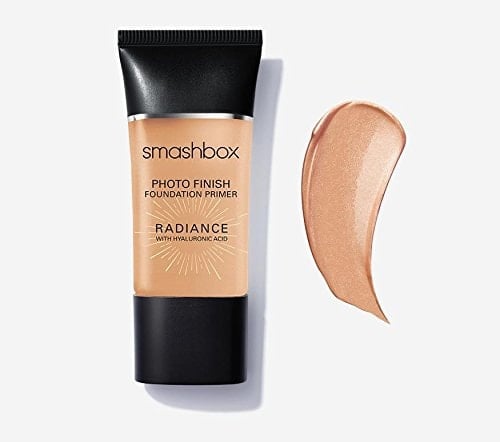 Benefit Pore Professional Primer: If you are suffering from huge pores, this one can come to your rescue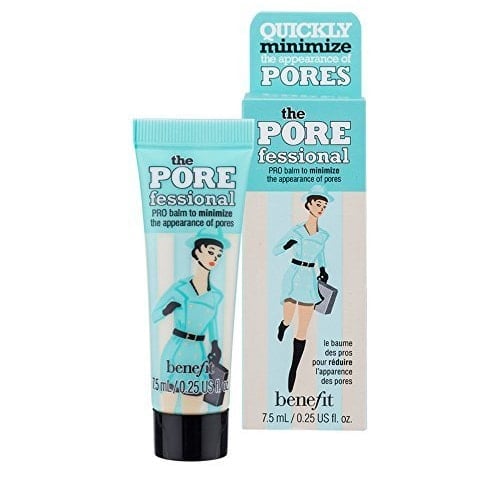 Too Faced Replenishing Primer: For a dewy finish that gives you an instant filter, this Too Faced primer works like a charm.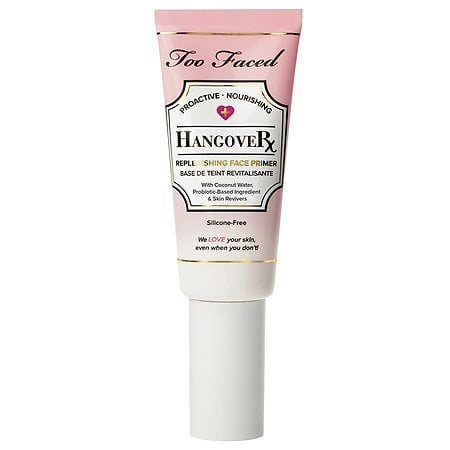 Get The Right Shade Of Foundation:
The second most important step after prepping your skin is to choose the right shade of foundation. We mentioned before how golden Deepika looked in this movie. So the foundation has to play the right role and of course, you have to brush some bronzer that will seal the look. To select a foundation that matches your skin the most, don't swathe it in the arms, instead apply it just below your jawline for the perfect match. It should blend right in and not look too tanned or too white. Choosing the correct foundation may be an upheaval task, but once you know the shade right, it becomes easier to complete the entire look.
Here are some foundations that you could use:
Shiseido's Luminizing Foundation: A little on the more expensive side, this foundation looks good when you want to achieve a glow. There's an ethereal and dewy finish to it when you apply it.
Revlon Colorstay Foundation: If you want to join the long-lasting bandwagon, this should be your go-to foundation. Not only is it available in an insane number of shades, but the light and liquid formula can last you the entire night!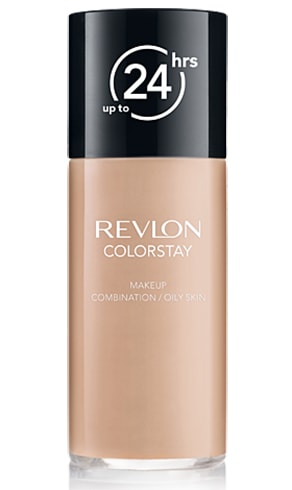 Bobbi Brown Foundation Stick: A foundation stick that blends and glides smoothly – exactly what you dreamt of! Bobbi Brown's foundation sticks are available in every imaginable colour and they look amazing, plus they last long! It is moderately priced and just a swathe is enough to cover your whole face. This one lasts without breaking into a sweat.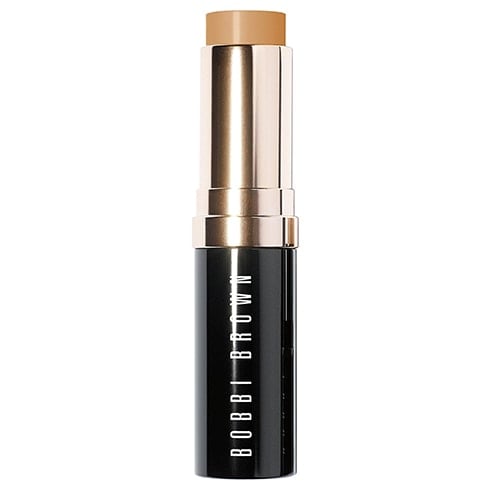 Conceal, Highlight and Bronze Some Glam Up!
The next step before you begin the eyes and the lips are to conceal the flaws, highlight those cheekbones and cover up in a golden hue. This is where your concealer, highlighter, and bronzer will come into use.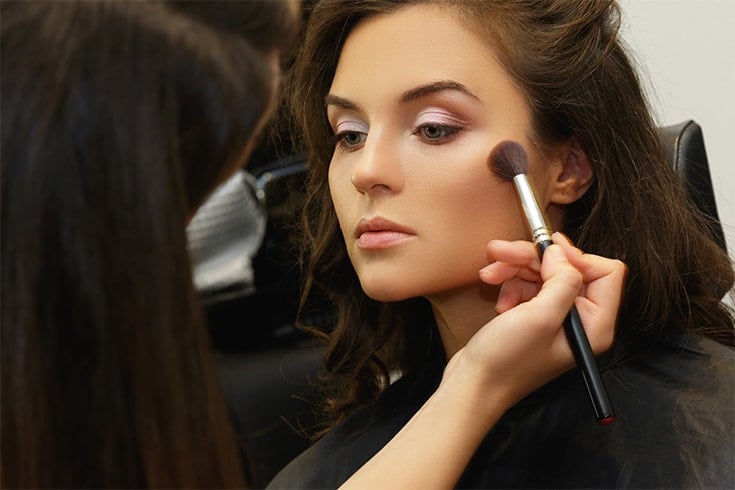 Concealing: Conceal your acne, or your dark circles by using the concealer at strategic areas. Blend them well to get a flawless look.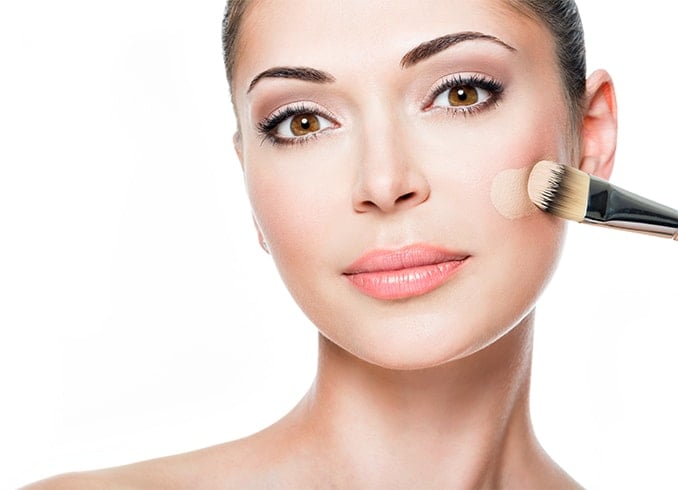 Highlighter: As the name suggests, it is used to highlight the focal areas of your face. Use it on the bridge of your nose, the tip of your nose and your cheekbones.
Bronzers: Bronzers are needed to impart that Greek goddess-like look to your cheeks. Gently dab some on the highest points of your cheekbones
Brows it like Mastani's:
The eyebrows Deepika Padukone flaunted in the movie were her most distinguishing feature. In order to look similar, if you have to grow out your eyebrows. In the movie, Deepika sports a very natural and unkempt set of eyebrows. Follow these steps to fill in your eyebrows to look like Mastani's:
Step 1: Outline your eyebrows in a way that they look defined and thicker
Step 2: Use an eyebrow powder to fill in your eyebrows. Make sure you don't use black because it stands out and may not look that natural. Powdered formulas also work much better than their liquid counterparts.
[sc:mediad]
Step 3: Now that you have drawn your eyebrows, you need a good eyebrow gel to set them and brush them into place. If you don't have a tinted brow gel available for use, you can use a simple mascara brush to fan out the brows and make them look natural.
Here are some eyebrow products that you could use:
NYX Eyebrow Kit With Stencil: This makes your work much easier because you have different stencils available and you can give a proper shape.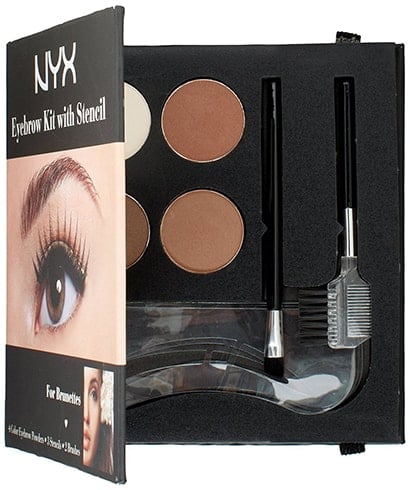 Rimmel London Eyebrow Kit: This one is a very basic set but does the job well of giving you very defined and pretty looking eyebrows.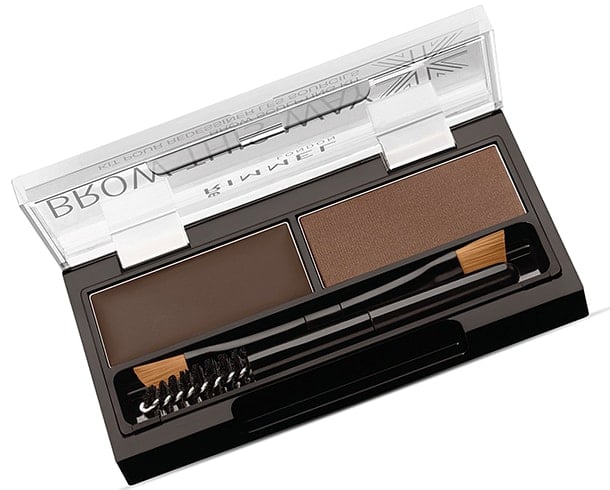 Eyes that speak volumes:
Deepika's eye makeup for Bajirao Mastani is very neutral and nude, but it does require some hard work, but we can make it a little easy for you. Just follow these steps and the product list to get Deepika's Mastani look.
Step 1: Take a neutral eye shadow like beige or khaki (something that matches with your skin tone) and brush it lightly on your lids. You could either use a brush or use your fingers to evenly spread it. This is going to be the base of your eye makeup.
Step 2: Take a shimmery eye shadow like gold or something in similar hues and dab it gently on your crease.
Step 3: Now take another glittery or bronze shade that is a little lighter than the previous one and blend these two together.
Step 4: Now let's come to the eyebrows. You have drawn them out, but you need a dab of highlighter to make them pop out. Take your highlighter and gently draw just beneath your eyebrows. This will highlight the brow bone
Step 5: Take eyeliner or kohl and draw on the upper waterline. This will create an illusion of a fuller lash. Use a nude colour or white eyeliner to make your eyes look wider and more open
Step 6: Last but not the least, use a lot of mascara to achieve the full look. If you love false eyelashes, you can even use those. But using generous mascara can actually give you a more natural look.
Natural-looking lips:
Deepika stuck to very nude and natural colours for her lipstick – almost like she hasn't applied lipstick at all. So just stick to a light pink or a peach colour for your lips. Some of these shades could be:
The lipsticks that look great would be Colorbar Nude Coral, Chambor Sugar Pink, MAC Amplified Cosmo. Remember to keep your lips glossy and stay away from the mattes.
Finishing Touches:
Besides the lipstick, you can also dab a little bit of rouge on your cheeks and don't forget to spray the finishing spray. This will hold all the makeup together. As you might have seen from Deepika's look, none of her makeup is very in your face. All of it is subtle and all natural and even though it looks like that, there is actually some work involved. So keep it minimal and as natural as possible.
Add some jewelry and you are good to go!
Now that all your makeup is done, the only thing that remains is adding those little trinkets. The most popular jewelry items that Deepika flaunts here include the jhoomar and the nose ring. The jhoomar is worn on one side of the head and adds a really regal touch to your look. The studded nose ring, on the other hand, completes your look and adds a touch of elegance. Hey, it's not that hard to become like Deepika in Bajirao now, isn't it?
So there you go, we have given you step-by-step instructions on Bajirao Mastani Makeup Tutorial. All you need are some good makeup products and we have mentioned all of them in the article. Choose these and follow our steps – your makeup game will be on par with Mastani's!