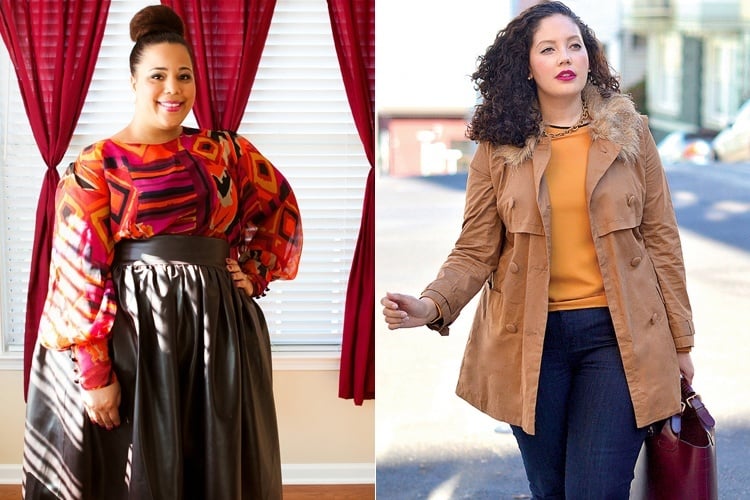 We have read a lot about how women who aren't slim and lean should dress, and very sad to say, even our designers hardly cater to real full bodied women, let alone the chubbiest and the obese of the lot. Fashion is meant to adorn and that is why we bring to you fashion tips for fat women, because in our opinion we look at every BODY as a beautiful piece of creation.
LET'S BREAK SOME RULES HERE WITH FASHION FOR OVERWEIGHT WOMEN
With fashion tips for fat women, our aim is to do away with five stereotypes that bind the big girl to her blacks and spandex! We want to break the stereotypical norms that have been drilled into our heads for many centuries. Let's get done away with the panty hose and girdles that hold us down too, and present our bodies in fashionable ways that were once eyebrow raisers as being disasters. So, here's to breaking away from the nomenclature of fashion tips for fat women that are so demeaning and stereotyped!
[Also Read: How To Loose Belly Fat]
1. Learn How To Love Your Body
The very first thing you need to do is to love your body, and fat women were always told otherwise. "Reduce or else no man would want to marry you" or "Reduce or else nothing would look nice on you". Sounds familiar, right? Well, health wise, it is important to keep a check on what we eat, and fashion wise, we would want to use fashion for overweight women, which would not make us stand out in the crowds in a wrong way. We don't want to make our bodies look thin on the lines of fashion. We want to feel great in what we wear, which is why wearing our confidence on our sleeves and collars is a must.
2. Do I Need Shape Wear?
[Also Read: Mistakes That Are Making Us Look Fat]
While there is no harm wearing shapewear to further accentuate the body and make it look haute, you may opt not to wear the same. Body shapers, power panties, shape wear, spanx, etc., they are what millions of overweight women squeeze into before their morning breakfast and that's sad! These are items that are made to smoothen the bumps and lumps on us, but are they comfortable; not at all. There are health risks involved with spanx, which is why wearing tight fitting shape wear and garments are a NO-NO! Just because 'fashion experts' say fat women should not wear loose clothes, it doesn't mean you have to suffocate yourself wearing spanx! Think about the lovely flowing maxis, the midi skirts and peplum tops; they don't suffocate you, and are the best fashion tips for plus size women we can give!
3. Wear Your Prints, Bold And In Whichever Way You Want
Prints worn in horizontal, vertical or bold are a NO-NO for the fat sister, say fashion gurus and they should be avoided at all costs too. This is because the print can be very unflattering to the contours of the body. Remember, it isn't the clothing that makes you fat or thin, your body is what makes you look the way you are and there isn't anything wrong about the same. When you skip prints and graphics on your clothing, what have you changed? Nothing! There are many obese fashion models who wear prints and leopard patches; confidence matters, nothing else!
[sc:mediad]
[Also Read: How To Loose Belly Fat]
4. One size Too small
We have been told to pick one size big and not one size small, which again is very defaming. What if you want to wear cut outs and crop tops, skinnies or leggings, would you still want to follow the advice of fashionistas who condemn you on the same? Why is the world averse to fat girls baring the bellies? The aim is to feel sexy, to feel liberated and to enjoy the body you are dressing up for an occasion or two. Wear what you want to wear and love yourself in doing so. Join the anti-fatophobia revolution and enjoy more styles for plus size ladies.
5. You shouldn't Only Wear Black
The world is a colorful place to live in, so why should you stick to black clothing only? Pretty pinks, vibrant yellows, mustards and greens, blues and whites, grays and browns, play with the color palette as you would want to, and have fun dressing up.
We hope these five fashion for chubby women tips help break the rules and stereotypical thoughts. Have fun girls and be proud of your bodies!