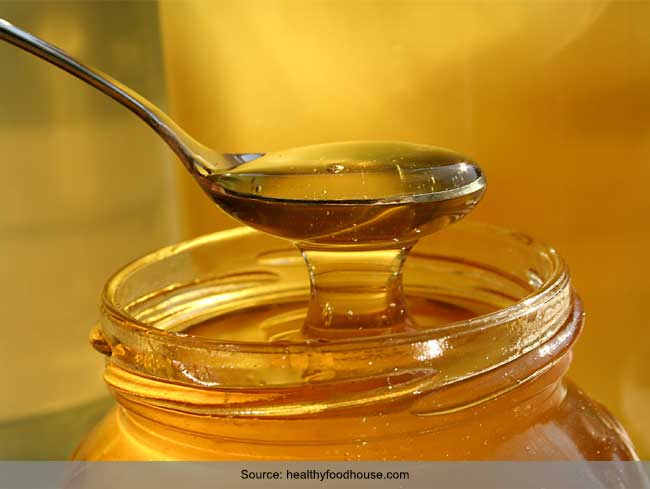 Honey is not just an age old healthy sweetener but it is also a powerhouse of health benefits with a number of nutrients, antioxidants, and curative elements. Honey is a great natural remedy against aging, it has antibacterial properties. Beside numerous proven and unproven health benefits, honey is also a fabulously versatile natural ingredient for homemade masks and treatments for your skin and hair as well. Here are some helpful, tried-and-tested mask recipes and tips on how to utilize it for your hair and skin care.
1. Honey (the natural humectant) can be used for maintaining moisture into the skin. It retains moisture in the skin layers, mainly for enduring hydration.
Take some raw honey and carefully spread it on your dirt-free and dry skin face. After waiting for about 15 minutes wash it off with lukewarm water.
[Also Read: Beauty Benefits Of Honey]
2. The honey in its raw form is especially useful for your skin; it cleans your skin and keeps it pores clear. Moreover, when mixed with jojoba oil, the antibacterial properties of both ingredients can be used to fight against bacterial growth that usually causes skin imbalances and acne.
Take one tablespoon of raw honey and two tablespoons of jojoba oil or coconut oil and mix it well. Clean and pat dry your skin; spread the mix on your facial skin avoiding the area close to your eyes. After a few minutes, wash it off with lukewarm water.
3. Honey is a natural source of antioxidants, enzymes, and other skin nourishing elements that nurture, purify, and moisturise the skin. Baking soda on the other hand exfoliates the skin mildly and helps you remove dead cells so that the new cells can appear for a glowing skin tone.
Blend two big spoons of raw honey and one spoon of cooking soda. Gently clean you face with warm water, and lightly massage the concoction on your skin. Clean it off with lots of warm water.
4. Honey is great for skin lightening too, its anti-inflammatory and antibacterial properties are very helpful in decreasing the emergence of skin scars and it quickly heals the skin while helping in tissue regeneration. The honey mixed with coconut oil or olive oil helps in reviving skin cells, and a gentle and repeated rubbing will boost the blood circulation to support the quick recovery of your damaged skin cells.
Apply the mixture of raw honey and coconut oil on the affected skin, and soothingly massage using your finger tips for few minutes. Do this soothing and healing massage on regular basis.
5. The enzymes found in raw honey are useful in the treatment of dull and dry hair. These nutrients also protect you from excessive hair fall. On the other hand coconut oil nourishes your scalp while working as a natural conditioner; it makes the cuticles smooth and gives your hair a good shine that you always wished for.
Make a soft concoction of raw honey and coconut oil. Apply it carefully on your damp hair and scalp. After 15 minutes, you can wash your hair with fresh water.
6 As described earlier, honey has natural humectants qualities which make it perfect solution for regulating and preserving moisture in your skin and hair. Moreover honey has been used for boosting a healthy hair growth since ancient times.
Make a smooth mixture of 1small spoon of honey with a few drops of your preferred shampoo. Use it to wash your hair, and then rinse thoroughly with fresh water.
7. The enzymes found in raw honey gradually free hydrogen peroxide, which is used for lightening the hair colour.
Make a mixture out of 2-3 spoons of raw honey and 2 spoons of water. Wet your hair slightly and apply this mixture on wet hair, allow it to be there for about 50-60 minutes. Wash it off and try this treatment on weekly basis.
8 Honey fights against dryness and fungal infections too. The antifungal and moisturizing properties of honey have been proved very effective in the treatment of dry and dull hair, dandruff and fungal infections. Honey and onion Juice mixture can be applied for the treatment of dandruff, dullness and hair fall.
[sc:mediad]
Simply mix one big spoon of raw honey with some onion juice. If you have long and thick hair you can increase the quantity amount of this mixture.
Apply the concoction on the roots of your hair with some gentle strokes, do this often to get fast results.
9. Honey and fenugreek Seed paste is also used for the treatment of hair loss and dandruff. Soak the fenugreek seeds in water for about 8-9 hours, grind them lightly to make a smooth paste and add a couple of tablespoons of raw organic honey. Rub it on dry scalp, and let it be there for around 20 minutes, now rinse your hair thoroughly with fresh water.
10. Honey mixed with Apple Cider Vinegar works as a great conditioner for your hair. This combination gives your hair shine and acts a natural conditioner.
[Also Read: Honey For Sore Throat]
Take 1/4 bowl of honey and 1 bowl of apple cider vinegar, mix them well. Apply it on your wet hair, and leave it on for about 20 minutes. Wash it off with lukewarm water.