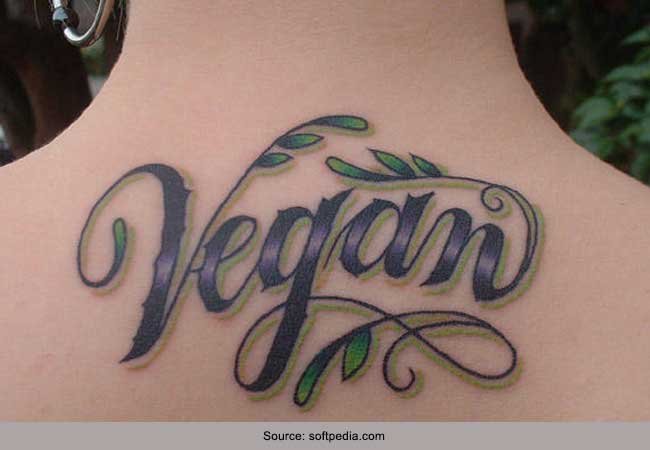 If you're getting on board of the vegan revolution or have been a vegan for some time now, then you need to know all about vegan tattoos. Needless to say, vegans take their lifestyle pretty seriously. Right from not eating meat and dairy products to not using leather accessories, they are very particular about saying NO to anything that involves animal cruelty. This being the case, it was no wonder then that vegans were not very keen on tattoos till very recently. One main reason for their aversion to tattoos was that the materials used in the tattoo making process, from the ink to the stencils used for the designs, were not vegan. The black ink used was made using an ingredient called Shellac which is a secretion obtained from certain beetles. This meant that vegans weren't happy with the whole tattooing idea.
[Also Read: Tattoos and their Meanings ]
But all that has changed in the last few years with the introduction of vegan tattoos. There are even some vegan tattoo parlours where you can get your tattoos done and be rest assured that no animals or insects were harmed in the process. Soon after the introduction of vegan tattoo ink and other products, the vegan community has been enthusiastically getting tattoos done to promote their lifestyle.
Here are some very tasteful and aesthetically pleasing vegan tattoos that is ideal for proclaiming your vegan lifestyle to the world.
1. Perhaps the most popular vegan tattoo is a simple word tattoo that says vegan.
2. Another great idea for a vegan tattoo is to use the bunny logo that is commonly used to denote animal testing on makeup and skincare products, but tattoo the word vegan on it to get your point across. This tattoo is powerful as it effectively uses a well-known logo to make the statement. It is minimalistic in nature but still highly effective.
[Also Read: Couple Tattoo Ideas ]
3. Here is another statement tattoo that stresses on the need for animal liberation. Great idea if you are an animal rights activist and a vegan who believes animals should be allowed to live a cruelty-free life.
But not all vegan tattoos need to make a statement. Here are some cute vegan tattoos that look totally adorable.
[sc:mediad]
So what are the things one needs to consider when opting for a vegan tattoo?
1. The most obvious thing to be considered is of course the ink. Check with your tattoo artist and see if they carry any vegan ink.
2. Talk to them and explain how important this is to you as some artists may dismiss such specific requirements, thinking you're being overly picky. Explain that it is a very sentimental and ethical thing for you so that they understand the weight of the matter.
3. But it is not just the ink that you need to look out for. The aftercare products used contain animal ingredients as well. So ask for vegan options (they are available and actually help heal your tattoos much faster than non-vegan products).
[Also Read: Tattoo Designs for Women ]
4. And if you're tattoo artist does not have vegan products and is not willing to procure them for you, then you need to make a decision. Would you rather let the tattoo artist use non-vegan products on you or would you walk away and continue your search for a vegan tattoo parlour?
Remember this, as more and more potential customers request for vegan products, tattoo parlours will have no option but to stock up on them. So if you're a vegan and thinking of getting a tattoo, even if you don't go in for a typical vegan design, you will still be making a loud statement through your choice of opting for vegan ink.