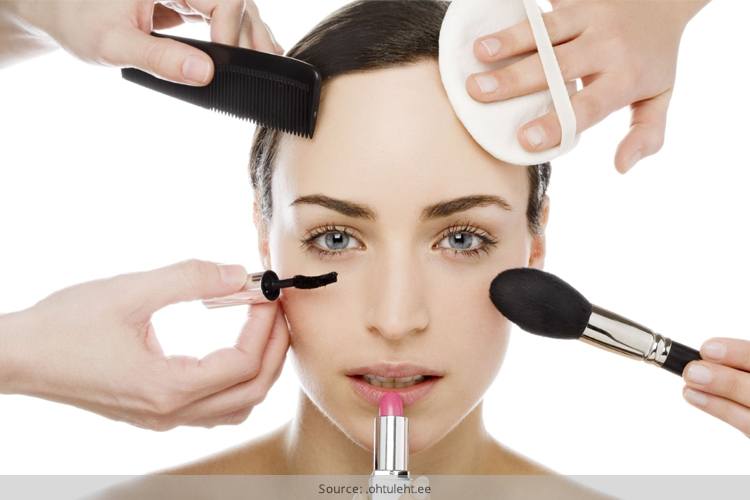 Even if you were a tomboy growing up and you never cared about your makeup or looks, there are certain beauty lessons you ought to learn by the time you're a grown woman. You should embrace your body and figure out an everyday beauty regimen that suits you best.
These are some basic beauty tips and if you just follow them, you will never go wrong. Learn how to manage a bad hair day and what products work for you, so you can look your best every single day!
Essential Beauty Lessons To Be Followed
Skin Tone
Find out whether you have a warm or cool skin undertone. Once you know that and dress accordingly in colors that flatter your skin tone, hopefully you will never end up wearing a dress that washes you out or a sweater that makes you look sick.
Another beauty tip to follow is to make sure that you buy a compact/foundation of the right shade.
Why Use Sunscreen?
Sunburns are very painful and if you've ever had one, you will know the importance of sunscreen. Not only this, over-exposure to the sun's rays can also cause premature aging of the skin, dark spots and wrinkles. Say no to those tanning beds because skin cancer is a serious risk.
Just make sure you wear a sunscreen with the required SPF before heading out of the house, for a healthy, damage-free skin.
Get Your Beauty Sleep
You need to get a minimum of 6-8 hours of sleep every night no matter how busy you are. It is called beauty sleep for a reason! Your skin repairs itself at night while you sleep and it also refreshes your mind and body. You don't want those dark circles around your eyes, do you?
A proper sleep keeps you happy and feeling refreshed the next day which is very important, because you won't look good if you don't feel good!
Eyebrow Care
Your eyebrows are perhaps the most prominent feature of the face. They frame your face and you should always keep them well-groomed if you want to look perfect.
Never over pluck your eyebrows and be loyal to a stylist who gets the shape right for you. Use a brow pencil of the right shade to fill them in for a sharper look.
Moisturizing Skin Benefits
Invest in a good moisturizer and use it! This is one thing that can't be stressed enough. You need to keep your skin moisturized and well-hydrated for a glowing, blemish-free look. This will help prevent wrinkles and keep you looking young longer. You can even use natural DIY homemade moisturizers for baby-soft skin.
[sc:mediad]
Figure Out A Good Shade Of Red Lipstick
A good red lipstick is a must have for every woman. You should find out the perfect shade for you, according to your skin tone. A red lipstick too comes in a series of shades – orange red, cherry red, maroon red, bright red, etc.
Once you have it figured out which complements your skin tone best, you will definitely love it; it takes any look from day to night in an instant and makes you look very glamorous.
Having A Signature Scent
It's not bad to experiment with your fragrance, but having a signature scent that people immediately identify you with can be an awesome feeling.
It could be a nice, subtle or a sexy scent that will make your presence felt wherever you go. Find a beautiful scent you love and wear it regularly to make it your signature scent.
Don't Forget To Remove Makeup Before Sleeping
This is something most of us are guilty of; not removing makeup before hitting the bed. This is one habit you should change. You don't want to wake up with breakouts and dull skin.
Face cleansing is very important, so make it a point to always remove your makeup before you go off to sleep, even if you're tired. Leaving it on at night blocks the skin pores which is very unhealthy.
Use a good makeup remover and be very gentle. Some women prefer to add a little bit of coconut oil as well. Another tip, use your ring finger to remove or apply makeup to your eyes because that is the weakest finger and eliminates chances of damaging the sensitive skin.
Get Your Hair Trimmed Regularly
Be regular with your haircuts and trimming because it is essential for your hair to grow well and prevent split ends. A good hair care routine is a must for every woman; you should oil your hair and massage it before you shampoo it.
A good hairstyle and hair color is sure to take your confidence levels a notch up.
Pamper Your Skin
Apart from using all these skin care tips, you should pamper yourself every once in a while. Indulge in a massage or a facial to rejuvenate and de-stress. Splurge on good quality skin and hair products. Try to be positive and minimize stress by staying happy.
[Also Read: Benefits Of Pumpkin Face Mask]
Above all, stay true to yourself and don't fall for every crazy beauty trend you hear about. Find your own voice and listen to it. Know your strengths and weaknesses and work around them instead of trying to fight them, your life will become much easier and happier!