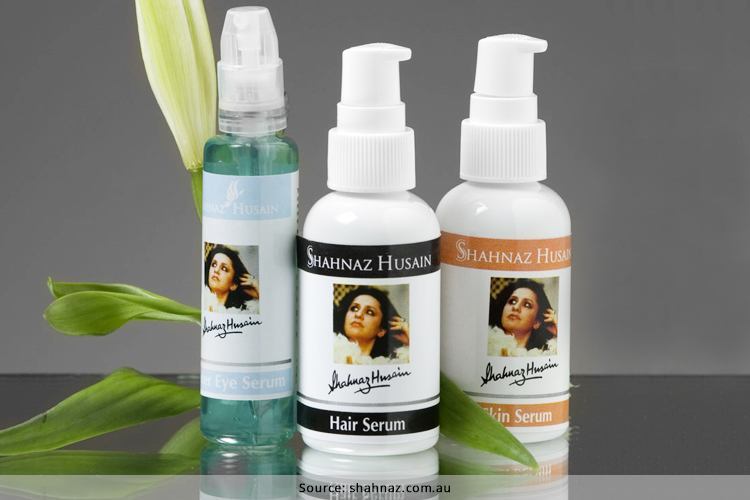 With over two-hundred franchises to her name, and a fan-following of more than a million (both men and women), Shahnaz Husain, India's 'Goddess of Sacred Beauty' is an epitome of strength, femme fatale, grit and determination in her own rights. Ever since the early 80's the name 'Shahnaz Husain' was on everyone's lips. Without much ado, here are top ten best of Shahnaz Husain beauty products available across the nation.
[Also Read: New Beauty Products]
Let's look at some Shahnaz Husain herbal products
1. Shahnaz Husain Black Diamond – Skin Serum
Ageing woes no more to deal with, not when the Shahnaz Husain Black Diamond – Advance formula skin regeneration serum promises to bring back that youthful vigour and glow, thanks to the unique combinations of black diamonds, vitamin E, antioxidants, and a host of herbal active ingredients that make the skin soft, supple and vibrant. Translucent glow to the skin for sure, the product is known to fight the onslaught of free radicals that cause the ageing process, skin issues, skin cancers and tumours too. One of the best Shahnaz Husain beauty products, which work like magic.
2. Shazeema – Cleanser
Indian climes and summers especially, can be very harsh and cruel, and worse still for those who have oily skin- non-stop sweaty moments, can be an embarrassment for sure, but also a reason why dust and grime become your skin's worst enemies too. What we need is an anti-bacterial formula sans the inducement of chemicals, to keep the oily issues at bay. With a host of herbal active ingredients, oils and holistic touches to its name, Shazeema for acne prone and oily skin helps bring down the oiliness and removes impurities that cause skin issues. Magic in a small box, why not?
3. Shatone Plus – Scalp Tonic
Heat, pollution and the rat-raced stressful lifestyles we lead, could be reasons enough as to why we have dandruff and greying strands on our crowning glories! A therapeutic touch is so the need of the hour right now and with hair friendly herbal extracts that do away with pesky hair and scalp issues, dandruff now is a thing of the past. Yes, you can dare to wear black and party with your hair left loose too – this is one of the shahnaz husain herbal products that works!
[sc:mediad]
4. Shamask-I Plus – Rejuvenating Mask
Enhance the natural glow and firmness of the skin you've been born with, and keep it nourished and hydrated even when the oiliness can be pesky. Shamask-I Plus, a unique concoction of herbal extracts, improves, refines and brings about the porcelain smooth touch for a supple and a very radiant glow to achieve. Your fairy tale prince now would be charmed for sure, watching the natural glow on you!
5. Shahnaz Husain's Moisturising Cream
The healing properties of gold extracts, since time immemorial has been told across various cultures, which is why the new-age holistic expert looks at the precious metal for many herbal healing answers. The Shahnaz Husain's Moisturising Cream embellished with 24k gold, vitamins and antioxidants, keeps the skin nourished, well-hydrated, supple and refined. Perfect for all skin types, you now have a spa in your hands using this Shahnaz Husain skin care formula!
6. Shahnaz Forever Henna Precious Herb Mix
[Also Read: How to Darken Henna On Hands and Feet]
Protect the follicles and the hair roots by feeding them well, and in turn keep them clear from the onslaught of whitening and greying, before time. With no chemicals used at all, the Shahnaz Forever Henna Precious Herb Mix is the perfect treat for all hair types – from bringing on a natural tint to fighting off hair and scalp issues, and providing the much needed sheen too. Flaunt those tresses like Rapunzel did to her prince!
7. Shaeyes – Kohl
The intense long-lasting look using kohl made from herbal ingredients and extracts is what the new-age woman would need. From long-lasting intensity to soothing active herbal ingredients used, Shaeyes brings on the seductive dark rimmed eyes to enhance the day or night, work or party look! Let the eyes now do the talking!
8. Himalayan Herb Snow Night Cream Plus
Dryness no more, the organic concoction and Ayurvedic formula found in the humble yet powerful Himalayan Herb Snow Night Cream Plus is a blessing to have for your skin. While you retire for the night, a dab and touch of the cream, works its magic and nourishes every cell beneath the skin layers- wake up looking like a fresh daisy bunch the next day- good morning indeed with such Shahnaz Husain products indeed!
9. Pearl Face Mask
No time for the parlour trips and visits? Not a problem anymore! From the house of Shahnaz Husain, the your skin now has a reason to rejoice, to look radiant and soft, and would be blessed with the choicest of herbal ingredients, minerals and amino acids too – making the supple youthful glow, for you to keep!
10. Herbal Sindoor
Clinically tested and proven to be safe, sans the use of chemicals, the Herbal Sindoor by Shahnaz Husain is a gift to Indian women who flaunt their marital bliss with aplomb and style! Sans the use of toxic elements, the Herbal Sindoor comes in shades of maroon and red, perfect to doll up the crowning glory with!
Call her the 'pioneer' of holistic beauty care or learn about her as the lady who with her strong sense of entrepreneurship, gave the concept of Ayurveda a chic and a new touch, bringing millions back into the arms of nature with Shahnaz Husain cosmetics has been her forte. It thus comes as no wonder and surprise, Shahnaz Husain is a name to reckon with.