Got raw milk at home? It has used for over hundreds of years for infusing skin with vitamins and proteins. So we confirm again that milk indeed do our skin good. The ingredient works well because it acts as a natural skin softener. It is extremely hydrating and soothing on our skin. So also cold milk soaks or milk baths is wonderful as it can moisturize irritated areas of our body. The raw milk on face can also help in sloughing off dead skin cells because of the presence of lactic acid.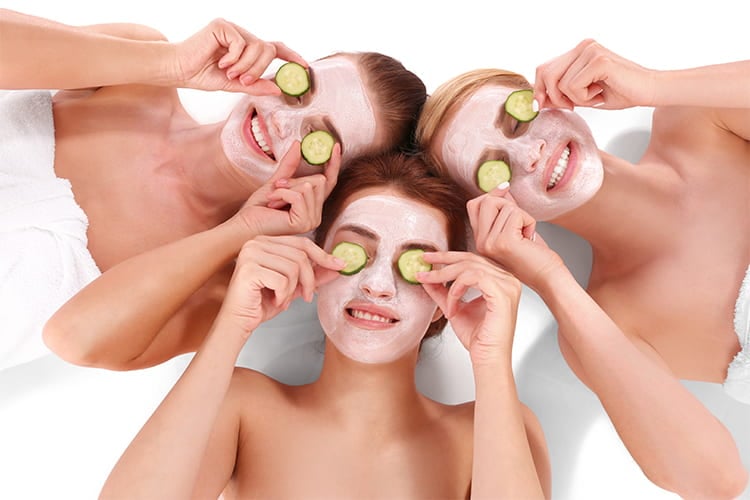 Below we have listed the nutritional value of raw milk and its benefits for skin. Read and learn.
Nutritional Value Of Raw Milk And Its Benefits On Skin:
The nutrients present in raw milk and their effects on skin are as follows:
Nutrient in Milk
Skin Benefits
Vitamin A
Treats dry, flaky skin and essential for boosting healthy new cell group
Vitamin D
Treats ageing signs like wrinkles, fine lines, dark spots, boost collagen production, heals acne, and promotes skin elasticity
Vitamin B6
Beneficial for new cell growth. Maintains healthy skin
Biotin
Treats, dry, cracked, and withered skin. Promotes healthy skin
Protein
Does tissue repair and growth. Promotes wrinkle-free skin
Phosphorus
23 mg
2.3 %
Vitamin B12
Treats rough, uneven skin. Contains skin lightening agents to corrects skin discoloration and acne scars
Lactic Acid
Moisturize and hydrates dry skin. Maintains youthful skin
Potassium
Moisturize and hydrates skin. Treats dry, itchy skin
Calcium
Boost collagen production in skin and promotes skin elasticity
Magnesium
Promotes radiant and youthful skin. Slow down ageing signs
Selenium
Fights against free radicals that lead to skin ageing. Also protects skin from sun damage, promotes skin elasticity and firmness
The Top Benefits of Using Raw Milk on Face:
The best uses of using raw milk on face are explained below:
1. Natural Cleanser:
Raw milk is a natural facial cleanser. It can remove dirt within clogged pores, and prevent blackheads, acne, and others.
How to use:
Cleanse your face as normal.
Dab raw milk all over face with clean palms.
Gently rub the milk onto skin using a clean cotton ball or cloth in gentle, circulatory motion.
Tips:
Using the raw milk as cleanser can help wipe off dirt from deep within. Use this natural cleanser daily for a greasy-free smoother skin.
2. Treat Dry Skin:
Do you suffer from dry, flaky skin? Then try this simple homemade remedy that can improve skin tone and treat flakiness.
How to use:
Dip a cotton ball in cold raw milk.
Allow it to rest for 10-20 minutes.
Rinse off with cool water.
Tips:
When the mask is drying, do not stretch or move your facial muscles as it may cause fine lines. After washing, your skin will remain moisturized throughout the day.
3. Lighten Skin Tone And Tans:
Pigmentation and dark skin tone can be treated with the application of raw milk topically. It has high content of lactic acid which helps in brightening skin tone and treating dead skin cells.
How to use:
Transfer fresh raw milk in a bowl.
Wring it and dab gently on tanned skin.
Tips:
Use this solution thrice a week before a shower for best results.
4. Exfoliate Dead Skin Cells:
The raw milk contains beta hydroxy which is a lactic acid. The potent alpha hydoxy acid mildly removes dead skin cells off the skin's surface.
How to use:
Crush mung beans well into a fine powder and add raw milk.
Mix well to form a smooth paste.
Apply the mixture onto face and leave for 10 minutes.
Scrub face before cleaning for 10 minutes more.
Tips:
Use this natural exfoliator twice or thrice to see visible results.
[sc:mediad]
5. Soothes Sun Burnt Skin:
The raw milk is made up of a thin protein film that can soothe inflamed skin. It can cool off the burning sensation and keep skin protected.
How to use:
Dip a cotton ball or washcloth in cold milk to treat sunburns and soothe skin.
Tips:
Make use of whole fat milk as it has healthy fat content for soothing skin.
6. Treats Acne:
Raw milk contains acne-fighting properties. It can remove excessive oil and treat dry skin. This can naturally control acne. Here is a homemade remedy you can try to treat acne from home:
How to use:
Mix 2/3rd tsp fuller's earth and raw milk together.
Stir it well to form a smooth paste.
Add rose water if you have dry skin.
Tips:
Apply the solution onto clean face or acne-infected areas to slowly treat acne without leaving scars.
7. Refines Pores:
Make use of raw milk and oatmeal face scrub for gently removing skin impurities, dead skin cells, and dirt from within skin pores.
How to use:
Add 1 tsp of ground oatmeal and 1 tsp of raw milk together.
Apply onto clean face using finger tips and gently scrub off in circular motions.
Allow the mixture to stay for 15 minutes.
Rinse off as normal and pat dry.
Tips:
This solution can help to remove excessive oil from face, to help attain glowing skin. This is beneficial for those with oily skin.
8. Adds Radiance:
Raw milk can heal dark spots and acne scars. It provides a radiant glow after use. You can make a homemade face mask using turmeric and milk on face.
How to use:
Pour raw milk in a bowl and add a pinch of turmeric.
Add saffron powder into the mixture.
Add besan powder to the liquid mixture to form a smooth paste.
Apply this face mask and leave on until dry.
Rinse off face as normal.
Tips:
This raw milk mask can brighten skin tone by up to three shades.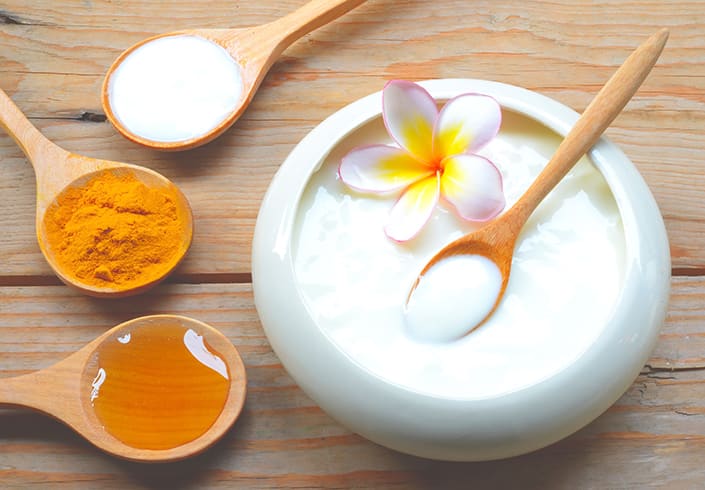 9. Moisturizing Face Mask:
The lactic acid present in raw milk can help to treat pigmentation, hydrate skin, treat acne, dry skin, and soothe sunburn.
How to use:
Use the raw milk as a face cleanser by dabbing onto skin using a clean cotton ball.
Allow it to rest for 10-15 minutes.
Rinse off using cold water.
Tips:
Your skin will be softened and hydrated after use.
10. Toning Skin:
Raw milk works well to even skin tone and to exfoliate it. It works well for skin because of its consistency.
How to use:
Apply a thin layer of the raw milk over your skin.
Allow it to sit for 5-10 minutes.
Tips:
It's gentle, yet effective to make skin soft and smooth.
11. Treats Dark Spots
Raw milk has lactic acid which is known for its brightening properties and also to treat skin breakouts.
How to use:
Mix milk and flour to form a smooth paste.
Apply the paste before bedtime.
Rinse off well in the morning.
Tips:
Try this solution twice or thrice a week to see visible results.
12. Acts as Skin Toner:
Raw milk has moisturizing ingredients and can act as a toner for oily skin. It can also firm skin and improve skin elasticity.
How to use:
Add few drops of lemon juice to a bowl of raw milk. Mix well.
Add few drops of rose water to the mixture.
Apply the solution to face and neck.
Leave to dry for 15 minutes.
Wash off using lukewarm water.
Tips:
The raw milk solution is also a great toning recipe for skin freckles and extreme dryness.
13. Acts As Natural Sunscreen:
The raw milk acts as a tan reversing agent and can protect skin against sun damage. You may use raw milk with curd for best skin protection.
How to use:
Apply the mixture on skin.
Apply it evenly on skin 30 minutes before stepping out of the sun.
Tips:
The solution acts as a protective sheath for skin to protect from sun damage for up to four hours.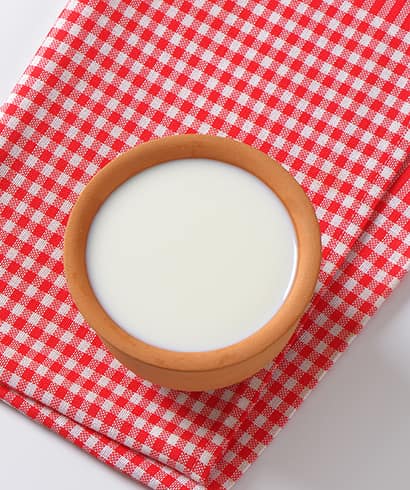 Other Uses Of Raw Milk:
There are other ways to use raw milk apart from your face. You can use it as a bath soak or foot soak to soften skin.
1. Moisturizing Foot Soak:
The homemade foot soak can treat cracked heels, relax feet, and relieve foot tension.
How to use:
Add 2 cups of warm milk and 4 cups of water to a tub.
Soak your feet in the solution.
Rub your dry heels using a pumice stone.
Tips:
Once your feet are dried, finish off with a foot cream for extra nourishment.
2. Exfoliating Bath:
A royal bath using raw milk can soften, exfoliate, and soothe inflamed skin, and treat other skin problems like eczema. The presence of lactic acid can treat dead skin cells while the protein and fat can soften skin, and treat dryness.
How to use:
Add 5 cups of raw milk, 5 drops of essential oils, and ½ cup of honey to warm water.
Tips:
Try this treatment once or twice a month to attain soft skin.
These are our pick of best benefits of applying milk on face daily. Have you ever tried using raw milk on your skin? If not, try it and see the results for yourself.
Do not forget to share your thoughts with us in the comment section below.