Are you a jewelry addict? Nuts about buying the trendiest and upcoming designs in gold, diamond jewelry or Swarovski but for the price? Why give up these temptations as there are Affordable jewelry brands in the market too. Yes, you read it right.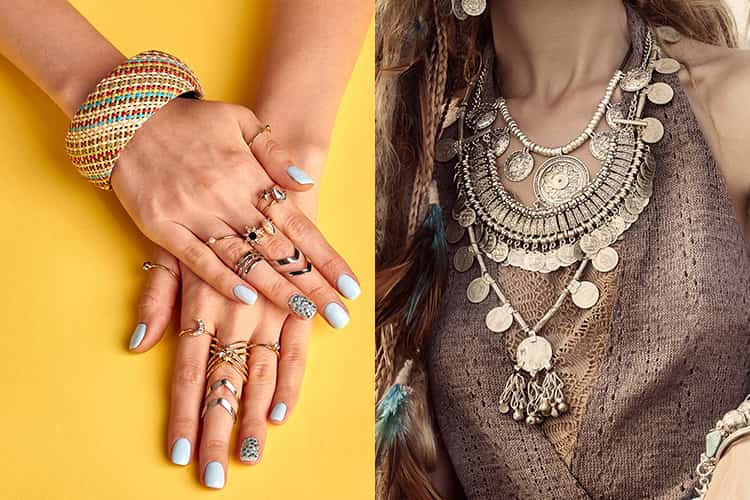 Finding good quality and affordable jewelry is now within your reach. From minimalistic necklaces to fancy bracelets for everyday wear, striking earrings to unusual rings and many more, here are the affordable brands you can check out in jewelry.
Here Is The List Of Affordable Jewelry Brands:
The unique affordable jewelry which will give you a satisfaction of good quality labels that doesn't pinch your pocket. When you buy any of these jewelry brands, make sure your outfit/dress is relevant and appropriate for the occasion you are wearing them for.
1. Maria Black:
The Scandinavian label Maria Black comes with simple and striking pieces that ups your accessorizing game. Take for instance the gold hoops with a twist (as in the pic). The brand also has chunky signet rings and delicate-looking ankle chains. It means Maria Black is one of the Best Affordable jewelry brands you will love knowing and wearing.
2. Missoma London:
This is a British-based brand. And the brand quotient is all about having fun with everyday jewelry. What are the collections like? Well they include collab with Lucy Wiiliams (Instagram star and lifestyle influencer) featuring beautiful gemstones and initial-based pieces. The beauty of these necklaces is such that they can be worn alone. If you are of the experimental lot, you can even wear them in a layered fashion. That's the way to add a personal touch to the pieces thereby make your jewelry your own….your very own!
3. Laura Lombardi:
This New York based label is all about chunky gold minimal jewelry. The focus is on industrial aesthetics and the pieces vary between chunky-looking chains to hoops that are oversized. Which is why, this unique affordable jewelry is almost a head-turner.
4. Bar Jewelry:
Now don't you misinterpret it and jump to conclusions. Bar Jewelry was launched by former Burberry designer Sophie McKay and she has a strong focus on minimal accessories. That is why, it has grown in popularity with clients such as Emma Watson, Naomie Harris and Jenna Coleman. The focus of this jewelry brand is elegance and simplicity. And the creations are not meant to last a season but for years to come. Handmade in London through ethical practices.
5. Gaviria:
Barcelona-based Gaviria adds drama and more to your jewelry box with its chunky and colorful jewelry designs. Every piece is handmade in Barcelona – from the brand's 'Fortune Cookie' earrings to the cool 'Raviolis'. The outcome – a fun twist!
6. Maria Tash:
Renowned in the jewelry industry for coining the term 'fine body art', Maria Tash is New York based luxury piercing studio. The designs are fast becoming popular amongst fashion folk and celebs. Want proof? Rihanna chose this unique affordable jewelry for her Met Gala, and Carrie Mulligan wore the brand's earrings to the royal wedding. Whoa!
7. Monica Vinader:
From striking diamond rings to casual bracelets, the jewelry label Monica Vinader has something for everyone. Every jewelry piece of this brand has elegant aesthetic about it which elevates any ensemble meant for work or dinner. The brand was launched in 2008 thanks to the increasing popularity of Fiji bracelets, which remain the best-selling style of the brand even today.
8. Katerina Makriyianni:
The trademark fringed fan earrings on Instagram are just the right way to tell you about the statement work done by this Greek jewelry designer. They give a finishing touch to any simple outfit and come up as a lovely idea for holiday jewelry and special one.
9. Ania Haie:
Talk of affordability and the jewelry pieces start from as little at £15. This means Ania Haie's simple jewelry on Instagram will blow your mind away. Treat yourself to layering necklaces and chunky rings to geometric earrings.
10. Rosantica:
If eclectic statement jewelry is high on your mind, at the same time you don't want to spend too much, turn to Milan-based designer Michela Panero whose colorful jewelry at Rosantica is most loved by fashion editors and fashion influencers.
[sc:mediad]
11. Ottoman Hands:
This one is British-based company inspired by Turkish jewelry. It was started by Deniz Gurdal in 2009 as a beautiful stall in the world famous Portobello Market in London where her jewelry designs were inspired by the ancient Ottoman Empire. Price ranges from £16 to £75 so it is wonderfully affordable. The beauty of this unique affordable jewelry is that each piece is handmade from 21 ct gold-plated brass and set by hands with semi-precious stones with master jewelers in Istanbul.
12. Alex Monroe:
Well in the year 2017, British brand Alex Monroe celebrated its 30th anniversary. This surely is a point to note of the long years of establishment. The second good thing to know is that all Alex Monroe jewelry creations are nature-inspired, hand-made and designed by Alex and his team in England. This year is the 10th birthday of the famous and iconic "bumble bee necklace" – a piece which pushed the brand into popularity and recognition in the year 2008.
13. Otiumberg:
The sister-duo Christie and Rosanna Wollenberg founded this jewelry label in 2014. The sterling silver and gold-plated designs are fashion-forward, wearable and wallet-friendly starting from £25.
Tips:
Affordable jewelry is one of our weaknesses. At the same time we must know of the telltale signs of low quality. Here are some top tips to keep in mind in your next jewelry purchase of Affordable Jewelry Brands.
If the metal is too shiny, it could signify inexpensive materials. So go for pieces that have slightly darker coloring.
Avoid gemstones made of plastic, especially if they are of the neon variety. Opt for clear crystals, which will add on to the glam value and elevate your fashion statement.
When going for affordable jewelry, pick those that won't leave any color residue on your skin. And so, avoid gold-plated jewelry, or copper and nickel, which can leave green marks.
A bib necklace might seem easy and most convenient to wear but it can also feel common and cheap. Look for geometric chokers, pieces of sculpture or vintage charm when going for statement jewelry.
Disclaimer:
Before buying affordable jewelry, find out the materials used and check out their sensitivity towards skin. Do not wear such jewelry more often unless it is quality-certified and hallmarked.
So how did you find this post on Affordable jewelry brands. What impressed and inspired you the most in it? Do write in your comments and share it in your social network.