When it comes to ethnic wear, kurtas is one of the most obvious pick. As such, most of us settle for pieces that feature an anarkali or tunic style. But you don't really need to wear the obvious to the next festive celebration. Instead you may go for unique cuts like angarakha. This wraparound top features an overlap that is fastened to the left or right waist using strings. It will serve its purpose as you attend the entire festive event on your social calendar.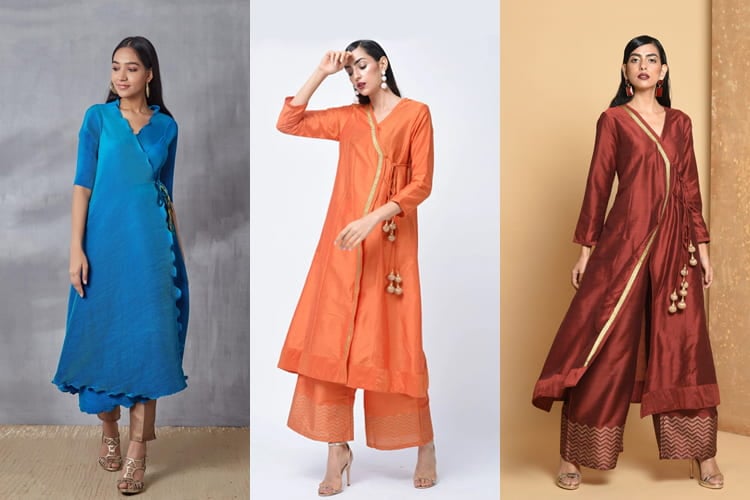 From long styled angarakhas to short tunic hemlines, there are many options you can go for. And you can pair this with a number of bottoms like palazzos, straight-cut trousers, and lehenga skirts. Below, we have suggested the best ideas on choosing
Select the Best Angarakha Kurta Sets Right Here:
Here are the best ideas you can shop from:
1. Mustard Printed Angarakha Kurta Set:
Wearing a dull printed kurta is so boring! Add an angarakha dose of romance by pairing it over with matching set pants. You'll still flatter your figure with a cut as this one and your overall look will be infinitely more gorgeous.
2. Black Short Angarakha with Kallies Set:
It's simple to fall in love with an exquisite set of angarakha when you are out shopping, but wearing them actually can be a bit intimidating. The effortless way is to wear it an all-black and make your ensemble becomes the star and let the role play out to you.
3. Hand Embroidered Cotton Silk Kurta:
And while you're going for an angarakha set, stop going all-easy on the styling. Instead, give them a little groom to show off your style by wearing them with like a dress for extra comfort. The flouncy hem of the silk kurta will help balance the wrap-up style and create a more flattering finish.
4. Turquoise Pleated Angarakha:
Pleated angarakha are hugely in demand, but they may become a little costume-y if worn with heavy necklaces. Hence skip it in general to avoid giving away a mature look. Instead bling it up with a turquoise shade as this one here. Adorn with bangle or ear piece except a necklace-that's some oldie territory.
5. Rust Red & Beige Bagru Print A-Line Angarakha Kurta:
If you wish to bring attention to your waistline in an otherwise A-line Angarakha kurta, your best bet is to wear three quarter sleeve. This will be a younger look and also give the impression of elongated legs, which is not a bad thing.
6. A-Line Angarakha Kurta with Front Slit Kurta Set with Bottom:
Opt for an A-line angarakha kurta with a front slit to bring attention to your waist and pair it with some wide bottoms to give shape and cover it from the waist below.
7. Green Cotton Angarakha Kurta Set:
Add a little green to help break free from monotones and mix it with fun, spunky accessories to help balance your look. Lastly, distract them from a great pair of shoes, whilst allowing the focus to rightly where it belongs: you!
8. Art Silk Angarakha Style Kurta Set:
Voluminous cloud of Angarakha set in art silk also reign supreme, and this season in easy varieties. Find one that hangs from your necklines to the ankles with no restrictions whatsoever.
9. Beige Khadi Cotton Angarakha Kurta Set:
We can see ourselves wearing this effortless khadi cotton set to every summer wedding event. Can you envision yourself too?
10. Angarakha Kurta with Palazzo Set:
This angarakha kurta is bold, super flowy, and eye-catching to wear on all occasions. The wraparound waist adds shape and dimension to the chic set.
Hope you are inspired with our pick of top 10 angarakha kurta sets. We hope to bring you more on this style segment. So stay tuned for more.