Anarkalis are a classic when it comes to ethnic wear. Its fit-and-flare design is flattering on all body types, and offers a relaxed solution to the sunny weather. They come in various silhouettes including embroidered. These types of anarkalis are an essential for every woman in every festive season. Going by the number of parties that you may need to attend to in the coming months, now is the perfect moment to buy your ethnic wear.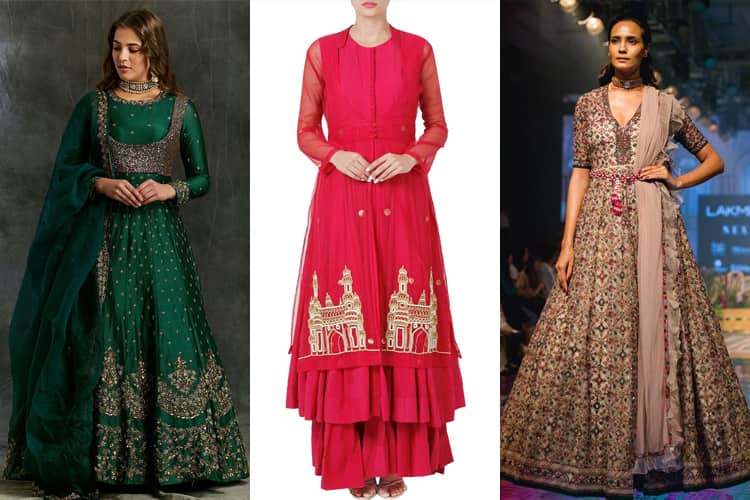 Ahead, we have rounded out the best 10 embroidered anarkalis for upcoming festivals so you remain stylish throughout the season.
Best Embroidered Anarkalis to Try this Season:
Here are our best embroidered anarkalis for Indian festivals:
1. Multi-Colored Thread Embroidered Anarkali:
No matter which event you attending, there's no going wrong with this multi-colored embroidered anarkali. So give this piece a round of its due applause because we know your love for embroidery.
2. Olive Green Ikat Anarkali:
If you are taking a test drive with anarkalis, then a similar style as this will make you feel good about yourself. Interestingly, the embroidered designs are cleverly executed in this case and make it look more luxurious.
3. Lime Embroidered Anarkali Set:
You can't miss an anarkali set especially when it comes with embroidered dupatta and a matching churidar. When it comes to a piece like this, you can apply for more variety with jewellery. The choice is up to you and your limitations.
4. Pink Anarkali:
In a sea of choices where everyone expects prints on your anarkali, embroidery can be a pleasant revelation. Especially if it's in a soft pink tone like this-makes for quite a standout.
5. Dusky Blue Anarkali Set:
This is again a different and unique piece. For those looking to own anything in subtle and delicate embroidery, start from this peach and dusky blue anarkali set.
6. Dark Green Emerald Anarkali with Black Koti:
Or set your spring hues in favor of earthy and moodier shades for the upcoming festive season. We love this dark green emerald piece by Astha Narang for its godi execution. You can also look for inspired sets echoed in similar styles.
7. Classic Blue Anarkali:
You need a classic anarkali set as this STAT. This clean, minimalist style by Anjul Bhandari makes it to the list of most elegant barely-there ethnic pieces. They are just perfect for parties and pujas. This will be worth it if you personally prefer a hassle-free style you can walk around without fidgeting much.
8. Champagne Embroidered Anarkali with Pearl Drop Belt:
An anarkali with a drop belt can steal the spotlight from the rest of the look, in a second. The ethnic wear by Ridhi Mehra below looks AMAZING. That's it.
9. Lime Green Embroidered Short Anarkali Kurta:
It's definitely time to get your hands on a lime green embroidered anarkali design wear. Truly the shade of the season, especially, to captivate onlookers!
10. Cranberry Cape Anarkali:
The anarkali set featuring the unique cape design incorporates a sense of drama into your ethnic outfit. Keep the rest of your ensemble simple, allowing the anarkali to do the needed.
Don't you agree these 10 embroidered anarkalis should make it to your festive wardrobe? Tell us in the comments section below.