We get-it removing makeup and cleansing your face before bedtime can be quite a task when you're done-in for the day. And it's even troublesome if you matte lipstick or heavy eye liner doesn't budge. But, taking off your makeup every night is doing more harm to your skin than you'd imagine. It can even lead to irritation, breakouts, and premature ageing. For this reason, we recommend you to try non-rinsing formulas as they are less harsh on the skin.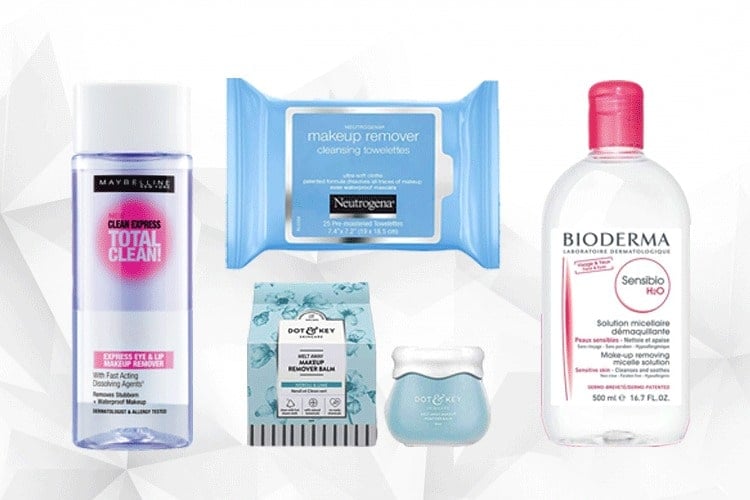 Below, we have rounded up 10 best makeover removers that come with zero-rinse formula. All these pre-moistened wet wipes and water based options are gentle enough to use around sensitive area. So take a look.
Best Makeover Removers To Cleanse Skin In One Swipe:
If you are one of those few who can't get themselves out of bed to wash their face, let us introduce these non-rinse makeup remover formulas. All the products gently wipe off waterproof makeup and leave your skin glowing. Simply swipe it over face, eye area, and neck before sleeping.
1. M.A.C Demi Wipes:
Give the M.A.C makeup wipes a try and you it will leave you hooked forever. Not only are they eco-friendly, but they smell heavenly too. And the wipes are extra stretchable, so you can clean every inch of your face with a single piece.
2. CLINIQUE, Take The Day Off Cleansing Towelettes:
Selfishly, this is our favorite cleansing wipes for removing makeup. Honestly just a single wipe is enough to remove the most cakey-of-foundation or liner. We mean, this is also one of the top selling makeup removal products in Amazaon, so you know its awesome.
3. L'Oreal Paris Ideal Skin Make Up Removing Towelettes:
The hydrating substance in this product boost skin's moisture barrier and prevent stripping off natural oils. It also doesn't leave skin with a greasy feeling, yet its effective enough to remove the toughest of makeup.
4. Colorbar Cosmetics On The Go Makeup Remover Wipes:
Gently remove makeup to keep skin soothed? Checked. Easy to carry? Check. Nice fragrance? Check. Bonus: It is ideal to use around eye area and does not irritate sensitive skin.
5. Kaya Youth O2 Oxy-Infusion Face Wipes:
If you are looking for a non-greasy formula, look no further. These oxy-infused face wipes may look tiny, but they do a superb job in cleansing oil makeup while effective removing dirt from skin. Plus, it comes in a re-sealable packaging which makes it convenient for use.
6. FACES Fresh Clean Glow Makeup Remover Wipes:
If you love to give yourself a thorough full-face cleansing and looking for something that cuts through the thickest of foundation without stripping off natural oils, then try the FACES makeup removal wipes. You do not need 100 cotton pads to remove your day's makeup; just a single swipe of this product can do the job well.
7. Dot & Key Melt Away Makeup Remover Balm:
The current favorite with many beauty reviewers is the makeup remover balm by Dot & Key. This product has a good consistency with ingredients like argan oil, coconut oil, almond oil, and macadamia that gently wipes off makeup in seconds. Your glitter makeup will be no match for this organic formula.
8. Neutrogena Makeup Remover Towelettes:
This remover may feel greasy upon touch, but its perfect for a good reason: the towelettes literally wipe off all traces of makeup from lids, lips, and lashes. Part cleanser and half makeup remover, this solution can break out the toughest formulas. Think of it as a lavish treat for your face.
9. Maybelline Clean Express Total Clean Make Up Remover:
Forget about dealing with dried-out towel again. These total clean makeup remover from Maybelline remove daily makeup including waterproof makeup. They gently cleanse mascara smears, cakey liner, and all traces of makeup around your eyes.
10. Bioderma Sensibio H2O Micellar Water, Cleansing and Make-Up Removing Solution:
This miscellar water is the makeup removal product that you should be relying on the most. You just require a cotton pad to remove the makeup. While the convenient packaging makes it easy for you to snag it into your handbag. Just shake the bottle, dampen a cotton pad with it, and wipe off your woes.
These wipes and waters based ones can banish every trace of makeup with minimal effort. Try any of these best-selling makeover removers options to let your skin be its au-naturel best.