Bored of your straight, blunt hairstyles? If you are looking for a creative hairdo or s0me hair-color highlights , then read ahead for some punk hairstyles inspiration from your favorite celebs.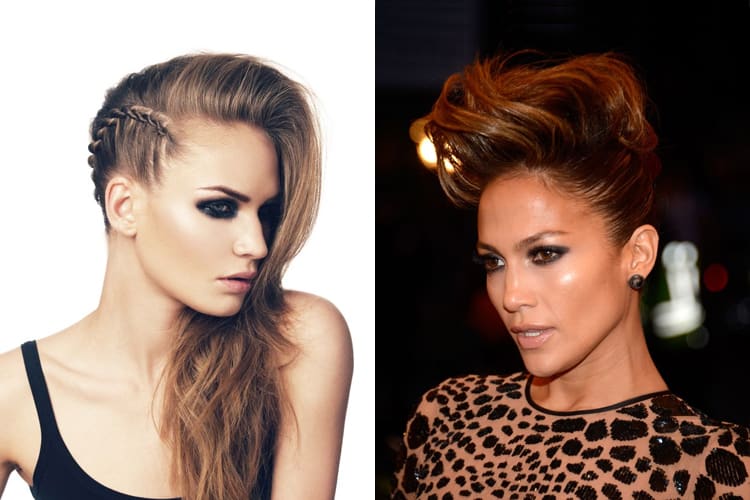 You can cause a stir by chopping, dyeing, or styling your tresses for an out-of-the-box experience. These are the ladies who've us made us think twice over the years. Have a look!
Punk Haircuts To Inspire From:
Given below are few of the best punk haircuts to try out:
1. Faux Mohawk:
Jennifer Morrison's Faux Mohawk is here to win! The actress's Met Gala moment was one of the coolest and appropriate hairdos of the year. And the reason it stood apart was for the fact, one could go back to being normal the next day!
For an occasion, Jennifer Lopez showcased her punk style look at the costume gala exhibition in New York City. Her two toned faux hawk cut was pulled up with short, subtle waves which were pinned at the back and gave volume at the top.
2. Grown-out Mohawk:
Heiress, socialite, and model Alice Dellal's dark grown-out roots and half-shaved head is the perfect representation of punk rock chic.
3. Short, Spiky Locks:
A spiky hairdo like this one, sported by Miley Cyrus is quirky and fun. When the songstress wore this punk hairdo at the 2013 Costume Institute Gala, she won many acclaims for this androgynous hairdo. Like her, you can pair such short punk hairstyles with classic red lips.
4. Pompadour:
Singer Pink's blonde pompadour is chic and unique. To get the punk rocker look, begin by backcombing your hair from one side to the other and pump the top section using a volumizing spray. Once finished, create a swirl by twisting your hair on one side and finish off using an extra strength hairspray.
5. Curly Mohawk:
Alicia Keys sizzled in this voluminous, curly Mohawk with her hairs' natural texture. The Girl on Fire singer, wore her curly Mohawk in messy waves and shaven sides. To recreate thick, voluminous hairdo like Alicia's, apply a small amount of volume boosting hair styling and texturizing spray. Then apply the gel onto hair and blow-dry. This will help you recreate this look with ease.
6. Shaggy Bob Cut:
We absolutely adore this hairdo by Twilight actress Kristen Stewart. The actress wore this shaggy bob with lots of layers falling on her face, giving her hair a cool uplift. You can wear this hairdo for a night out with your BFF, dinner party, or clubbing. This hairstyle will not take you much time to set it together! That's a double-plus for you.
7. Quiff:
Gwen Stefani is known for her timeless beauty and unique styling choices. We especially love this cool quiff fringe look. You can recreate a similar long punk hairstyles look by gathering your hair from the front and teasing it at the crown. Then use a light hold hairspray to keep the hair together. For more drama, dye your hair blonde for adding texture.
8. Side Swept Pompadour:
Kelly Osbourne appeared at the NBC Universal Cable Entertainment Up Fronts in purple side-swept pompadour hairdo. This is an awesome hairdo for fine hair, and it will look its best when you match your side-swept pompadour with berry lips just like Kelly.
9. Curly Multicolored:
This is a great hairdo for girls with long curly hair. This allows natural texture to go untamed. Take cue from pop star Cher Lloyd's half shaved hairdo with the multicolored effect. Leave the top part of the hair in its natural color and bleach the bottom two-thirds. Dye the last choice using a cool color. And there you go! You are party ready just like Cher Lloyd.
10. Pink and Tousled Hair:
This is a girly hairdo for punk girls to show off their feminine side. The hot pink hair mixed with blue highlights as shown in the image is a perfect blend to showcase a fun personality. This is a great style to showcase your hair's natural texture. If your hair texture is flat, then you can spray the roots using a volumizer dry shampoo. And apply hair paste through the ends and you'll be set.
11. Medium Brown Mohawk with Braids:
This girl's punk hairstyles are a unique take on the Mohawk. The haircut features a wide Mohawk and a neutral, brown color with blonde highlights. Adding the braids is a perfect way to add better definition to your look. What an amazing way to stand out!
Tips:
Punk hair can be anything that is rebellious and goes against the mainstream. Here are few female punk hairstyles suggestions to get you started.
1. Dying Hair:
Punk hair is often noticeable because of using loud, unnatural colors, like blue, pink, and green. Dyeing your hair is not compulsory to give your hair a punk look. But, adding a new color can always add a new dimension to your overall look.
[sc:mediad]
2. The Drawbacks:
Colored hair can allow you to stand out from the rest but it can also mean high maintenance. You may need to do touch-ups constantly. Furthermore, most bright hued hair colors are semi-permanent and may fade out after few washes. To control your hair color from fading, invest in a color protecting shampoo and conditioner. You may also set up a schedule to wash your hair once or twice a week at a salon.
3. Proper Consultation:
It may be wiser for you to consult a professional colorist at the local salon to get the best results. They will offer you ideas on how to dye and take care of your hair after coloring.
From long to short hair, these are the drop dead gorgeous celebrity punk haircuts we're buzzing at the moment. Check them out and get inspired!