Hey, who doesn't love birthdays? And the celebrations, cheer, and party fever it brings. Oh yes, it means you need a birthday dress for yourself apart from the numerous bouquets and gifts.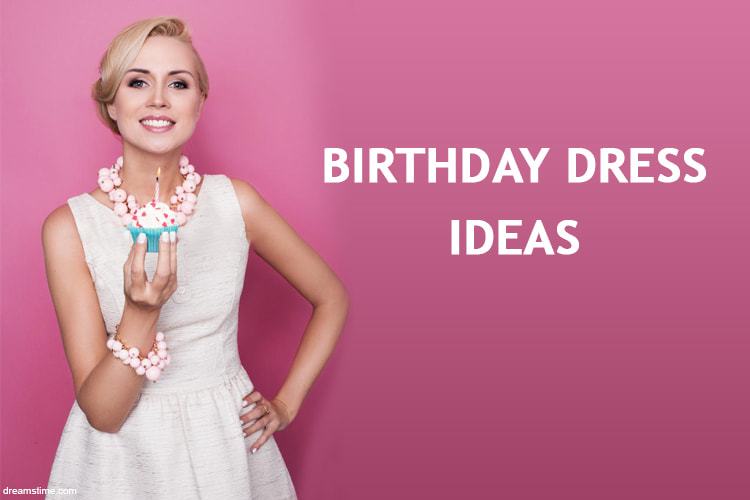 Birthday dos are the easiest to dress up for. Take a guess why. Because more often than not, they come with a dress theme. Traditional Indian wear might not be so popular, except for odd ones out like Patiala Salwar suit or an Anarkali.
That is why, crop top and skirt or ripped jeans and a shirt, a one-piece boho dress, skinny jeans with a leather jacket or hot pants are interesting choices you can consider as birthday outfits.
Time to dig into peppy birthday dresses for girls. Whether you want to go and paint the town red in your birthday outfit or not is your call. A birthday comes once a year, so go have a blast in your best birthday outfit and ace the fashion game on your big day.
Blush around in pink or strut in style in black – it's your choice. Want a style guide to look like a stunner on your birthday? Go ahead and check out this post!
[Also Read: Party Wear Stylish Dresses]
Top 10 Birthday Dresses For Women:
Before you ring in your next birthday, you need to check out our style guide to celebrate in style.
1. Mesh Black Dress:
This chic dress is not just a birthday dress for women, it is a perfect outfit for you if you want to dress-to-kill. Don the versatile black hue with a grid mesh overlay, a trendy choker neck, and a bodycon fit. Now you are ready to rule the dance floor.
No harm being badass after all, birthdays are all about celebrating your self. Add a pair of strappy heels and a color-complimenting clutch to be a head-turner.
2. High-Waisted Shorts:
Pick your birthday dress code cues from Gigi Hadid. She headed to her birthday party in a silk black tank top, tuxedo shorts – yes these are the high-waisted shorts am referring to, and thigh-high boots from Tom Ford. You can also opt for this outfit to up your hotness quotient as you turn a year older.
3. Crop Top:
Can birthday outfits be in white? Why not, like the one shown below. The full-sleeved white crop top gives you a feel of mesh stripes and ups your glam quotient instantly. Pair it with short leggings and you can look impressive for sure.
4. Lace Midi Dress:
Birthday dresses need not always be humble. Go a bit cheeky with this bare shoulders-and-floral lace dress. Flaunting a little bit of skin in the right places can add oodles of feminine charm to your look.
5. Monochrome Mania:
Count on a monochrome outfit when you are thinking what to wear on your birthday. It looks classy no doubt and helps you stand out from the crowd. Opt for a one-shoulder ruffle top to look ramp-ready. When paired with a lace pencil skirt, it makes a flattering birthday outfit too!
6. Jumpsuit Jolly:
When you are looking for a birthday dress code then you need to think out of the block. A jumpsuit is high on comfort, style, and class. Wear it with block heels and you have won over half the guests in attendance at your birthday bash. Don't forget to carry a glittery clutch to make this outfit birthday-ready.
7. Sequin Senorita:
Nothing screams glamour better (and more!) than a sequin dress. It is a must-have in every woman's closet and is one of the most red-carpet worthy birthday dress ideas too. Buy the sequin color that complements your skin tone well and nothing will stop you from looking like a celebrity.
[sc:mediad]
8. Sleek Skirt Outfit:
When summers are getting the better of you, why lose your cool when you can always slip into this summer-friendly birthday dress for girls? No frills needed, just get yourself a statement necklace and cool bracelets to let everyone know that simplicity is equally stylish.
9. Statement Top:
Birthday dress ideas should also be funky looking. Only then will they be able to grab the attention. Take for instance this urban lass making her fashion point in her polka dotted black top, straight high rise jeans, and black heeled shoes.
10. Fun And Flirty Skirt:
What if you were to follow a birthday dress code that included a striped pleated midi skirt, crew tee, color-block satin sandals, and quirky sunglasses? Well, you could make your way to Page 3 parties for sure. Keep rocking!
Celeb-Inspired Birthday Outfit Ideas:
Running out of outfit ideas for your birthday party? Follow celeb style and you will get the right cues. What celebs wear to a birthday remains in trend and is a good reference point. Let us do some celeb following and check out the inspiration we girlies can get on what to wear on our birthday.
Selena Gomez shows us how to look like a hottie on one's birthday in this lovely tribal patterned crop top paired with matching white shorts.
Madonna at her 52nd birthday proved that age is just a number by wearing a classic black dress!
Ciara looked sizzling hot at her 22nd birthday party in a shimmery dress! It's fantabulous.
Miley Cyrus stepped into adulthood in killer style. Check her out at her 18th birthday party.
Paris Hilton at her 33rd birthday party looked simply stunning. She gave us fashion goals as she lived her princess dream in style.
Hailee Steinfeld raised the temperature at her birthday party by wearing a patent leather red mini dress.
Talk of birthday dress ideas and Lauren Conrad wowed us in this bow dress on her birthday.
So dearies, which of the above birthday dress options you love and want for yourself for your birthday? Tell us in the comments box below. We would love to hear from you. You can also go ahead and share your style tips for birthdays with other fashion lovers here!