If your skin is sensitive to acne, you need a foundation that is made especially for acne-prone skin. It should help cover up and provide a flawless look. Which foundation should you thus opt for?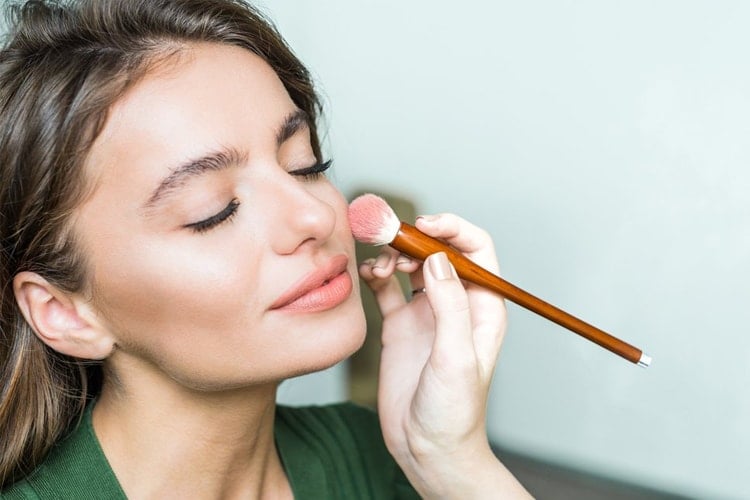 Before we give you the names of foundations for acne-prone skin, we would like to elucidate on what is acne prone skin. It is a must to understand this so that you pick up the right foundations for acne-prone skin.
Foundations For Acne-prone Skin:
What Is Acne Prone Skin?
Also known as acne vulgaris medically, it is not a severe skin disease to be worried about, but a minor one, that is caused when the hair follicles are clogged with a lot of dead skin, dirt and grime, and oil too. Some of the most prominent signs for the same would be blackheads, whiteheads, and pimples etc. And they are seen mostly on oily to combination skin types.
Acne these days is very common and mostly happens around the time of puberty. Research says it is around eighty to ninety percent of teens and adolescents that are affected by it. And if that is not all, even those that are in their middle ages too suffer from the same. It is these adults who have what we call 'acne-prone skin', and their skin breaks out more often and very easily.
So when we say 'acne-prone skin', it means that you have a skin type which is easily susceptible to breakouts. Acne is very common with those that have oily to combination skin types. It is caused because of the change in hormones and because of a poor diet as well, and maybe because of a lack of skin regime too. When there is an excess of sebum production, there is a huge amount of dead skin cells and sebum forming bulges around the follicle of the hair, and they produce whiteheads and blackheads. This also gives rise to harmless skin bacteria as well. Some of them grow on the blocked and plugged hair follicles and form cysts and nodules.
In the cases where acne is severe, it can cause scarring and redness, long-term that too, which can be emotionally taxing. Hormones are to be blamed for the reason why we have acne-prone skin, and this is why teens suffer the most. When there is a hike in the androgen levels in the body, it causes to produce more sebum. Sebaceous glands and hormones don't go together, and this explains why acne prone skin in adults happen. Other reasons would be when someone has PCOS or when they have a poor skin care regime. Sometimes, even if you over-cleanse your skin, it can cause acne too.
Hence, this was a gist on what acne is and what acne-prone skin means. Now let us take a look at how to pick foundations for acne-prone skin.
How To Choose The Right Foundation For Acne -prone Skin?
They say it can be pretty tricky when you have to search for the best foundation for acne prone skin. But at the same time, when you pick foundations, you are keen to cover up the flaws and have an even look. You do not want to feel that the foundation you are using is clogging your skin pores. A foundation that is oil-based should not be chosen at all, or else it would breed more harmless bacteria and cause more breakouts.
What you need to figure out here is that you should have a foundation where the coverage is very important to your skin more than anything else. Hence what a lot of women do is opt for thick foundations that help with the cover-up, and they apply a lot of powder and concealer layers on it to cover the problems thereafter.
If you choose to pick the best foundation for acne, which has acne fighting strength in it you should opt for foundations that are specially made for blemishes and where you do not need to use a concealer.
What You Need To Know:
When searching for the best foundations for acne-prone skin, you must understand first your skin type. Is it dry, oily, or a bit of both? For most women with combination to oily skin type, their skin produces a lot of sebum. What would be challenging here is to find the foundation that will cover up every flaw on the skin, but does not make the face look very weighed down and heavy, or greasy for that matter.
The coverage is one of the most important things you probably would have to take into consideration when searching for powder or the best liquid foundation for acne-prone skin. You would need to figure out if the foundation you want is heavy or matte, or maybe a coverage which is lighter and with a finish so dewy that makes the coverage look very natural on the skin.
What we would recommend highly is for a foundation that has medium coverage, and then use a concealer which is light, to hide off all the stubborn redness and blemishes your skin may have. Then you can go ahead and use a translucent powder, which will eradicate the shine and set the makeup look as well.
What Properties To Look For In A Foundation?
It can be a little overwhelming to look for products that are best to use on acne-prone skin. While some are made especially for acne-prone skin, others are made to bring down the redness and keep the harmless bacteria away from the skin. There are some foundations that have SPF added to it, which means while the summer months are on, your skin will be protected.
We recommend searching for foundations that are going to combat blemishes and redness, and even if it does not have a heavy coverage, it is okay. It will still work to stop the acne and sooth the redness as well.
Finally, do opt for products that are paraben-free, oil=free, and sulphate-free. They wont aggravate the skin any further and you won't have to suffer from acne again.
List Of Best Foundation For Covering Acne:
1. Burt's Bees Mattifying Powder Foundation:
This is a product that has been the BEST OF BEAUTY AWARD WINNER, and it is a velvety soft powder which is great to use. You can use a beauty blender to dab the foundation powder onto your skin or you can go ahead and use a fluffy brush too. It would give you a natural light full coverage. Irrespective of how much of this foundation you put, it would not make your face look cakey and chalky or weighty on the skin. There would be no moisture sucked into the skin as well.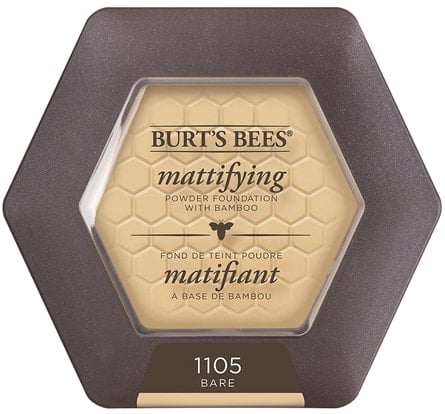 2. Fenty Beauty Pro Filt'r Soft Matte Longwear Foundation:
They say this is a foundation worth the hype. The range of shades you get with this foundation is expansive no doubt, and it works incredibly well on skin, which is acne-prone and oily too. Just a pump of this foundation would be enough to cover the redness and the unevenness on the face, sans the need for concealers.

3. Bobbi Brown Skin Long-Wear Weightless Foundation SPF 15:
This brand's latest foundation was probably made keeping acne-prone skin in mind. It has marine sugar cane in it, gives medium coverage, and ensures that there is no shine but a dewy effect on the skin. It is weightless for sure and does not oxidize to make the skin look sallow. What it blends to be on the skin is what stays all day long.

4. Diorskin Forever Undercover Foundation:
This is a foundation which is pigmented very well and has a serum-like formula for the skin too. This instantly transforms the skin into a smooth canvas, and an even one for the rest of the makeup to be applied. The foundation melts into the skin and the finish is flawless and stays for up to 24 hours.

5. Neutrogena SkinClearing Liquid Makeup:
This is an oil-free foundation, which has salicylic acid in it that fights acne and the bacteria that causes it. This means, this foundation helps control breakouts and delivers a very smooth layer on the skin.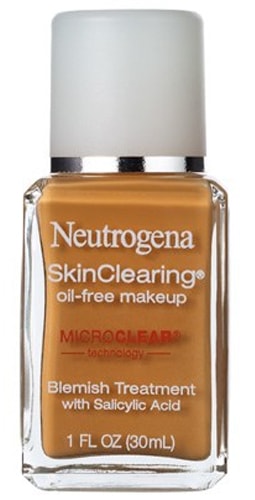 6. Maybelline New York Fit Me Matte + Poreless Foundation:
This is a foundation for those that opt for medium-based coverage, and it feels very velvety smooth on the skin as well. It does not sink into pores and fine lines on the skin too. It does not highlight redness or any inflammation on the skin and eliminates the shine.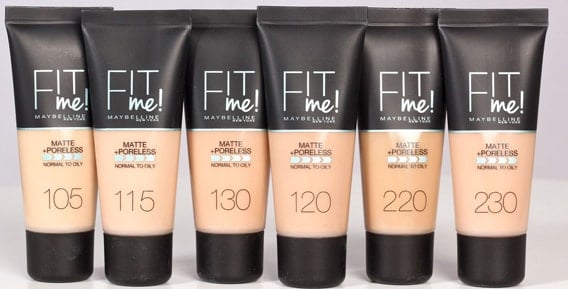 [sc:mediad]
7. L'Oréal Paris Infallible Pro-Matte Foundation:
Beauty bloggers across the globe have given very high reviews about L'Oréal Paris Infallible Pro-Matte Foundation. This foundation works its magic on your skin for 24 hours at a stretch and gives you a demi-matte finish.
8. Estée Lauder Double Wear Stay-In-Place Foundation:
This is a foundation which blends on your skin like water and dries to a powdery finish, which means that you would see no shine and redness on the face from the moment you use it. The foundation formula is an oil-free one. It would not aggravate breakouts and won't irritate the skin as well.
So here were some of the best tips we could give on how to pick and choose acne-fighting foundations, and we also gave you the names of some of the best foundation for covering acne. Do write in and let us know which of the foundations for the acne-prone skin you use, if any, from this list or outside of it. We are eager to hear.
Images Source: amazon.com/